In today's OFW interview, we are honoured to present Dr. Rex Bacarra, Dean of General Education at the American College of Dubai. A highly-accomplished educator, he has been featured on ABS-CBN's The Filipino Channel (TFC) and many media sites; hailed as one of the "100 Most Influential Filipinos in the Gulf" by Illustrado Magazine. Recently, he received the "Bayani Award" — the highest recognition given by the Philippine Consulate.
Despite all his achievements, Dr. Bacarra recalls his humble beginnings. Born and raised in Catbalogan, Samar, he practiced as a Benedictine monk for many years in Malaybalay, Bukidnon. His gift for teaching eventually led him to study and teach at San Beda College in Manila. Years later, by a stroke of fate (or destiny), he found himself responding to an opportunity in a Dubai college. And the rest is history!
Although he enjoys a fulfilling career in Dubai, Dr. Bacarra misses the Philippines sometimes, especially the lush mountains and seas at the province he grew up in. Narrating nostalgic memories, positive insights, and life lessons, Dr. Bacarra — a true Filipino "bayani" — shares his inspiring story below.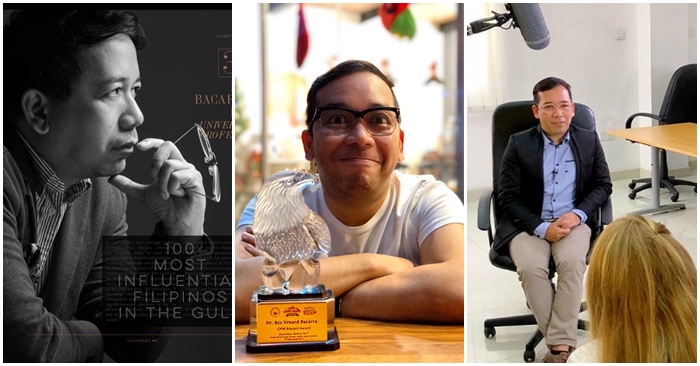 OFW Feature: Dr. Rex Bacarra, Dean at American College of Dubai
Name: Dr. Rex Bacarra
Current Profession: Dean of General Education at American College of Dubai
College Degree: Ph.D. in Philosophy, De La Salle University
Years in Dubai: 9 years
1. Tell us about yourself.
Hi! I am Dr. Rex Bacarra, though I am also known as "Dom Venard" to Bedans and "Leklek" to my family. I am the Dean of General Education at the American College of Dubai, an academic institution that caters to a highly multi-cultural student body. I am also a Digital Faculty Consultant for Mc-Graw Hill (MENA) Publishing. While the job requires intellectual and professional proficiencies, I have only one thing that I want to leave as a legacy — that people globally, of different cultures and nationalities, will look at us, Filipinos, with pride and admiration because of that sense of EXCELLENCE that we show to them.
I was born in an idyllic town in Samar — Catbalogan. I graduated with a Liberal Arts degree in one of the colleges there, took Philosophy at San Beda College, Masters in Philosophy at De La Salle University, and Ph.D. in Philosophy also at De La Salle University.
The reason for the "Dom Venard" name known to Bedans and religious congregations is that I was a monk for many years before I came to Dubai. I started as a Benedictine monk at the Monastery of the Transfiguration in Malaybalay, Bukidnon when I was 22, living the life of a contemplative monk. It was during my stay that I was given the name Dom Venard, the name of the French missionary who was martyred in Indo China. You see, it is the tradition in the religious life to change the given name to a religious name — as a symbolic sign of fuga mundi, or "flight from the world."
Realizing that my gift is one of teaching, a decision was made for me to transfer to Manila. In Manila, the Benedictines own San Beda College, and it was there that I was honed academically. Nine years ago, I decided to leave and come to Dubai.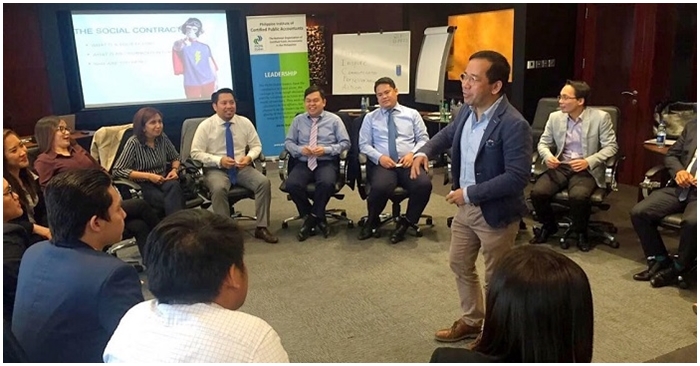 2. Why did you come to Dubai? / 3. What where your previous jobs?
The desire to taste and experience a different life, perhaps? I was already the Director for Administration in San Beda College Alabang before, handling the HR, Buildings and Grounds, and General Services Departments of the institution, while teaching Philosophy at the same time. Before that, I was the Human Resources Officer of San Beda College Mendiola, taking care of the faculty and staff's professional development aspects.
I just found myself one afternoon seated in the Alabang Office thinking about life, particularly life "outside." I thought, why not? So I decided to apply online to the first Western-run college in Dubai — The American College of Dubai. I sent my CV and slept. Three days after, I received a call from the Dean, asking more questions. Then she told me that the American President will call me a day after to interview me, check my accent, etc. When I got the call, he asked me if I was ready to leave in a week. I wasn't, truthfully, because of certain obligations. Too quick. Hastened. But then, I realized this is THE opportunity. A ticket was sent, documents were delivered, and I flew
4. How do you find your current job? Are you happy/satisfied with it?
I love my current job! Our institution has plenty of scholars and relatively not so well-off students in Dubai compared with other academic institutions, and I truly love it. Students are respectful, generally study hard, and I get a deeper understanding of the formation of humanity. As a Dean, the ability to balance different needs of different nationalities requires that I be flexible, non-judgmental, yet with control and firmness.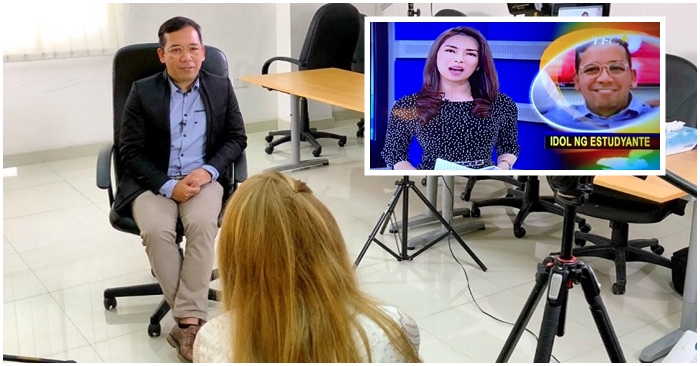 5. Are you able to save in Dubai? Why/How?
The short answer is yes. The long answer is "not much," as there are certain obligations I am still attending to. I save by prioritizing the essentials, buying only those which I think are necessary for living, but as a person schooled in the spirituality of St. Benedict as a monk, money has never been the reason of my existence. If I feel like buying something expensive, like an artwork or tickets for Opera, then I spend as long as I can afford. I live by the dictum — everything in moderation. Nothing excessive, nothing lacking.
6. Is it difficult to live in Dubai? What are/were your struggles? What's life like outside work?
It is not difficult to live in Dubai, as long as you are conscientious. In my Philosophy class, there is this topic about "social contract." The gist is that once a person enters a country, he is binded by the contract set upon by the welcoming country. The fact that he decided to enter the country in spite of its own restrictions and ways of running its own country, is reason enough to follow without reserve its laws and regulations.
7. What do you like about Dubai?
Dubai prides itself as a safe place, and rightly so. I guess a Filipino who stayed in this Emirate for years can vouch for this claim. It also affords certain rights that are considered luxuries in the Philippines — very efficient transport system, clean pavements and streets (even trash cans are regularly cleaned), trustworthy police officers, vouchers that work, non-failing electrical and water systems, and many others.
Personally, Dubai provided me so many opportunities to improve myself. Even those that are considered not so good become an avenue for me to do something. Outside of work, for example, I often help, either leading or supporting, to alleviate in some ways the plight of the distressed women at POLO OWWA, through counselling or giving tangible things to help. I also give free lectures and talks on topics related to my expertise.
Dubai shaped me in a way. When I came, I was just thinking of a different life. I just thought of teaching well. "At least be a good teacher," I told myself.
Years after, the community has started recognizing my efforts — I was given the standing ovation by the students during the graduation last year as an appreciation on how I affected their lives which was never done to anyone in the history of the college; ABS-CBN TFC wrote a story about me and featured me on TV, Illustrado Magazine declared me as one of the 100 Most Influential Filipinos in the Gulf; I was asked to be a Digital Faculty Consultant by the global McGraw-Hill Publishing; cited and awarded by Kabayan Weekly, The Filipino Times; referenced by Khaleej Times, Gulf Today, etc.; and was recently awarded Bayani Award, the highest award being given to a Filipino by the Philippine Consulate.
Putting this into perspective, the achievements are a testament that difficulties are opportunities to prove yourself. They can strengthen your heart and fire your desire.
My struggles though are more on the things I miss in the Philippines that are obviously not in Dubai. Nature is one. I grew up in the province surrounded by lush mountains and seas, and long-time friends, of course.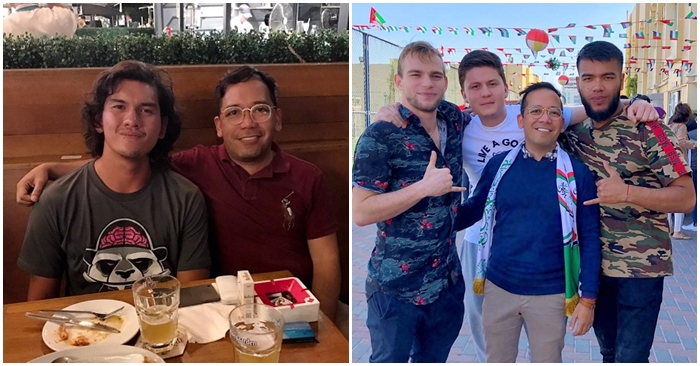 8. What do you NOT Like about Dubai?
This is a question that I have given thought. A lot. Objectively, unbiased by nitpicking and incessant complaints, there is none. It is a country that transformed itself from a tiny community to what it is now in so short a time. Structured well and safety is really of primary concern. The digital aspect, the use of technology as a way of life, is truly transformative.
If there is one, then more stringent laws or a stronger implementation of laws on those who commit abuses.
9. What are your plans in your career/family/future?
Do more. Serve well. I plan to go back to the Philippines when the time comes and, and when given the opportunity, put up a school that will make a difference in terms of excellence.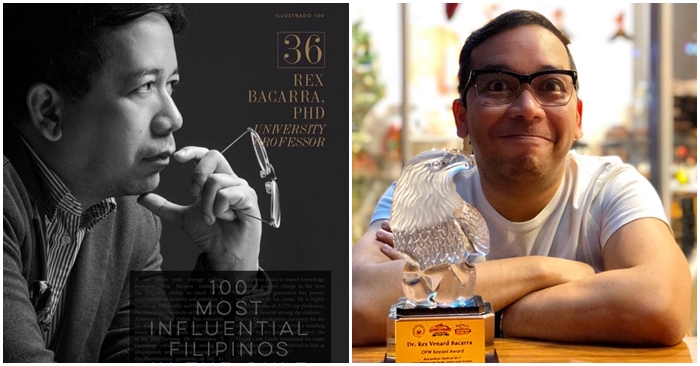 10. You have any tips for Kabayans when working/finding work/living in Dubai?
Stop complaining. Whining will not give you solutions, but more avenues for self-destruction. Instead of complaining and whining, look for solutions.
Study other skills aside from what you are good at doing. If you are already good in selling, self-study (everything is in the Internet) or enroll in photography, or study coding. Once you have mastered one, try mastering another. These are skill sets that are going to be very, very helpful when opportunities knock, and they usually knock on the doors of people who are prepared.
Coming to Dubai isn't just about struggles, but triumphs as well. There is a shared story between us Filipinos who come to be and do better, and whatever happens to us, when things don't go our way, we should always remember that we have Filipinos around us who are willing to extend their help, to finally achieve that collective success we all hope for.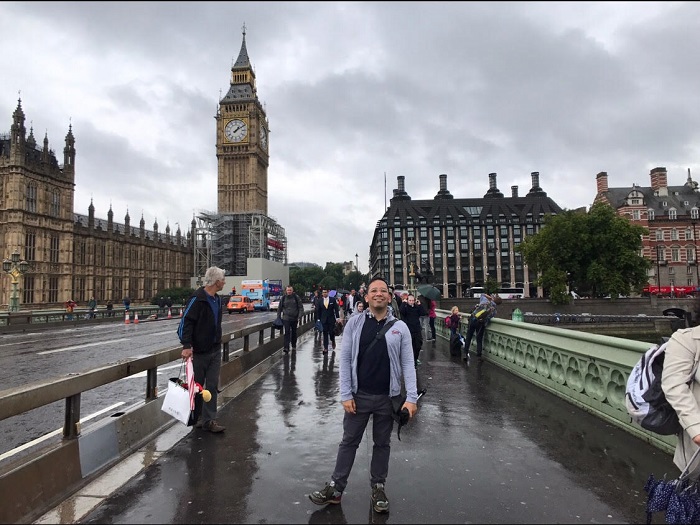 —————-
*Photos provided by Dr. Rex Bacarra
Are you an expat in Dubai? Do you want to be featured in the website? Send us an email telling us you want to be featured at admin@dubaiOFW.com and we will send you the set of questions! Let's help other Pinoys who want to come to Dubai understand what life in the UAE is like through your story.