With the same token of concession, the emirate state of Fujairah hence pins the quality of education that offers immense priority to people. These mainly concerns with the well- being of the individual ensuring the featured class of institutions.
Having the secure and well calibrated people and materials are all in realized. We have provide you the list of school with address, phone number and website. Please see below.
Also Read: List of Schools in Umm Al Quwain, UAE | Universities and Colleges in UAQ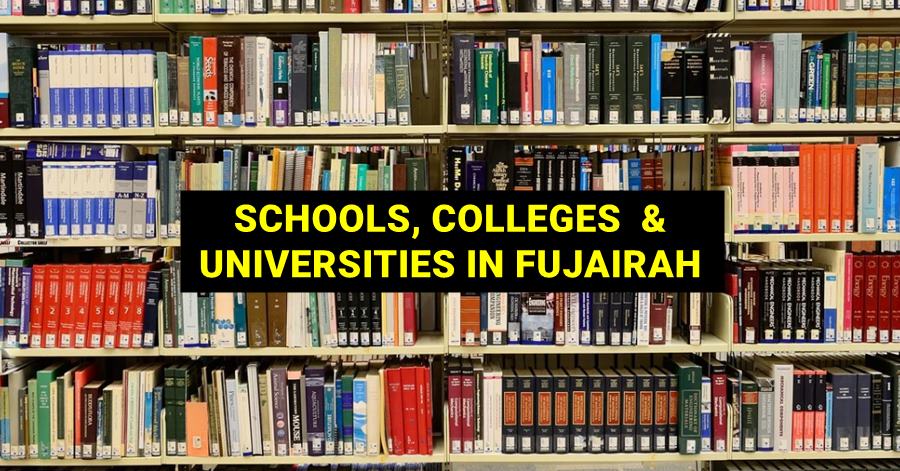 UAE Directory: Fujairah Schools, Colleges, and Universities
In case you are looking for a particular school in the emirate of Fujairah, please check out the list we have compiled below. We've categorized and shared their address, contact number and official website for your reference.
Nurseries in Fujairah
Al Jalila Nursery
Address: Merashid, Airport Road, near to Fujairah Chess Club (Fujairah)
Phone: 09-2236393
Website: https://www.instagram.com/aljalilanursery1
First Word Nursery
Address: Al Rifaa, Al Sheikh Maktoum Street (Dibba Al Fujairah)
Phone: 09-2444577
Website: https://www.facebook.com/FWN2017
Fujairah Montessori Nursery
Address: Al Faseel, behind Our Own English High School, near to Preventive Clinic (Fujairah)
Phone: 09-2238851
Website: http://www.fujairahmontessori.com
Happy Days Nursery
Address: Merashid, near to Merashid Health Center (Fujairah)
Phone: 09-2242688/056-3903331
Website: https://www.facebook.com/happydaysnursery.fujairah
Happy Jump Nursery
Address: Al Faseel, near Our Own English High School (Fujairah)
Phone: 056-8314377
Website: http://www.happyjumpnurseries.com
Little Stars Nursery
Address: Al Nakheel Street, Villa # 7 (Fujairah)
Phone: 050-1917031
Website: https://twitter.com/littlestarsnurs
Mummy and Me Nursery
Address: Al Nakheel Street, Villa #2 (Fujairah)
Phone: 09-2222515 / 056-6490099
Website: https://www.instagram.com/mommyandmenurseryfuj
My Childhood Fun Nursery
Address: West Street, near to Atayeb Restaurant (Dibba Al Fujairah)
Phone: 050-1200268
Website: https://www.instagram.com/mychildhoodfun
Smart Al Sanafer Nursery
Address: Al Rashidiya, near to Al Rashidiya Park, in front of Choco Lala (Dibba Al Fujairah)
Phone: 09-2444055 / 050-9969697
Website: https://www.sanafer1.com
Smart Kid Nursery
Address: Merashid, Behind al Mashreq Bank (Fujairah)
Phone: 09-2239333
Website: https://www.facebook.com/smartkidnursery.ae
Super Baby Nursery
Address: Al Faseel, near Emirates Red Cresent (Fujairah)
Phone: 09-2235551
Website: https://www.instagram.com/superbabynursery
Pre Schools in Fujairah
Al Anfal Kindergarden
Address: Al Bidyah, Near to Hakim ibn Hizam Mosque
Phone:09-2388050, 09-2388862
Al Douha Kindergarden
Address: Al Dhaid Street, Behind Fujairah Municipality (Masafi Branch)
Website: https://twitter.com/aldohakg?lang=ar
Al Ensrah Kindergarden
Address: Dibba, Infront of Rashidiya Park
Phone: 09-2446870, 09-2446810
Website: https://twitter.com/inshrsch
Al Ghorfa Kindergarten
Address: Al Ghorfa Area, Rughaylat Road, Near to MOH Stores
Phone: 09-2223644
Website: https://twitter.com/alghurfa
Al Ikhlas Kindergarten
Address: Opposite Police Station
Phone: 09-2360635
Website: https://twitter.com/alehklaskg?lang=ar
Al Nahar Kindergarden
Address: Al Rugaylat Road, Infront of Cardiff Cafe and Jabal Noor Cafeteria
Phone: 09-2443795, 09-2443794
Al Rahman Kindergarden
Address: Merashid, Al Nahda Road, Fujairah
Phone: 09-2223494, 09-2226420
Al Shahad Kindergarten
Address: Near to Saif Bin Hamad Al Sharqi for Basic & Secondary Education School
Phone:09-2024777
Al Sharq Kindergarden
Address: Al Ittihad, Near to Fujairah Mosque
Phone:09-2222810, 09-2220377
Al Tawyeen Kindergarten
Address: Near to Al Tawyeen for Basic & Secondary Education School for Girls
Public Schools in Fujairah
Abu Jandal School for Basic Education
Address: Al Basra Road, Near to Fujairah Youth Hostel
Phone: 09-2223494, 09-2226420
Al Bahar Girls School For Basic Education
Address: Sakamkam Street, Near to Our Own English High School
Phone: 09-2221373
Al Bidiyah Basic Education School
Address: Near to Lubabah Bint Al Hareth For Basic & Secondary School
Phone: 09-2388205
Al Halah Basic Education School for Boys
Address: Al Halah, Near to Ahmed Mohamed Al Zayoudi Mosque
Phone: 09-2448231, 09-2448241
Al Ibtihaj Basic Education School for Girls
Address: Near to Al Noaman Bin Moqaran Basic Education School
Website: https://twitter.com/ibtihajschool
Al Itqan Girls SChool For Basic & Secondary Education
Address: Al Farfar
Near to Thabet Bin Qayes Mosque
Phone: 09-2568685
Al Marefa School for Basic Education
Address: Rugaylat Road
Phone: 09-2445659, 09-2445950
Website: https://twitter.com/almarefaschool?lang=ar
Al Masah Secondary School
Address: Near to Dibba Al Fujairah Secondary School
Phone: 09-2444762
Website: https://twitter.com/almasaschool?lang=ar
Al Mothana Bin Haretha Boys
Address: Murbah Street, Near to Al Aroba Club
Phone: 09-2381533
Al Noaman Bin Moqran for Basic Education School
Address: Murbah Street, Near to Murbah Secondary School for Girls
Phone: 09-2381533
Al Qeaan Boys School For Basic Education
Address: Riffa Area, Schools Complex, Ghoub Street, Near FEWA Emergency Building
Phone: 09-2444203
Al Raiyan Primary Shool
Address: Near to Al Tawyeen Primary Health Center
Phone: 09-2223494, 09-2226420
Al Shoalah School For Basic Education
Address: Near to Al Bithnah Mosque
Phone: 09-2568218
Al Tawyeen Girls School for Basic & Secondary Education
Address: Near to Fujairah Adventures, Al Tawyeen Camp
Phone: 07-2585970
Albraa Bin Malek School for Basic Education
Address: Rugaylat Road, Near to Imam Abu Huzaifa Mosque
Phone: 09-2443446, 09-2446592
Anas Bin Al Nathar School for basic and Secondary Education
Address: Near to Al Hawari Book Shop
Phone: 09-2445501, 09-2445289
Dibba Al Fujairah Girls School for Secondary Education
Address: Near to FEWA Office
Phone: 09-2443447, 09-2446550
Fatima Bint OUtbah Girls School For Basic Education
Address: Near to Al Bidiyah School For Basic Education
Phone: 09-2388330
Fujairah School For Secondary Education Boys
Address: Seif Al Dawlah Road, Behind GMC Motors
Phone: 09-2226027
Hamad Bin Abdullah Al Sharqi Secondary School
Address: Karsha, Near to Imam Abu Huzaifa Mosque
Phone: 09-2442196
Jewairya Bint Al Hareth School For Basic Education
Address: Near to Al Qurayyah Medical Center
Phone: 09-2024912
Lubabah Bent Al Hareth School for Basic and Secondary Education
Address: Near to Al Ikram Restaurant
Phone: 09-2389136, 09-2389383
Mabad Secondary School For Girls
Address: Saif Al Dawlah Street, Near to Fujairah Secondary School For Boys
Phone: 09-2222243
Masafi Girls School for Basic and Secondary Education
Address: Al Dhaid Street, Near to Al Falah Mosque
Phone: 09-2564424, 09-2564827
Tweets by Masafi_school
Mohammed Bin Hamad Al Sharqi Boys School For Basic Education
Address: Yabsa Al Aber Road
Phone: 058-8622157
Mohammed Bin Hamad Al Sharqi Boys School for Secondary Education
Address: 17, Sakamkam Road Al Hilal City, Fujairah, Fujairah Emirate
Phone: 09-2226000, 09-2242642
Mreshed School for Basic Education
Address: Jamal Abdul Nasser Road, Near to Rashid Bin Saeed Mosque, Fujairah
Phone: 09-2224337, 09-2224337
Website: https://www.facebook.com/مدرسة-مريشيد-للتعليم-الاساسي-441610232556496/
Murbah Girls School for Basic Education
Address: Near to Ibtihaj Basic Education School for Girls
Phone: 09-2024950
Murbah Girls School for Secondary Education
Address: Mosa Al Jasem Street, Near to Al Aqeer Park
Phone: 09-2381410, 09-2380319
Saed Bin Abi Waqas School For Basic Education
Address: Karsha, Near to Imam Abu Huzaifa Mosque
Safeya Bent Hoyay School For Basic Education
Address: Near to FEWA Office
Website: https://twitter.com/safeyaschool?lang=ga
Sakamakm Basic Education Schools for Boys
Address: Skamkam, Near to Mustafa Mosque
Phone: 09-2228234, 09-2281802
Website: https://twitter.com/sakmkmsch
Seif Bin Hamad Al Sharqi School for basic and Secondary Education
Address: Al Emam Al Bukhari Street, Near to ADIB
Phone: 09-2380772, 09-2380050
Website: Saifbinhamadalsharqi.fuj@moe.gov.ae
Sif ALdwalah School for Basic Education
Address: Al Faseel, Near to Fujairah Women's College
Phone: 09-2241876, 09-2231887
Um Al Alaa Basic School for Girls
Address: Al Sharqi Road, Near to Fujairah Municipality
Phone: 09-2227001
Website: https://twitter.com/umalalas?lang=ar
Um Al Mumeneen Secondary School for Girls
Address: Tunis Road, Near to WAM Office
Phone: 09-2223595, 09-2227210
Website: https://twitter.com/UmAlmumeneensch
Um Hakeem Al Ansariyah School For Basic Education
Address: Near to Al Ghub Mosque
Phone: 052-0000000
Zaid Bin Al Khattab Primary School
Address: Al Imam Al Bukhari Street, Near to Koukh Burger
Phone: 09-2380970
Zubaidah Bint Jaafar Girls School For Basic Education
Address: Near to Central Market
Website: https://twitter.com/zbdsch
Private Schools in Fujairah
Al Yaqeen Private School
Address: In front of Alia Suites Hotel Apartments
Phone: 09-2446785, 09-2442689
Tweets by alyaqeenschool
Diyar International Private School – Dibba
Address: Riffa Area, Schools Complex, Ghoub Street, Near FEWA
Phone: 09-2043000
Website: http://diyar.school/dibba-campus
Diyar International Private School – Fujairah
Address: Near to Federal Authority for Identity & Citizenship
Phone: 09-2032500, 09-2239444
Website: http://www.diyar.school/fujairah-campus
Eminence Private School
Address: Sakamkam Street, Near to Diyar International Private School
Phone: 054-7999720
Website: https://eminenceschool.org/index.php
Emirates Private School
Address: Near to Fujairah Football Club, and Shahrazad Wedding Hall
Phone: 09-2224437,09-2224534
Website: https://www.facebook.com/pg/مدرسة-الامارات-الخاصة-بالفجيرة-618780681799515/posts
Fujairah Islamic Scientific Academy
Address: Al Najimat Road, In front of Fujairah City Center
Phone: 09-2225604, 09-2225230
Website: https://www.facebook.com/pages/اكاديمية-الفجيرة-العلمية-الاسلامية/131176210271760http://fisa.ac.ae
Fujairah Private Academy
Address: Near to Fujairah City Centre
Phone: 09-2371102
Website: http://fpacademyae.com/
Gems Winchester School
Address: Al Qasr Road, Near to Fujairah Civil Defense
Phone: 09-2014000
Website: https://www.gemswinchesterschool-fujairah.com
Indian School Fujairah
Address: Al Basra Road, Near to Preventive Medicine Department
Phone: 09-2223441, 09-2225441
Website: http://isf.sch.ae
Modern Indian School – Dibba
Address: Near to Ministry of Community Development
Phone: 09-2444074, 09-2446520
Website: http://www.misdibba.com/index.php/en
Our Own English High School
Address: Al Basara Road – Fujairah – United Arab Emirates
Phone: +971 9 222 4855
Website: https://ourown.school/
Pakistan Islamia Higher Secondary School
Address: Al Basra Road, Near to Prevention Medicine Department
Phone: 09-2223130, 09-2227052
Website: https://pihss-fuj.com/
St. Mary's Catholic Private High School
Address: Near to Emirates Identity Authority
Phone: 09-2282828, 09-2281441
Website: http://stmarysfuj.com
Yanabee Al Marifa Private School
Address: In front of Safeer Market
Phone: 09-2447200, 09-2447200
Website: http://www.ymps.ae
Universities in Fujairah
BIMS College
Address: Fujairah Free Zone
0528649802
Website: http://www.bimscollege.ae/
City College International
Address: Fujairah Free Zone
Phone: 09-2230514, 09-2230515
Website: http://citycollegefujairah.com/
Fujairah Aviation Academy
Address: Al Sharqi Rd – Fujairah – United Arab Emirates
Phone: +971 9 222 4747
Website: http://www.fujaa.ae/
Higher College of Technology – Fujairah Women's College
Address: Al Qasar / Kuwait Road, Al Faseel – Fujairah – United Arab Emirates
Phone: +971 800 69428
Website: http://www.hct.ac.ae/colleges/fwc/
Higher Colleges of Technology – Fujairah Men's College
Address: Sheikh Khalifa Bin Zayed Rd, Near City Center Fujairah – Fujairah – United Arab Emirates
Phone: +971 9 222 2112
Website: http://www.hct.ac.ae/colleges/fmc/
Institute of Applied Technology
Address: Sheikh Maktoum bin Rashid Al Maktoum street – Fujairah – United Arab Emirates
Phone: +971 9 205 6000
Website: http://www.iat.ac.ae/
London American City College
Address: Free Zone II – Fujairah – United Arab Emirates
Phone: +971 9 224 1470
Website: http://lacc.ae/
University of Fujairah
Address: E89 – Fujairah – United Arab Emirates
Phone: +971 9 224 4499
Website: http://www.uof.ac.ae/
University of Science and Technology of Fujairah
Address: Sheikh Maktoum bin Rashid Al Maktoum street – Fujairah – United Arab Emirates
Phone: +971 50 232 6689
Website: http://www.ustf.ac.ae/en/