The future of transportation in Dubai: Self-driving flying cars. With the goal of making Dubai as the smartest city in the world,  smart flying cars is definitely something to look forward to this summer of 2017.
The Roads and Transport Authority (RTA), in collaboration with the Chinese EHANG Company, announced that it had carried out the first test run of an Autonomous Aerial Vehicle (AAV) capable of carrying a human, branded as EHANG184 in Dubai skies. RTA is set to start the operation of the AAV as early as July this year.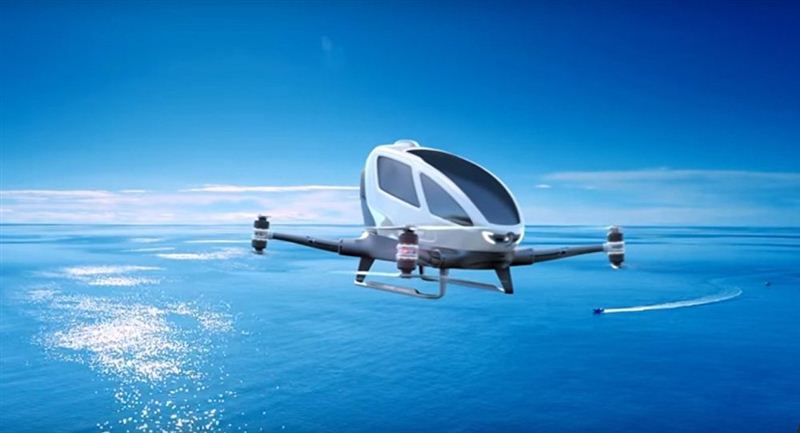 RTA to Launch Smart Flying Cars or Autonomous Aerial Vehicles (AAV) in Dubai
Making Dubai as the smartest city is one of the directives of HH Sheikh Mohammed bin Rashid Al Maktoum, Vice-President and Prime Minister of the UAE and Ruler of Dubai. Not only will these cars be flying you to your destination, but they will also be driverless.
The EHANG184 vehicle is fitted with a touchscreen to the front of the passenger seat displaying a map of all destinations in the form of dots. It has preset routes and the rider is to select the intended destination. The vehicle will then start automatic operation, take off and cruise to the set destination before descending and landing in a specific spot. A ground control center will monitor and control the entire operation.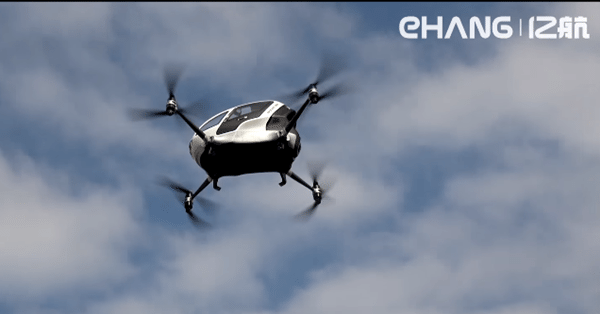 screenshot from YouTube | EHANG
Video of EHANG 184 Flight Test
Below is a flight test of the EHANG184. These drones could transport a passenger from Point A to Point B.

The AAV is designed to fly for maximum 30 minutes at a maximum cruising speed of 160 km/h.The ascending/descending speed is about 6 meters per second and the landing speed is 4m/s.The AAV measures 3.9 m in length, 4.02 m in width and 1.60 m in height. It weighs about 250 kg and 360 with a passenger. The AAV is designed to operate under all climatic conditions unless there is a thunderstorm. The vehicle is fitted with highly accurate sensors with a very low-error threshold and can resist vibrations and extreme temperatures. "The AAV exhibited at the World Government Summit is not just a model, it is a real version that we have already experimented the vehicle in a flight in Dubai sky. RTA is making every effort to start the operation of the AAV in July 2017," reported Al Tayer
@worldgovsummit
This self-driving flying vehicles could very well help n reducing traffic congestions in the busy streets of Dubai. We're looking forward to this big step in the coming months!