The International Air Transport Association (IATA) is preparing to launch its comprehensive "COVID passport" to help revive international aviation. The passport would enable air travellers to easily provide their COVID credentials to airlines and governments, enabling them to enter their destination.
A "COVID passport" could allow people who can prove they've had the maximum dose of the virus — or who have already survived the disease and thus have immunity — to travel with fewer restrictions or attend concerts and sporting events without having to be screened.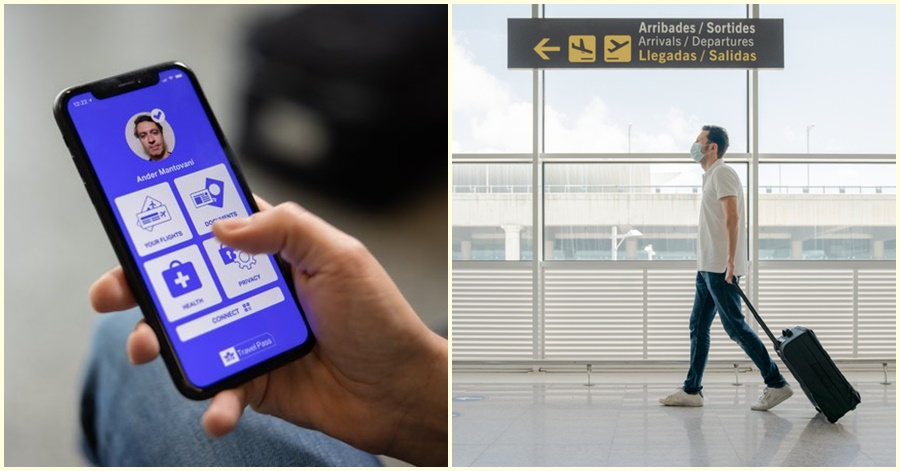 Everything You Need to Know About the IATA Pass
More than a dozen airlines are currently testing one alternative, the International Air Transport Association's Travel Pass app.
Fliers can download it to their tablet, take a selfie with it, and check their passport to confirm their identity. Many who have been vaccinated should upload a copy of their vaccination certificate or schedule a COVID-19 test at an accredited lab if their destination requires it. The results will appear in the app automatically.
What is the IATA Travel Pass?
IATA Travel Pass is a mobile application that allows travellers to store and manage their validated COVID-19 test or vaccine certifications. This will be critical for governments that will most likely need either validated testing or evidence of vaccination as a condition of international travel during and after the COVID-19 pandemic.
The IATA Travel Pass would be more safe and effective than the existing paper-based health-related processes (the International Certificate of Vaccination or Prophylaxis, for example). Given the potentially massive scale of testing or vaccine verifications that will need to be safely handled, this will be critical.
Why is there a need for the IATA Travel Pass?
The IATA Travel Pass was created to address the following issues:
Variety and Complexity
The broad range of COVID-19 assessments, combined with the varying criteria of governments around the world, has ultimately created a difficult situation for travellers, airlines, and immigration officials to handle.
Information Gap
Travellers are often perplexed and in search of accurate and reliable knowledge, with little idea where to look. If they do come across the material, it may be difficult for them to comprehend or act on it.
Inefficiencies, mistakes, and fraud
As check-in agents attempt to verify multiple non-standard test certificates presented by travellers, the plethora of entry requirements can confuse. This could lead to inefficiencies, mistakes, and even fraud in the future.
Rising to the challenge
The IATA Travel Pass is an upgrade to an existing scheme. The world has relied on a paper documentation system for evidence of vaccination for decades. The most well-known is the requirement of a yellow fever vaccine by many countries based on our travel background and destination. The "yellow book," or International Certificate of Vaccination and Prophylaxis, is in charge of this under International Health Regulations.
An automated process will be better able to handle the large amounts of data that will be required, and it will make it easier for passengers to respond to any changes in government requirements. Importantly, for those who do not have access to a cell phone, there will be paper-based alternatives, although less convenient ones.
IATA already manages health requirements through its Timatic solution, so the IATA Travel Pass is a logical progression to help the industry cope with the pandemic.
How does the IATA Travel Pass work?
The IATA Travel Pass is made up of four open and interoperable modules that work together to form a complete solution. The IATA Travel Pass includes:
Global registry of health requirements – enables passengers to find accurate travel information, testing and eventually vaccine requirements for their journey.
Global registry of testing/vaccination centres – enables passengers to find testing centres and labs at their departure location which meet the standards for testing and vaccination requirements of their destination.
Lab App – enables authorized labs and test centres to securely share test and vaccination certificates with passengers.
Contactless Travel App – enables passengers to (1) create a 'digital passport', (2) receive test and vaccination certificates and verify that they are sufficient for their itinerary, and (3) share testing or vaccination certificates with airlines and authorities to facilitate travel. This app can also be used by travellers to manage travel documentation digitally and seamlessly throughout their journey, improving the travel experience.
What benefits does the IATA Travel Pass offer?
In response to the aforementioned challenges, IATA is urging all international travellers to undergo COVID-19 testing and developing the required information infrastructure. The travel pass would explicitly resolve these concerns and offer incentives to all parties involved in the travel process as a result of this.
For governments
The IATA Travel Pass would make it easier to check the validity of required tests as well as the identity of those presenting test certificates. The Travel Pass is based on IATA's belief that a standardized testing system, rather than quarantine standards, will provide a more efficient safety and health protocol.
For airlines
They will be able to reliably notify their passengers about test conditions and check that a passenger meets the requirements for travel with the Travel Pass.
For Covid test laboratories
The Travel Pass will enable passengers to receive and securely receive digital test or vaccination certificates that will be accepted by governments.
For travellers
They will be able to obtain correct details on travel, testing (and ultimately vaccine) criteria for their trip, as well as a host of other benefits, thanks to the Travel Pass:
Allows passengers to locate testing centres and laboratories near their departure location that meet the destination's testing/vaccination requirements.
Allows passengers to (1) build a "digital passport," (2) check that their test/vaccination meets regulatory requirements, and (3) exchange test or vaccination certificates with authorities to make travel easier.
Travellers will use it to handle their travel documents digitally and effortlessly during their trip.
Key design elements
IATA prioritised three main elements in developing the IATA Travel Pass: data protection and safety, internationally accepted identity and vaccination verification, and improved contactless travel procedures. The following are the specifics.
Travellers are in control of their personal information and privacy
This ensures that the IATA Travel Pass stores encrypted data on the traveller's own mobile device, including checked examination or vaccination results. There will be no central database or archive that collects or stores this critical data. The traveller has complete influence over what information is shared with states, airlines, and other authorities. This effectively maintains the highest standards of data privacy and protection.
Global standards recognized by governments to ensure verified identity and test/vaccine information
Verified identity: The Travel Pass creates a digital image of the user's passport by using a government-issued ePassport to check the traveller's identity. This enables the requisite data to be transmitted electronically in a safe manner that is connected to their checked identity. This is accomplished by using the International Civil Aviation Organization's (ICAO) global standards, which fit biometric passport data with a selfie taken by the customer. As a result, a Type 1 digital travel credential that complies with ICAO standards is established.
Test reports or vaccine knowledge that has been verified: The yellow fever inoculation, which is handled by the "yellow card" or International Certificate of Vaccination and Prophylaxis, is the key vaccination prerequisite for entry into some countries. The World Health Organization (WHO) is working on digital standards that will make the system much more stable and less vulnerable to fraud. The IATA Travel Pass will be able to accommodate and integrate these global standards into its structure until it is completed. COVID-19 research will continue to be prioritized until the COVID-19 vaccine is widely available to the general public. IATA has established collaborations with selected and established laboratories to securely link their test results with the verified identity of the IATA Travel Pass holder.
Enhanced contactless travel procedures
With smooth incorporation through contactless travel processes, both comfort and biosafety can be improved. The use of contactless travel processes is recommended by the ICAO CART for biosafety to reduce the risk of virus transmission when documents must be exchanged during the travel process.
This ensures that the IATA Travel Pass would be able to take advantage of the opportunity for contactless travel processes from check-in to boarding. The need for COVID-19-related verification will fade away as the world slowly recovers from the pandemic, but the IATA Travel Pass will remain a bold move forward in the implementation of contactless travel.
When will the IATA Travel Pass become available?
The app was first used by a foreign passenger flying from Singapore to London's Heathrow Airport on Singapore Airlines in the third week of March, indicating that "there is light at the end of the very long tunnel."
The IATA Travel Pass is currently being tested by an increasing number of airlines and governments around the world.
What Are the Airlines Implementing the Use of IATA Pass?
Singapore Airlines
Etihad Airways
Emirates Airlines
Gulf Air
Copa Airlines
Qatar Airways
Saudia Airlines
Malaysia Airlines
RwandAir
SWISS
Virgin Atlantic
Other Airlines:

Qantas
airBaltic
ANA
AirSerbia
Thai Airways
Thai Smile Air
Korean Air
Ethiopian Airlines
Neos
Vietjet Air
Airlines also note that the IATA Travel Pass takes the question of privacy very seriously, in addition to eliminating the hassles of manually confirming and validating travellers COVID credentials.
No passenger data is stored centrally; instead, all data is stored on the passengers' own computers, and they are the only ones who can decide whether or not to share it during their journey. To summarize, IATA does not have access to any data; rather, it allows the transfer of data from passengers to their preferred airlines.
Disclaimer: This post was published for information-sharing purposes only. If you have any questions or other concerns, you may head over to the official IATA website at https://www.iata.org/en/youandiata/.
There you have it! As more and more countries are looking to jumpstart their international travel services, the use of IATA Pass is looking to become the standard and solution to ensuring the health and public safety is effectively upheld.
READ NEXT: UAE Eases Travel Procedures for Vaccinated Residents