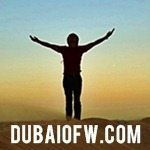 I just had my second medical checkup in Al Quoz Dubai Health Authority office. My employer screwed up the first one and now I had to go to the medical office again for another round of blood sample and X-ray scan.
I actually finished this medical examination for my work permit but my employer somehow forgot to submit my application so my Labor card is still not with me. The company had to pay a fine of 3000 Dirhams for the late application. I did not have to worry about these extra fees in the labor since it was not my fault that they processed it late.
Still, the task of going to the health center in Al Quoz was really daunting. I had to wake up early and line up the normal way in order to get a pass and then go through the checkup one more time.
It's good that I was given a free ride by my employer (it's the least that they could do) since the fare going to the First Gulf Bank Metro station and the RTA bus to the Al Quoz mall was out of my budget.
I got a number, waited for my number to be called, and then waited again for my name to be called. The blood sample was quick and even the x-ray scan. I had to double check if it was safe to undergo an x-ray exam even if I had it only about 3 months ago. The Dubai Health staff said it was safe.
I finished the med exam about 1pm and went straight for duty at the shop. My employer then processed my labor card permit. This was such a hassle on my part because I had to process this during my free time. But I can't do anything much about it as I need to have my labor card filed.