A new 72 cases of the outbreak was announced by the Ministry of Health and Prevention on March 27, 2020. This brings the total reported cases in the UAE to 405. They also reported 3 new recoveries which brings the total of recoveries to 55.
Also Read:
– UAE Suspends ALL Flights (Inbound, Outbound, and Transit) for 2 Weeks
– UAE advises everyone NOT to go out except for absolute necessity, Punishment for violators
– Malls, Commercial Centers, Selected Markets to Close for 2 Weeks, Restaurants Limited to Home Deliveries
As this is a developing story, we will update you with the nationalities of the new cases and new recoveries soon. Please stay tuned.
Update: Nationalities of New Cases and Recoveries
The nationalities of the new cases include: one person each from Sri Lanka , Jordan, Palestine, Syria, Iran, Comoros, China, Saudi Arabia, Kyrgyzstan, Bosnia, Serbia, Greece, Uruguay, Romania, Sweden, South Africa, Iraq, and Yemen; two people from Nepal and Ethiopia; four people from UAE; five people from Britain, Pakistan, and Lebanon; eight people from Bangaldesh and 23 cases from India .
The nationalities of the recoveries include one person from Pakistan, and two from Bangladesh.
Total Number of Cases in UAE as of March 27, 2020
Confirmed Cases – 405
Recovered Cases – 55
Deaths – 2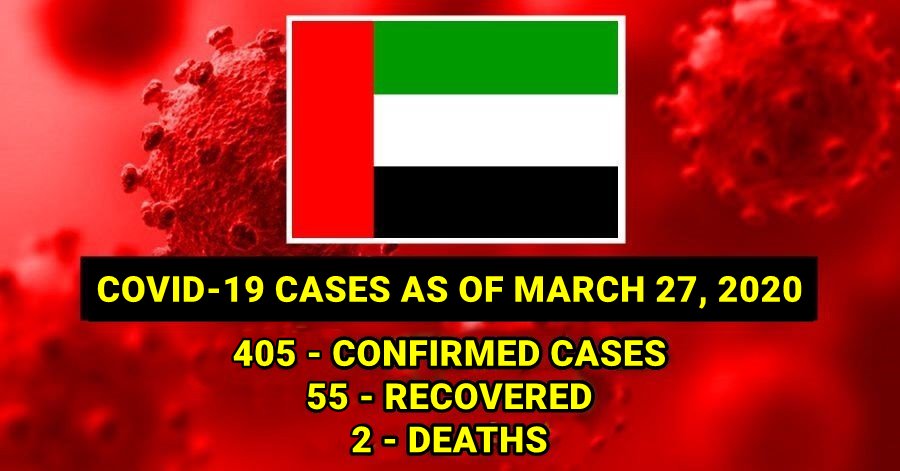 Below is the Tweet from MOHAP regarding these 72 new cases:
شفاء 3 حالات وتسجيل 72 حالة جديدة من جنسيات مختلفة مصابة بفيروس كورونا المستجد " كوفيد 19″ لمخالطين من خارج الدولة#خلك_في_البيت#ملتزمون_يا_وطن#فيروس_كورونا_المستجد #كوفيد19#وزارة_الصحة_ووقاية_المجتمع_الإمارات pic.twitter.com/sMQpcRqUId

— وزارة الصحة ووقاية المجتمع الإماراتية – MOHAP UAE (@mohapuae) March 27, 2020

Below is the update from MOHAP: