The UAE started a National Disinfection Program starting last night (March 26) and will last until the weekend. Public transport system and public utilities are to be closed from 8pm to 6am. The Dubai Media Office has shared pictures from last night where workers cleaned the streets of Dubai.
Also Read: Dubai Police Arrests Woman for Encouraging People to Break #StayHome Rules
While vital sectors and people can still buy necessities outside, awareness campaigns have been taken place encouraging the public to #stayhome so that the government can do their job and sterilize public areas.
Pictures of Dedicated Dubai Workers Sterilizing the Streets Last Night
This National Disinfection Programme runs for 3 nights (until March 26 – 6am). We hope that everyone will continue to follow rules so that the government can also continue working on the streets without disruption.
We thank the workers for staying up and working late last night. This shows the government's hard work and dedication in making sure residents are safe. Below are pictures of them in action as they sterilized the streets.
Images: Dubai Media Office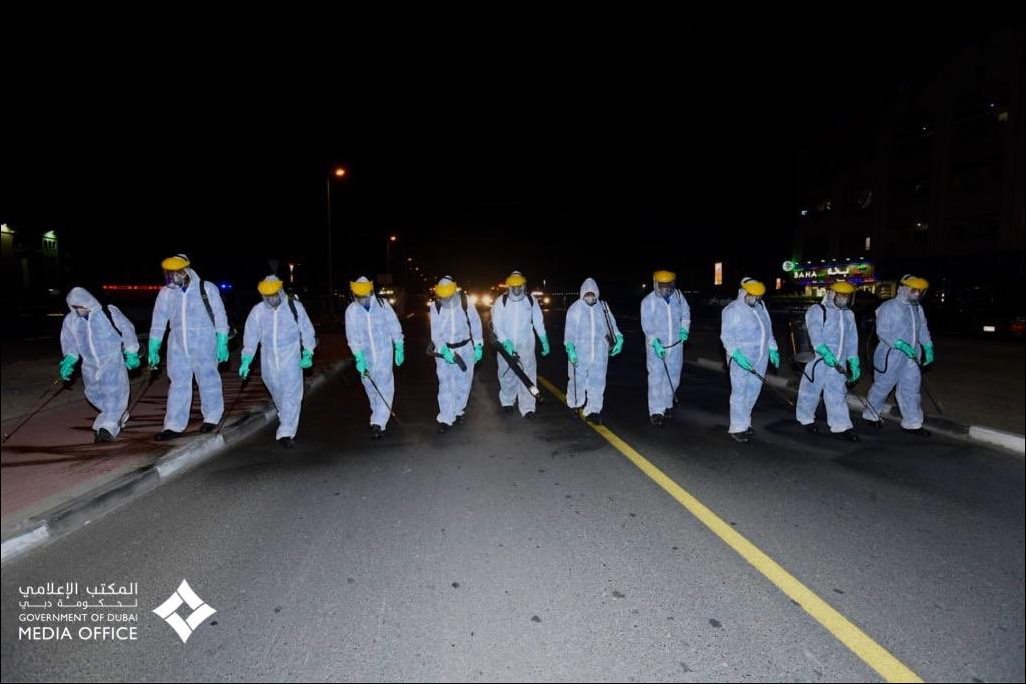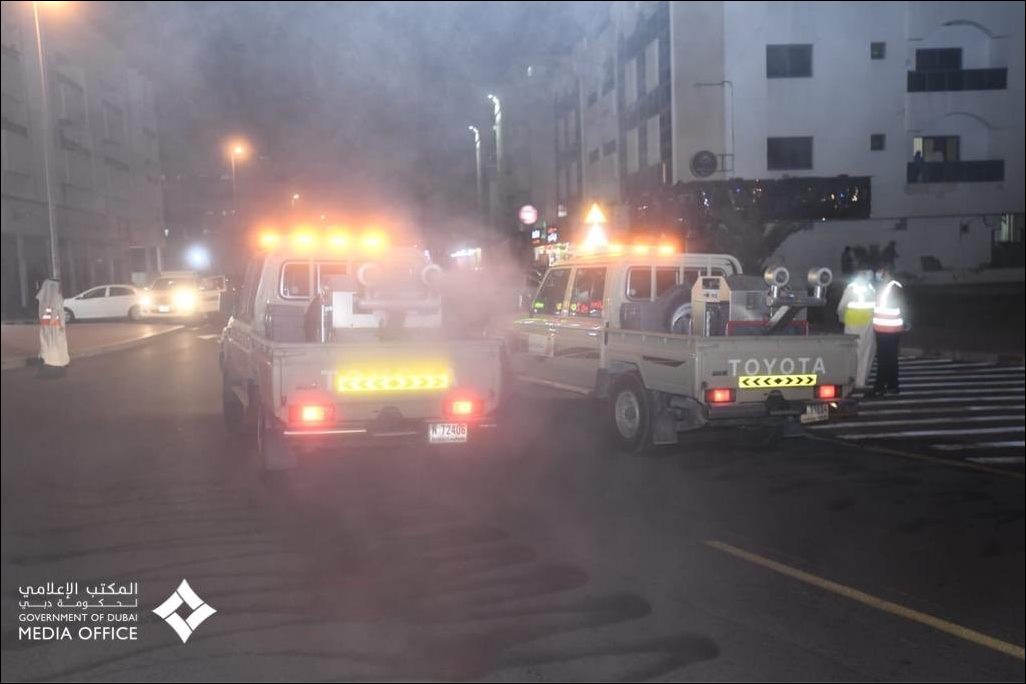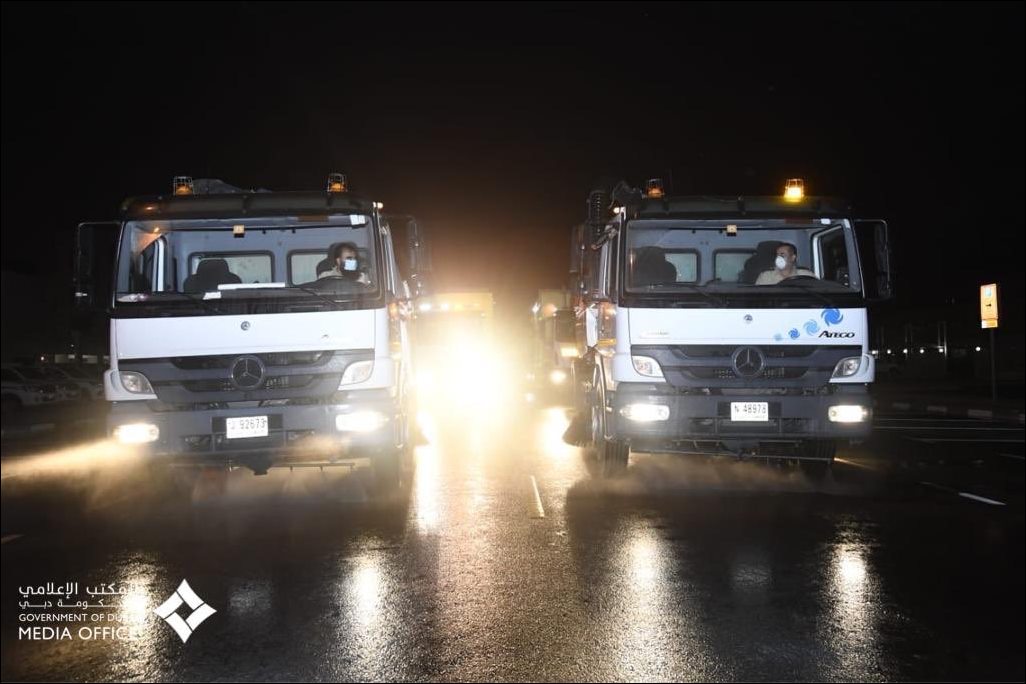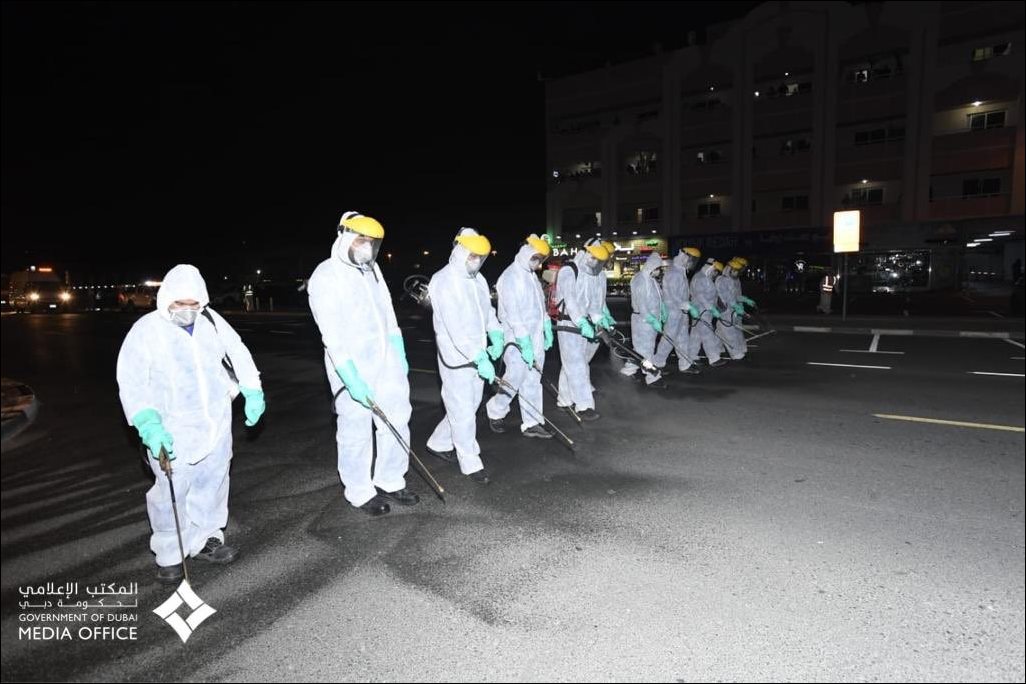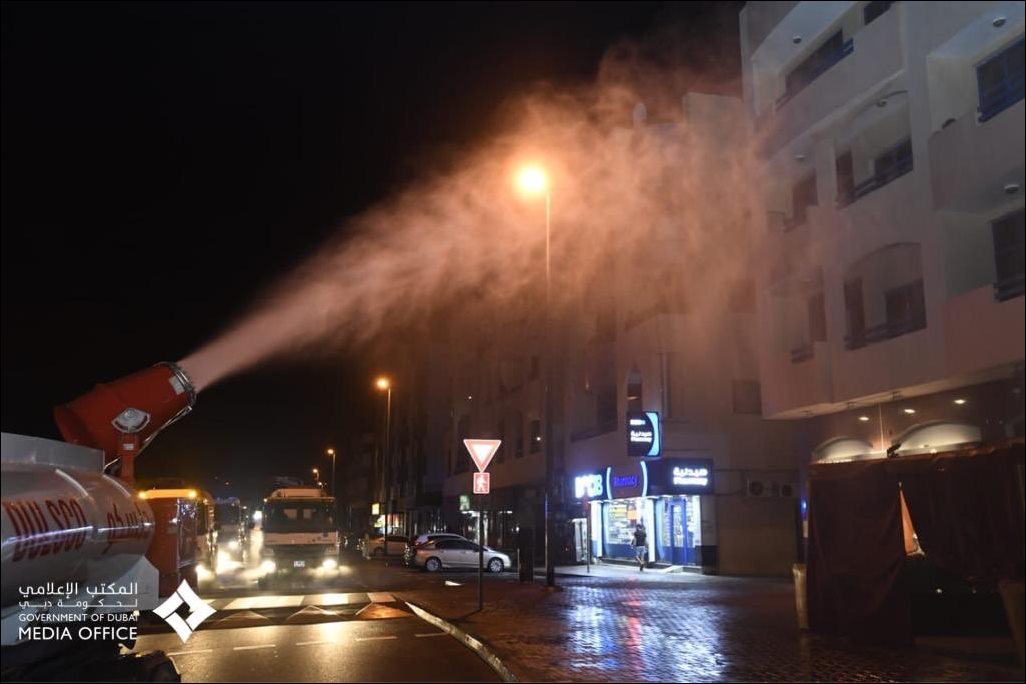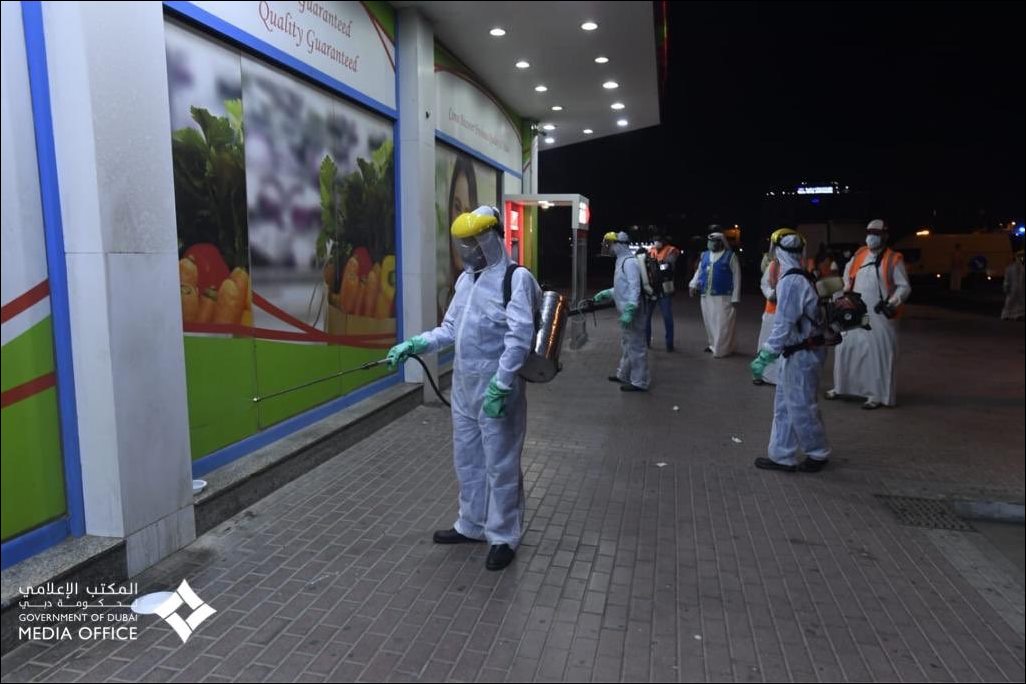 Below are Tweets from the Dubai Media Office from last night's disinfection program:
— Dubai Media Office (@DXBMediaOffice) March 26, 2020
Video: Dubai Disinfects the Streets
Below is a video showcasing the actions done on the streets last night:
.@DMunicipality starts a three-day sterilisation programme in #Dubai. pic.twitter.com/hYe0Vl2Nwa

— Dubai Media Office (@DXBMediaOffice) March 27, 2020
.@DMunicipality starts a three-day sterilisation programme in #Dubai. pic.twitter.com/BxNOvvxgRN

— Dubai Media Office (@DXBMediaOffice) March 26, 2020
Below are pictures of the streets almost deserted which shows that residents are following the advice of the government to stay indoors. Dubai thanks residents for their commitment in following rules for staying home:
Images shared by @naomi_dsouza on IG:
Photos: Abu Dhabi Uses Drones to Disinfect the Streets
On another note, a photo shared on Twitter by @Zaidality shows Abu Dhabi using drones to disinfect the streets:
Abu Dhabi is using drones to disinfect the streets 😍 pic.twitter.com/ontODxj7qM

— زَيد 🇮🇶 (@Zaidality) March 26, 2020
Continue to #StayHome
The National Disinfection Programme was launched as it aims to protect health of citizens, residents, visitors amid the outbreak. It covers the sterilization of public and private facilities, streets, public transportation, metro trains and trams.
This has been implemented during the weekend as this is usually the time when social events and gatherings occur, which is something the government also advises the residents to avoid.
The UAE government is working very hard with various programs as part of the precautionary measures to combat the virus. Social distancing and separation is of utmost importance these days so let's all do our part and continue being responsible people and follow the rules.
Below is a schedule posted by the Dubai Police regarding the disinfection program and timings for public transport, metro and public utilities when it will be restricted.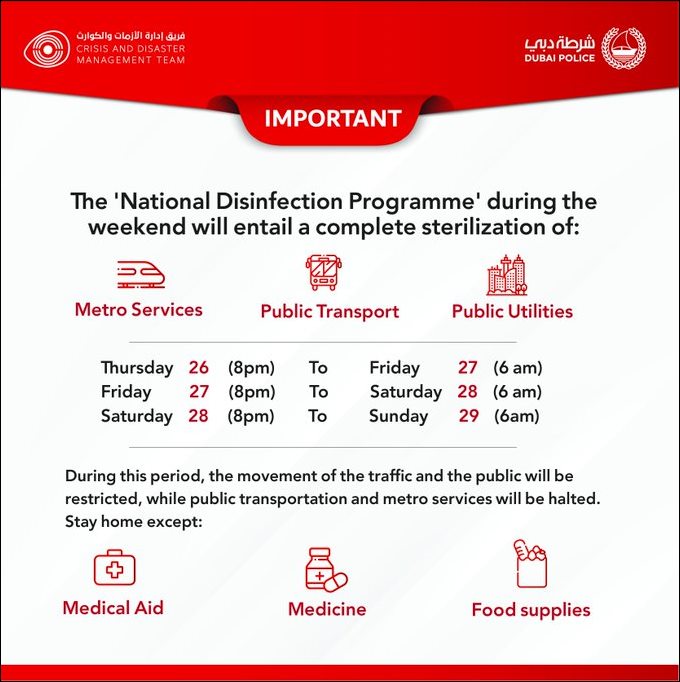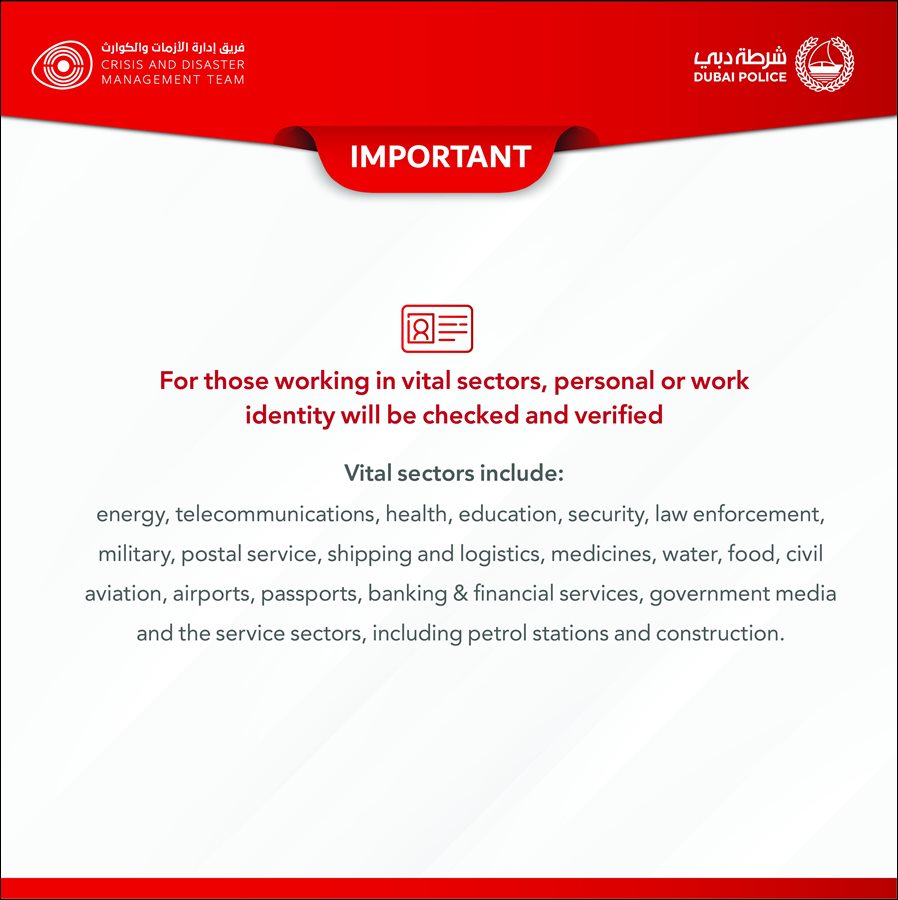 During this period, the movement of the traffic and the public will be restricted, while public transportation and metro services will be halted. Everyone is advised to stay home unless for absolute necessity (medical assistance, buying medicines, buying food supplies).
For those working in vital sectors, personal or work identity will be checked and verified.
Those working in vital sectors include: energy, telecommunications, health, education, security, law enforcement, military, postal service, shipping and logistics, medicines, water, food, civil aviation, airports, passports, banking & financial services, government media and the service sectors, including petrol stations and construction.