On Monday (March 24), On Instagram, a Dubai-based social media influencer uploaded a series of videos on her account seemingly encouraging her followers to go against the advice of health authorities regarding staying at home as much as possible in order to prevent the further spread of coronavirus.
ALSO READ:
– Dubai Police arrests Asian man for encouraging people to go out amid #StayHome instructions
– Dubai Police Arrests European Man Making Fun of Beach Closure Rule
Her slew of comments against the government's campaign urging people to practice social distancing prompted several Twitter users to report the video by tagging the Dubai Police.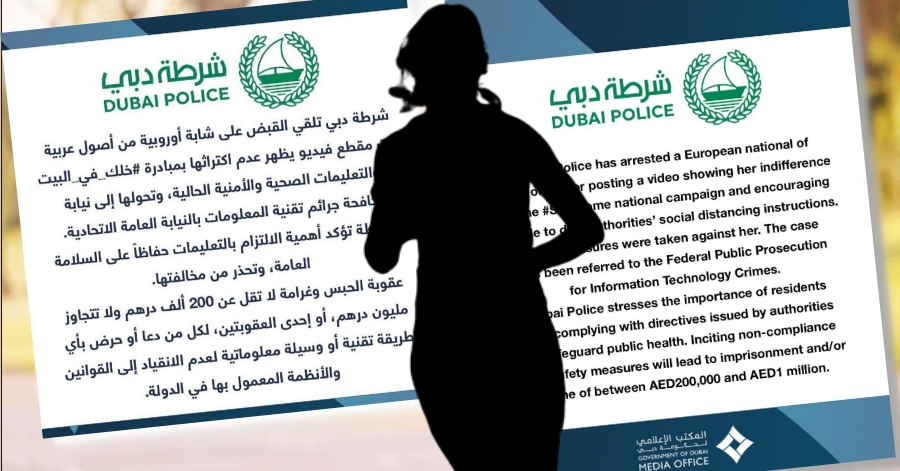 Dubai Police Arrest European Influencer Over Mocking Comments Over #StayHome Rules
On Tuesday, the Dubai Police posted an announcement on Twitter announcing that a member of the public had been arrested for "showing her indifference to the #StayHome national campaign."
The tweet read: "Dubai Police has arrested a European national of Arab origin for posting a video showing her indifference to the #StayHome national campaign and encouraging people to defy authorities' social distancing instructions. Legal measures were taken against her. The case has been referred to the Federal Public Prosecution for Information Technology Crimes. The Dubai Police stress the importance of residents fully complying with directives issued by authorities to safeguard public health."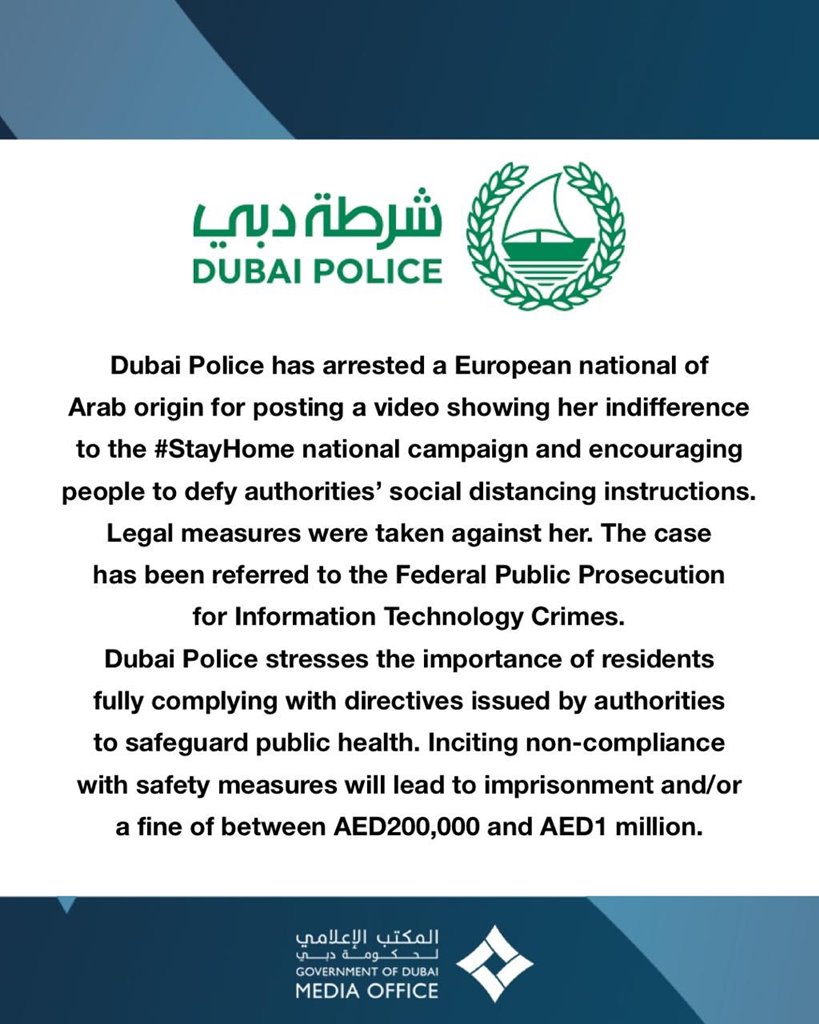 The video posted by the influencer seems to mock the measures set by authorities. As per report by ArabNews, the influencer said: 
"Finally, we're going for a run," said Azaiz who is seen outside with one of her friends. "I wanted to tell you that yesterday I went for a run with my friend and I was afraid to put up a video because two days ago when I was running and when I told people they should go out and do whatever they want, I have been attacked on social media, I was called irresponsible and crazy," she explained.
"However, I'm doing small runs. I'm by myself or I bring a friend with me because I don't want to make anyone unhappy and I don't want to take any risks. But what I'm saying is you don't have to take part in this campaign, staying at home," she continued.
In the same report, one of the now-deleted videos she shared with her 42,000 followers on Instagram sent a message which was inciting defiance of the law. 
"Do whatever you wanna do, no matter what's out there. If you want to leave the house, go for a walk or go for a run, just do it. Stay positive and stop adding to this drama staying at home. Why are you staying at home?" she said.
Her misleading posts have garnered immense backlash on social media since their upload — some users even reported the clips to Dubai Police, and led to the arrest.
Also Read: Dubai Ruler Warns Against Tarnishing UAE Image on Social Media
The influencer's comments came just after the Crown Prince of Dubai, Sheikh Hamdan, took to Instagram and Twitter to share a lengthy, heartfelt plea urging the residents of UAE to stay home amid the rapidly spreading coronavirus.