Traveling from Ajman to Abu Dhabi is made convenient with a well-structured bus timetable that ensures smooth journeys for commuters. The Ajman to Abu Dhabi bus timings have been carefully designed to accommodate the busy schedules of passengers while providing a comfortable and efficient mode of transportation.
Whether you're a daily commuter or a traveler exploring the UAE, these bus timings offer a reliable option for reaching the vibrant city of Abu Dhabi from the charming emirate of Ajman. Keep on reading so that you can plan your trip with ease across the two emirates.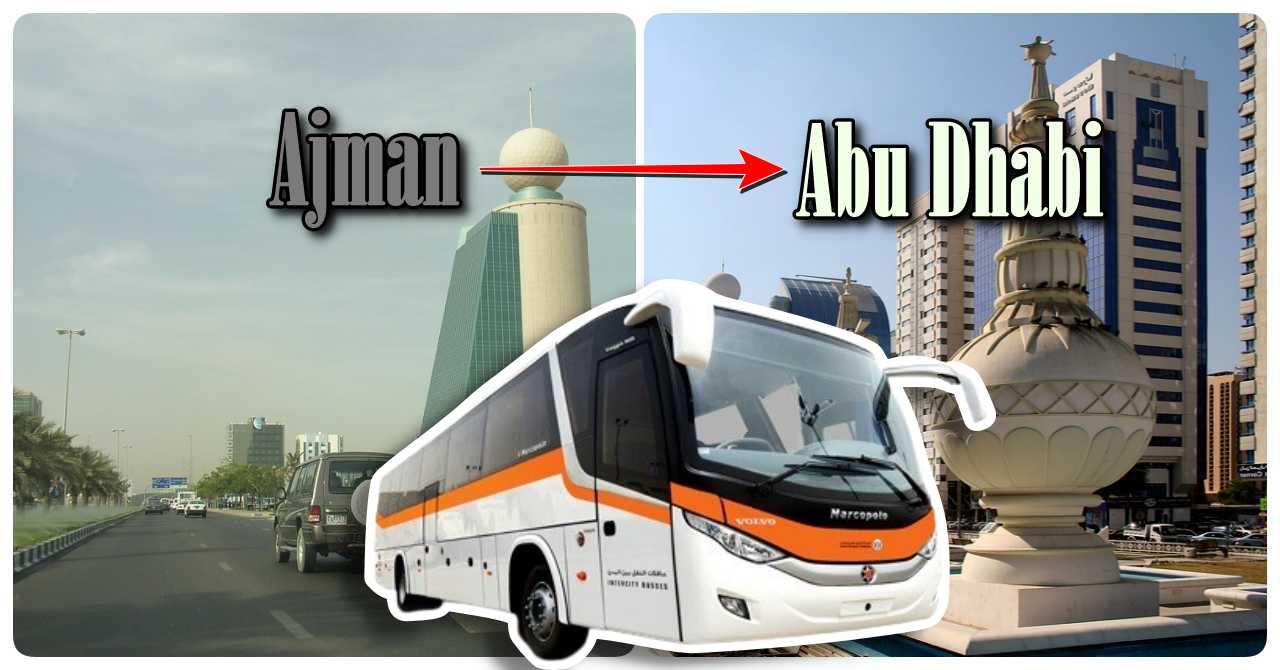 Abu Dhabi's allure extends beyond its efficient transportation links, as it has blossomed into a hub of global significance.
The city's reputation as a sporting mecca is underscored by events like the Abu Dhabi Golf Championship, the Abu Dhabi Desert Challenge cross-country rally, and the Formula One Abu Dhabi Grand Prix, drawing enthusiasts and athletes from around the world.
However, Abu Dhabi's appeal transcends sports; it stands as a bastion of culture with its exceptional assortment of premier cultural institutions.
From the iconic Sheikh Zayed National Museum to the captivating Guggenheim Abu Dhabi and the world-renowned Louvre Abu Dhabi, the city's commitment to fostering creativity and knowledge is evident.
Even the emirate's natural wonders, like the enchanting Liwa oasis with its majestic sand dunes, and the heritage-rich Al Ain nestled against the majestic Jebel Hafeet, contribute to Abu Dhabi's multifaceted charm, making it a destination that seamlessly marries modernity with heritage.
So, if you're all set to make this trip from Ajman anytime soon, then check out the rest of this guide.
Map
Here is the map of the route taken by buses plying between Ajman and Abu Dhabi. This route offers the utmost convenience and affordability as it takes approximately 3 hours and 30 minutes, without any stops or transfers.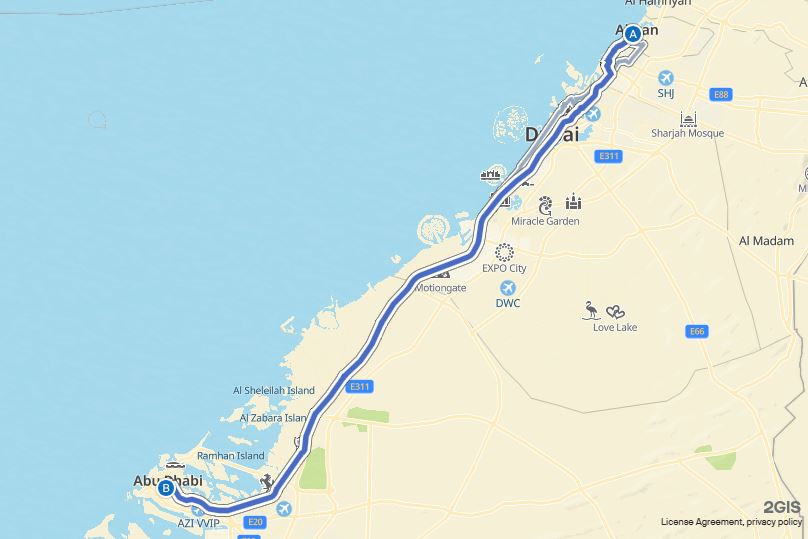 Route
1. Al Musalla, Bus Station
Address: Al Musalla, Ajman, UAE.
Nearby Landmarks: This bus station is conveniently located near the Ajman Corniche, providing easy access to the scenic waterfront. It's also close to the Ajman Fish Market, a popular spot for seafood enthusiasts.
2. Ajman Al Musalla Bus Station 2
Address: Ajman Al Musalla Bus Station 2, Al Mussalla, Ajman, UAE.
Nearby Landmarks: The bus station is situated close to the Ajman Museum, offering visitors a glimpse into the emirate's history and culture. It's also near Sheikh Humaid Bin Rashid Al Nuaimi Street, which is a prominent road in Ajman.
3. Abu Dhabi Bus Station
Address: Abu Dhabi Bus Station, Sultan Bin Zayed the First Street, Al Wahda, Abu Dhabi, UAE.
Nearby Landmarks: This bus station is located near Al Wahda Mall and Al Wahda Sports Club. Additionally, it's within proximity to Al Nahyan Stadium, a well-known sports venue.
4. Abu Dhabi Bus Station, Public Transport Stop
Address: Abu Dhabi Bus Station, Sultan Bin Zayed the First Street, Al Wahda, Abu Dhabi, UAE.
Nearby Landmarks: This bus station is conveniently situated near Al Wahda Mall, one of the largest shopping centers in Abu Dhabi. It's also close to Al Wahda Sports Club, a prominent sports complex in the city.
Bus Schedule and Timings
The intercity bus service from Ajman to Abu Dhabi offers convenient travel options, featuring two daily departures. Commencing its journey at 10:00 am, the first bus provides an early start, while the second departure at 9:00 pm caters to travelers with evening plans, ensuring flexibility in scheduling.
To ensure your travel plans align smoothly, it's recommended to download and consult the Masaar App for accurate bus timings.
Fare and Other Features
Making your way from Ajman to Abu Dhabi has become even more convenient and budget-friendly due to the newly implemented bus fare system.
Whether you're an Ajman resident looking to explore the capital city or a visitor eager to immerse yourself in the diverse cultural offerings of the Emirates, familiarizing yourself with the fare details and added benefits can significantly enhance your travel experience.
Standard Fare and Masaar Card Savings:
For a single bus journey, tickets are priced at AED 35, providing a cost-effective means to traverse the intercity distance. This fixed fare structure ensures transparency in pricing and simplifies your travel budgeting process.
Holders of the Masaar card, a smart card utilized for public transportation across the UAE, can enjoy an extra perk. With the Masaar card, passengers receive a discounted bus fare of AED 30, saving AED 5 on each trip. This card not only facilitates seamless access to various modes of public transport but also promotes hassle-free commuting throughout the Emirates.
Advantages of the Masaar Card:
In addition to the fare reduction, the Masaar card offers a range of features designed to streamline your travel. By loading credit onto the card, you eliminate the need for cash transactions, ensuring swift boarding and a smoother journey.
Experience the flexibility of using the Masaar card for intercity and intracity commutes, both via the public buses in Ajman. This single card simplifies your travel across diverse transportation options, minimizing both time and effort.
Recharging your Masaar card is a breeze, thanks to various channels such as online platforms, kiosks, and authorized outlets. This user-friendly approach guarantees your card remains topped up, ready for seamless travel whenever you require it.
Accessibility and Inclusivity:
The introduction of the Masaar card and the accompanying fare discount not only enhance affordability but also foster inclusivity. This initiative caters to a wide spectrum of commuters, ensuring that public transportation remains an accessible choice for all, encompassing residents and tourists alike.
Plan Your Journey:
Prior to embarking on your adventure, take full advantage of online resources and apps offering real-time information about routes, schedules, and estimated travel durations. By planning ahead, you ensure a streamlined travel experience and minimize any potential waiting times.
Other Transport Options
1. Driving
Duration and Cost: Opting for a drive from Ajman to Abu Dhabi offers a swift route, covering approximately 170 km in about 1 hour and 39 minutes. The estimated cost of driving is around 70 AED, considering factors like fuel costs and vehicle type.
Advantages: Driving grants you flexibility in setting your departure time and making stops as needed. It's especially convenient for families and travelers with bulky luggage, ensuring a relatively brief travel duration.
2. Public Transportation with Transfers
Duration and Details: If you choose to explore different modes of public transportation, consider utilizing transfers for your journey from Ajman to Abu Dhabi. This route takes approximately 3 hours and 21 minutes, including transfers.
Advantages: This option provides insight into the UAE's diverse public transportation system, catering potentially to budget-conscious travelers seeking a wallet-friendly travel experience.
3. Considerations and Tips
Traffic and Road Conditions: When embarking on a drive, it's advisable to stay updated on real-time traffic conditions and road status to plan your trip effectively. Keep in mind potential traffic congestion during peak hours.
Scenic Views: Driving between Ajman and Abu Dhabi offers an opportunity to relish picturesque landscapes along the way, especially for travelers who appreciate the beauty of diverse UAE terrains.
Cost Efficiency: Comparing the expenses of driving against other travel choices can help you decide the most economical option based on your preferences and travel requirements.
Additional Information
The Abu Dhabi to Ajman bus services, operated by the Sharjah Roads & Transport Authority, are available from the Abu Dhabi Central Bus Station.
For those seeking an alternative to driving, the bus service presents a practical solution with schedules, affordable fares, and a commitment to ensuring your journey is hassle-free and comfortable.
Tips for a Safe and Convenient Trip from Ajman to Abu Dhabi
When embarking on a journey from Ajman to Abu Dhabi, consider the following steps for a smooth and enjoyable travel experience:
Monitor Traffic Conditions:
Stay updated on real-time traffic updates and road conditions. Utilize navigation apps to choose the optimal routes and avoid congestion.
Pack Necessities:
Prepare essential items like water, snacks, a first aid kit, and any required medications. These provisions can prove invaluable during your trip.
Ensure Vehicle Maintenance:
If driving, ensure your vehicle is in good condition. Check tire pressure, fuel levels, and oil before setting off to prevent any potential breakdowns.
Prioritize Safety Measures:
Whether using public transportation or driving, always prioritize your safety by wearing your seatbelt. Safety should be a top concern for all passengers.
Safeguard Valuables:
When traveling with valuable belongings, keep them secure and out of sight to discourage theft.
Stay Hydrated and Rested:
Long journeys can be fatiguing, so remember to stay hydrated and take breaks to rest and stretch your legs.
Follow COVID-19 Protocols:
Stay informed about the latest COVID-19 guidelines, including mask-wearing and social distancing, to ensure a safe journey for yourself and fellow travelers.
Choose Reliable Transport:
If relying on public transportation, opt for reputable services with a proven history of safety and punctuality.
Have Emergency Contacts Ready:
Save important contact numbers, including local emergency services and roadside assistance, on your phone.
Appreciate the Landscapes:
If driving, take advantage of the chance to enjoy the diverse scenery between Ajman and Abu Dhabi.
Respect Local Customs:
Familiarize yourself with local etiquette and customs to ensure a respectful and harmonious travel experience.
Stay Informed:
Keep yourself informed about any travel advisories or updates pertinent to your route.
Entertainment and Essentials:
Bring along entertainment such as books, music, or podcasts to make your journey enjoyable. Also, carry essentials like chargers and a power bank for your devices.
Preserve the Environment:
Dispose of trash responsibly and respect the environment by refraining from littering.
Frequently Asked Questions
1. What are the bus timings from Ajman to Abu Dhabi?
The Ajman to Abu Dhabi bus service has two daily schedules. The initial bus embarks at 10:00 am, followed by the second bus departing at 9:00 pm.
2. How much time does the bus journey from Ajman to Abu Dhabi take?
The duration of the bus journey from Ajman to Abu Dhabi is approximately 3 hours and 30 minutes.
3. Are there any discounts offered for bus fares between Ajman and Abu Dhabi?
Indeed, there is a discount accessible for Masaar card holders. Individuals with a Masaar card can avail an AED 5 reduction on the bus fare, resulting in a cost of AED 30.
4. What is the bus fare from Ajman to Abu Dhabi?
The fare for a one-way trip from Ajman to Abu Dhabi amounts to AED 35. Users of the Masaar card can enjoy an AED 5 discount.
5. What is the distance between Ajman and Abu Dhabi?
The approximate road distance separating Ajman and Abu Dhabi is 152 km.
6. From where do the buses departing from Ajman to Abu Dhabi start their journey?
The buses traveling from Ajman to Abu Dhabi, managed by the Sharjah Roads & Transport Authority, set off from Ajman Al Musalla Bus Station 2.
7. How often do the buses operate between Ajman and Abu Dhabi?
The bus service operates twice a day, furnishing convenient choices for travelers commuting between these two urban centers.
8. Is it advisable to pre-purchase bus tickets for the Ajman to Abu Dhabi route?
While advance booking is recommended, you can also verify seat availability on the day of travel. Making a reservation ahead of time ensures you secure a confirmed seat for your preferred departure time.
Summary
In conclusion, the meticulously crafted bus timetable from Ajman to Abu Dhabi stands as a testament to the commitment to facilitating seamless travel for both daily commuters and adventurous explorers of the UAE.
With a keen focus on accommodating diverse schedules, this well-structured transportation option ensures a journey marked by comfort and efficiency.
Whether you find yourself embarking on a routine commute or a journey of discovery, these thoughtfully planned bus timings provide a dependable conduit to the vibrant heart of Abu Dhabi from the enchanting landscapes of Ajman.
READ NEXT: Places to Visit in Abu Dhabi