Dubai expat, Assam Altaf, has created another detailed tourist attraction map and this time it's about the Kingdom of Saudi Arabia. As Saudi opens its doors for foreign tourism, it's good to know what are the famous attractions you can expect when you visit the country. Assam is a Pakistani artist and has just created a complete map guide to this destination. Check it out below:
Also Read: Dubai Expat Creates Detailed Tourist Attraction Map of Pakistan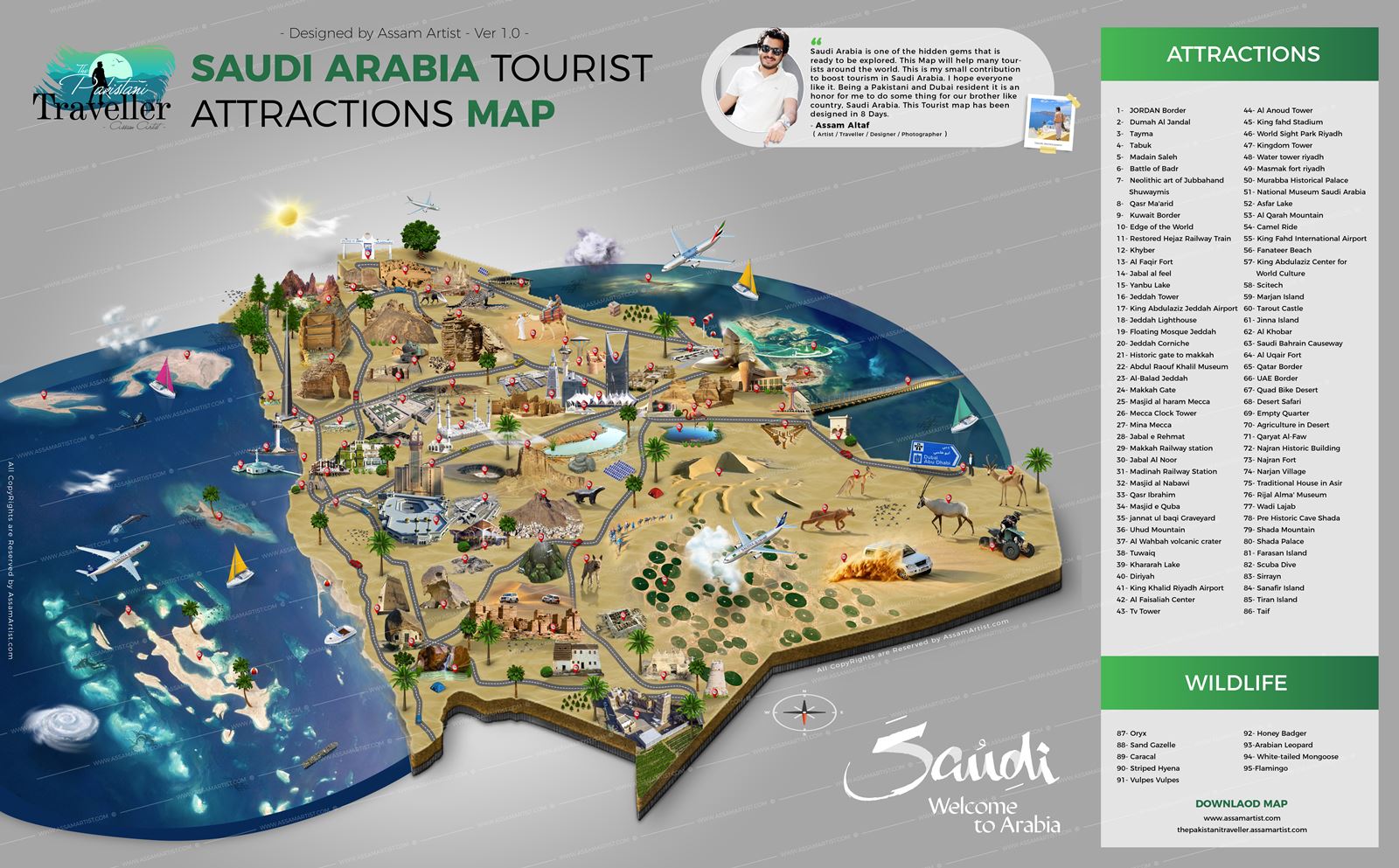 95 Tourist Attractions in Saudi Arabia
Saudi Arabia is one of the hidden gems that is ready to be explored. This Map will help many tourists around the world. This is my small contribution to boost tourism in Saudi Arabia. I hope everyone like it.
Being a Pakistani and Dubai resident it is an honor for me to do some thing for our brother like country, Saudi Arabia. This Map has been designed in 8 Days.
95 best places in Saudi Arabia
1- JORDAN Border
2- Dumah Al Jandal
3- Tayma
4- Tabuk
5- Madain Saleh
6- Battle of Badr
7- Neolithic art of Jubbahand Shuwaymis
8- Qasr Ma'arid
9- Kuwait Border
10- Edge of the World
11- Restored Hejaz Railway Train
12- Khyber
13- Al Faqir Fort
14- Jabal al feel
15- Yanbu Lake
16- Jeddah Tower
17- King Abdulaziz Jeddah Airport
18- Jeddah Lighthouse
19- Floating Mosque Jeddah
20- Jeddah Corniche
21- Historic gate to makkah
22- Abdul Raouf Khalil Museum
23- Al-Balad Jeddah
24- Makkah Gate
25- Masjid al haram Mecca
26- Mecca Clock Tower
27- Mina Mecca
28- Jabal e Rehmat
29- Makkah Railway station
30- Jabal Al Noor
31- Madinah Railway Station
32- Masjid al Nabawi
33- Qasr Ibrahim
34- Masjid e Quba
35- jannat ul baqi Graveyard
36- Uhud Mountain
37- Al Wahbah volcanic crater
38- Tuwaiq
39- Khararah Lake
40- Diriyah
41- King Khalid Riyadh Airport
42- Al Faisaliah Center
43- Tv Tower
44- Al Anoud Tower
45- King fahd Stadium
46- World Sight Park Riyadh
47- Kingdom Tower
48- Water tower riyadh
49- Masmak fort riyadh
50- Murabba Historical Palace
51- National Museum Saudi Arabia
52- Asfar Lake
53- Al Qarah Mountain
54- Camel Ride
55- King Fahd International Airport
56- Fanateer Beach
57- King Abdulaziz Center for World Culture
58- Scitech
59- Marjan Island
60- Tarout Castle
61- Jinna Island
62- Al Khobar
63- Saudi Bahrain Causeway
64- Al Uqair Fort
65- Qatar Border
66- UAE Border
67- Quad Bike Desert
68- Desert Safari
69- Empty Quarter
70- Agriculture in Desert
71- Qaryat Al-Faw
72- Najran Historic Building
73- Najran Fort
74- Narjan Village
75- Traditional House in Asir
76- Rijal Alma' Museum
77- Wadi Lajab
78- Pre Historic Cave Shada
79- Shada Mountain
80- Shada Palace
81- Farasan Island
82- Scuba Dive
83- Sirrayn
84- Sanafir Island
85- Tiran Island
86- Taif
WILDLIFE in Saudi Arabia
87- Oryx
88- Sand Gazelle
89- Caracal
90- Striped Hyena
91- Vulpes Vulpes
92- Honey Badger
93-Arabian Leopard
94- White-tailed Mongoose
95-Flamingo
So this is the map made by this talented Pakistani artist. If you want to learn more about it, you may visit his website here – The Pakistani Traveller.