One lucky man from Abu Dhabi instantly became a viral topic on social media when Big Ticket host Richard walked to him and handed over some gold out of the blue.
The random act of kindness moved the man into tears, as seen in the video circulating on social media, as the 'gift' would help the man's family back home.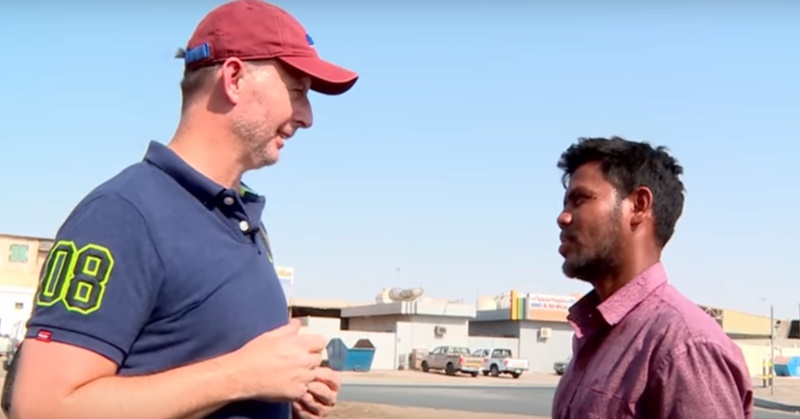 [VIRAL] Abu Dhabi Man Receives Special Gift from Stranger in UAE
The video starts off with Richard walking in the streets of Abu Dhabi and then meets a man named Mohamed Abdul Taheer.
In the clip, Richard of Big Ticket can be heard telling Mohamed, "Can I help you this month?"
He then went to ask the man, "Mohamed if you could wish or dream anything what would it be?"
It was then that he handed over something to the man.
The clip then cuts to the two walking together, the man elated with the gift he has just received – a gold coin.
The small gesture made the expat become emotional.
Holding his gold coin, Mohamed shares that he will send it to his family back home.
Richard said that the gold coin would a big help to Mohamed because it is equivalent to 2 or 3 months' worth of his salary.
The Big Ticket host then asks Mohamed to keep the gold extremely safe as they say goodbye to each other.
Here is a video of the emotional encounter as documented and shared by the Big Ticket Abu Dhabi organizers:
Indeed, a random act of kindness goes a very long way. The expat who was moved to tears may not have completely detailed his situation in life during their encounter, but seeing how the video rapidly became viral meant that a lot of the viewers could relate to how the man had felt upon receiving the big surprise.
This also reflects the kind of culture which the UAE government wants to instill and nurture among its residents in line with the spirit of tolerance by promoting the people's happiness and uplifting their quality of life.
The show may just have helped one man that day, but through these small acts of kindness, the people in the UAE were given some hope or something to look forward to as they strive to live as best as they could for themselves and for their families, as well.
ALSO READ:   Good-Hearted Residents Rescue Woman Abandoned by Family in Dubai