Every now and then, the Burj Khalifa lights up for a special occasion… New Year's Eve, a national holiday, a major event. Lately, it has been lighting up the Dubai night sky with characters from one of our favourite movie series — the Avengers!
With only a few days to go until the premiere of Avengers: Infinity War, fans all over the globe are brimming over with excitement! Here in Dubai, the anticipation is heightened by the light show featured every night onto the tallest building in the world.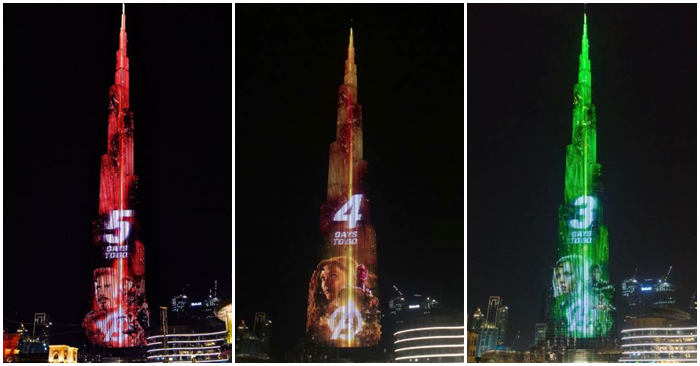 Burj Khalifa Light Show Features "Avengers"
Every night this week — until April 25th — the Burj Khalifa lights up with different characters from the Avengers. Basically, the light show serves as a "countdown" to the release of Avengers: Infinity War, which brings together our favourite heroes from the entire movie series.
Initially, the Avengers cast include Iron Man, Hulk, Captain America, Black Widow, Hawkeye, Thor, and Loki. Subsequent films introduced new characters: Scarlet Witch, Quicksilver, Vision, Doctor Strange, Ant Man, Falcon, and Spider Man. Of course, we mustn't forget the lovable Guardians of the Galaxy — Peter, Gamora, Rocket, Drax, and Groot — plus the formidable Black Panther and the gang from Wakanda!
In the upcoming film, they will be fighting against Thanos, a menacing villain who has his eyes on the powerful infinity stones. The film is expected to last about 2 hours and 29 minutes.
If you haven't seen the light show yet, head to the Burj Khalifa at around 7:50 pm tonight. You are in for a "colorful" treat! Meanwhile, here is a glimpse of the show, shared by @MarvelousRealm on Twitter:
3 Days To Go ?#Thanos is coming.#Avengers #InfinityWar #BurjKhalifa
[Video credit to @MarvelUK] pic.twitter.com/I9s5pajY8h

— Marvelous Realm (@MarvelousRealm) April 23, 2018
Excited to see The Avengers: Infinity War? We know we are! The film is coming very soon to movie theatres all over the world. Meanwhile, if you are planning to travel around the city, here is a list of places to visit, right here in Dubai.