Adventurous diners in Dubai, Dinner in the Sky has returned in the UAE and is now accepting bookings! This is a thrilling group dining experience where you will be suspended 50 meters by a crane as you have your lunch, brunch or dinner. The minimal wait staff — and a host — will also be secured by safety harnesses. Pretty intense when we think about it.
Dinner in the Sky's first session will be on the 10th of January 2017 and they are accepting reservations for you to experience a different kind of adventure. To book this experience, you can head to their booking site at – http://booking.dinnerinthesky.ae/
Location: Dubai International Marine Club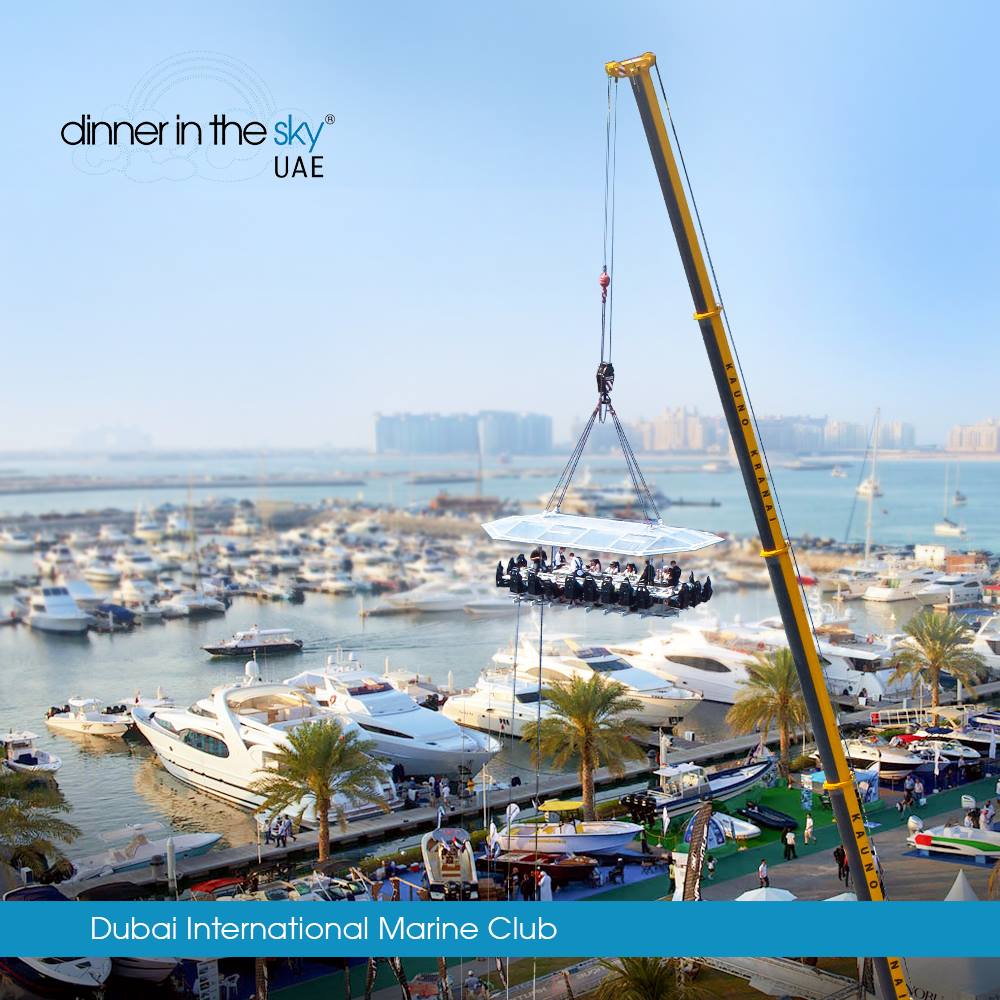 Dinner in the Sky UAE at the Dubai International Marine Club
Probably one of the most unique dining concept in the world, Dinner in the Sky was last in the UAE in 2013 during a one-night only experience in Abu Dhabi. "We are delighted to bring back this exciting experience and look forward to hosting tourists and residents alike." says Ahmed Ishbair, owner and CEO of Dinner in the Sky in the UAE.
Dinner in the Sky will start serving sky-high meals within the next two weeks, a launch date will be announced soon. Once tickets are available, daring foodies can buy one online at the Dinner in the Sky website www.dinnerinthesky.ae or at a reception desk in the Habtoor Grand Resort, Autograph Collection.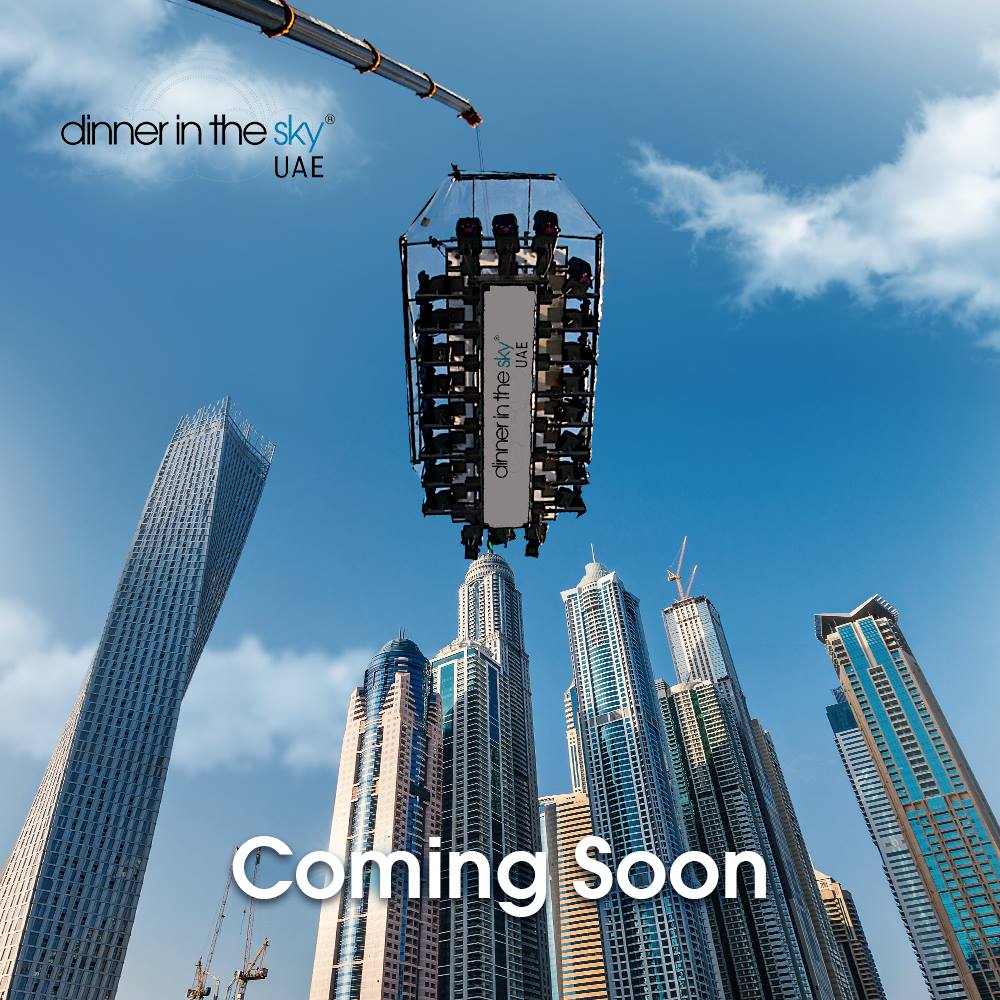 Schedule of Dinner in the Sky Adventure in Dubai
Though the specific date and location is not yet available, below are the schedules of the event, taken from their website
BRUNCH:
– 11:50:AM TO 1:15 PM
LUNCH
– 01:15 PM TO 2:40 PM
– 02:40 PM TO 4:05 PM
TEA BREAK
– 04:05 PM TO 5:30 PM
– 05:30 PM TO 06:55 PM
DINNER
– 06:55 PM TO 08:20 PM
– 08:20 PM TO 09:45 PM
– 09:45 PM TO 11:10 PM
– 11:10 PM TO 12:35 AM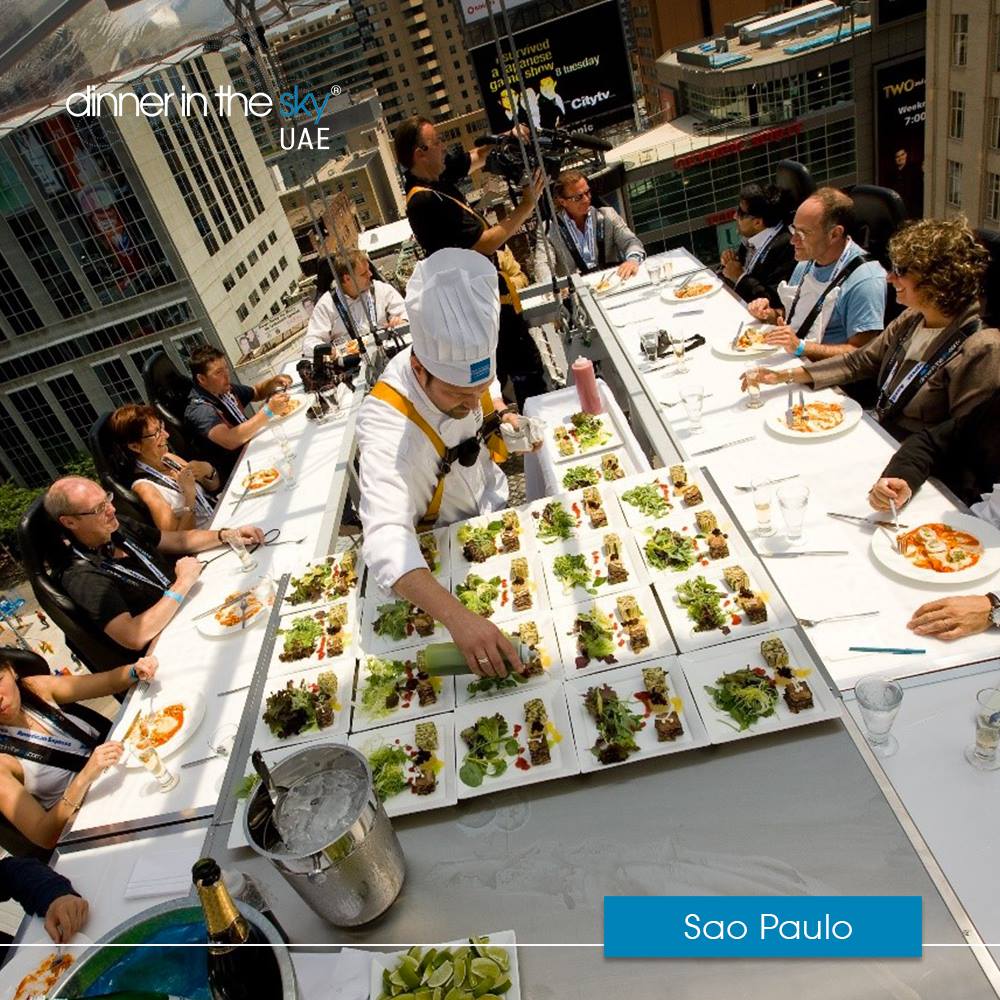 It started out as a child's dream that turned to reality. "Dinner in the Sky" was conceptualized and made into reality in May of 2006. Hakuna Matata, a communications agency that specialized in gourmet pleasures and The Fun Group, a company that specialized in amusement park installations joined forces to materialize this rather maverick concept and baptized it as Dinner in the Sky — which served as a venue for 22 restaurant owners to be given the opportunity to don their toques. Over the years, Dinner in the Sky has spread to the skies of about 45 countries, some of which are: Europe, Australia, South Africa, Japan, United States of America, Canada, India, Brazil, China., Canada and in Dubai as well.
We will keep you posted on updates on when this activity will be launched by the official organizers.