While reckless driving can lead to a major accident, so can getting distracted on the road — which reportedly led to a violent collision between two vehicles in Abu Dhabi recently.
On Sunday, a bus driver collided with a truck in Mussafah industrial area, Khaleej Times reported. Abu Dhabi Police said that the bus driver, who was Asian, was killed upon impact.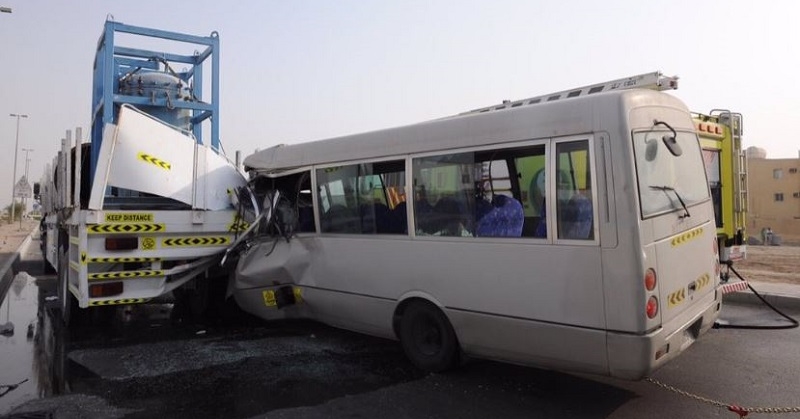 Asian Bus Driver Dies in Horrific Road Accident
According to the Deputy Director of the Department of Traffic of the External Areas in Abu Dhabi Police Department of Traffic and Patrols, Lieutenant Colonel Dr. Abdullah Yousif Al Suwaidi, their investigations revealed that the bus driver hit the truck, which was already parked.
The man was immediately taken to Sheikh Khalifa Medical City, while Abu Dhabi Police cordoned off the area to ensure the safety of other motorists and pedestrians.
Apparently, the bus driver got distracted while driving on the road, which led to the unfortunate accident. Thus, Al Suwaidi warned all drivers not to become distracted while driving.
Through the social media accounts of Abu Dhabi Police, he reminded all motorists to remain alert at all times, keep their eyes on the road, and keep a safe distance from other vehicles — to avoid any accidents.
بسبب الإنشغال بغير الطريق …وفاة آسيوي بحادث تصادم بين حافلة ومقطورة شاحنة بأبوظبي. pic.twitter.com/Nc7K1bPSYT

— شرطة أبوظبي (@ADPoliceHQ) August 12, 2018
For our own safety, we should always be aware of the traffic violations and fines here in the UAE. If we encounter a road accident where the police have already responded — we should also steer clear and give them space — since staring at road accidents is also considered an offence.