Another proof that the people of Dubai are honest, a taxi driver returned a lost camera to a Polish couple who were on a honeymoon in Dubai only after 5 days it was lost.
A month ago, we received a private message from a Maciej  and Karolina, newlyweds from Poland who visited Dubai but had a problem for having lost their camera containing their post-wedding pictures. They asked DubaiOFW for help in posting the incident on our Facebook page to which we obliged. They said they were okay losing the camera so long as the memory card is returned.
We posted their message on our page and a lot of residents reacted and re-shared the post on their walls. Some even commented that the couple should not worry because most of Dubai people are honest. Below is a screenshot of the status message we posted: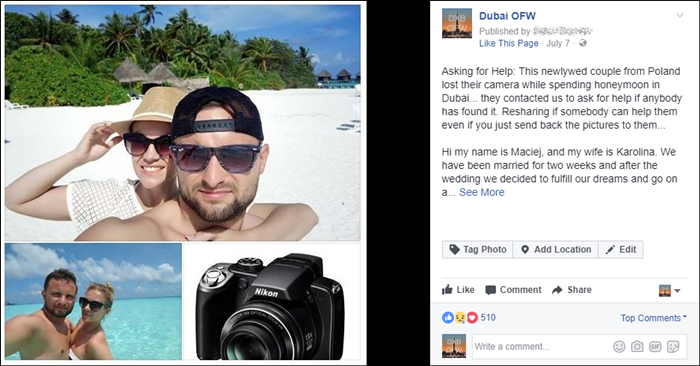 check out the full status message here 
Dubai Returns Lost Camera to Honeymoon Couple from Poland
Only after 5 days after the post was re-shared countless times, Karolina posted an update on her on her profile mentioning that the camera was returned. They contacted the cab driver who found it and the camera was sent back to them.
Translated via Facebook "Folks, thank you very much for your involvement in our search for the camera. Thank you for all the shares, warm words and keep your fingers crossed. The camera found, thanks to the company and the power of Facebook, we contacted the cab driver who found it. You're great! Thank you again! ?"
– Karolina's post (and translated by FB)
Below is a screenshot of her post: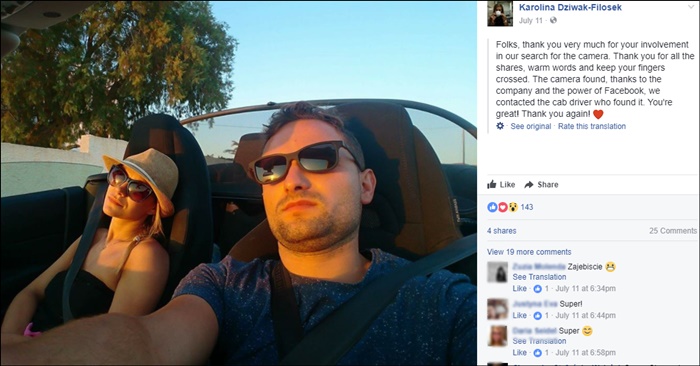 We also contacted Maciej and asked if we could share this message to our readers. Without hesitation, Maciej agreed and thanks all our readers for helping them find their lost camera. Now they have photos of their time in Dubai and their honeymoon.
We understand that it took some time for us to post this update, but this definitely deserves a share, doesn't it? 🙂
As part of the Middle East, we may receive some negative news from media elsewhere, but this scenario further solidifies how honest people of Dubai are. Great job to the taxi driver and the company who contacted the couple and returned the camera to them!
We also thank all our readers for being involved and for sharing our status message. This really helped in spreading the word and it also indicates how helpful Dubai people are. This is the power of social media utilized in a very positive way. To each and everyone who shared the message, THANK YOU!