Winning a million dollars in a raffle draw is lucky, and winning again seems close to impossible. But this is exactly what happened to an expat in Dubai, whose ticket number 0742 bagged the top prize — USD 1 million (AED 3.6 million) — for the second time!
During the latest draw at Dubai International Airport for the Dubai Duty Free Millennium Millionaire, officials declared Musleh Mousa Hassan as the grand winner. However, this is not the first time that the 73-year-old Lebanese national won the much-coveted prize.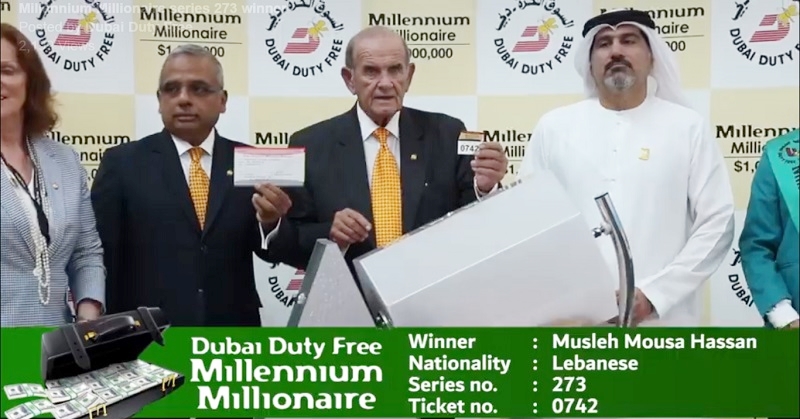 Lebanese National Wins Raffle Draw… Again
Back in November 2012, Hassan, a corporate manager for an insurance company, won USD 1 million at the Dubai Duty Free Millennium Millionaire raffle draw. After winning, he never stopped buying raffle tickets, and has been joining the draw for several years now.
"I remember when I first won a USD 1 million in 2012 — I was over the moon, and winning again after six years is just truly an unexpected surprise," shared Hassan. "Thank you, Dubai Duty Free for my amazing second win."
Notably, Hassan is the tenth Lebanese national to win the grand prize, since the raffle draw began in 1999. Meanwhile, three other lucky winners won these luxury vehicles:
Guillaune Barre (French national) — BMW X6 M Exclusive in Melbourne red metallic
Imran Shaikh (from India) — Porsche 911 Carrera Coupe in rhodium silver
Naveed Yousaf (Pakistani national) — BMW R 1200 GS Adventure in racing red
Here is a video showing Dubai Duty Free officials drawing the lucky number:
Congratulations to all the lucky winners! For the rest of us, however, let's not lose heart… For all we know, our raffle tickets will be drawn soon! In the meantime, we should learn how to use our resources wisely. Check out these tips on how to save money as an expat in Dubai.