Starting April 5, the Dubai Metro train and Dubai Tram services will be closed until further notice. The Roads and Transport Authority (RTA) Dubai has announced that it will temporarily suspend its Dubai metro services.
This is inline with the recent directives of the government where the National Sterilization Program has been extended to run 24 hours a day across all areas and communities in the emirate.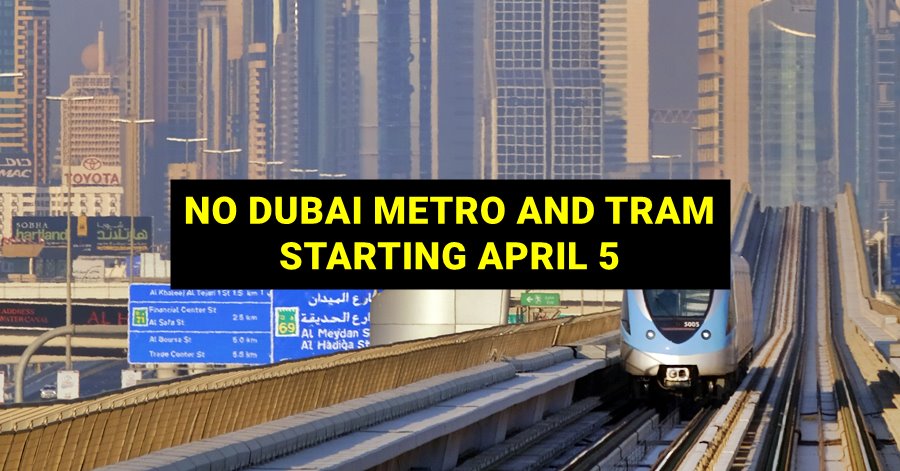 RTA Dubai Announces Temporary Closure of Dubai Metro and Dubai Tram
This announcement means that no one can use the Dubai Metro train service and this is the first time that the full closure has been done since its opening in September 9, 2009. Dubai Tram services are also suspended until further notice. The suspension will run for 2 weeks, but will be subject for renewal. So to everyone, especially to regular commuters, please be advised of this update.
RTA Dubai further said it seeks to provide extensive support to community members during this challenging period and stressed that everyone's cooperation is critical to combat the pandemic.
Please see the post from the official Twitter account of the Dubai Metro:
In line with the National Sterilisation Programme, #RTA announces complete suspension of metro and tram services, starting Sunday April 5th.#DubaiMetro #DubaiTram pic.twitter.com/fHjxs1QyhT

— RTA (@rta_dubai) April 4, 2020
RTA Dubai also released a video announcement of this update:
Your health and safety is a priority. For that we will stop today, to resume soon with safe and smooth journeys.
Until then #StaySafe #StayHome. pic.twitter.com/vl6tT0xJ3p

— RTA (@rta_dubai) April 4, 2020

The entire world is going through an exceptional period
For the first time since the launch of the Dubai Metro on 09-09-2009
Dubai metro will take a rest until further noticed
Its doors will be temporarily closed
Until we meet again…
Stay home so everyone can be safe
Fulfilling our vision of Safe and Smooth Transport for all
– RTA Dubai