Dubai's flagship carrier has done it again! Emirates is introducing a "virtual reality" experience through their brand new Skylights theatre headsets. These are currently on trial in the Business Class Lounge of Concourse B at the Dubai International Airport.
Customers can try out the headsets in the Business Class Lounge for the entire month of April, then in the First Class Lounge (still in Concourse B) in May. With this latest offering, the airlines definitely lives up to its name as the best airline in the world!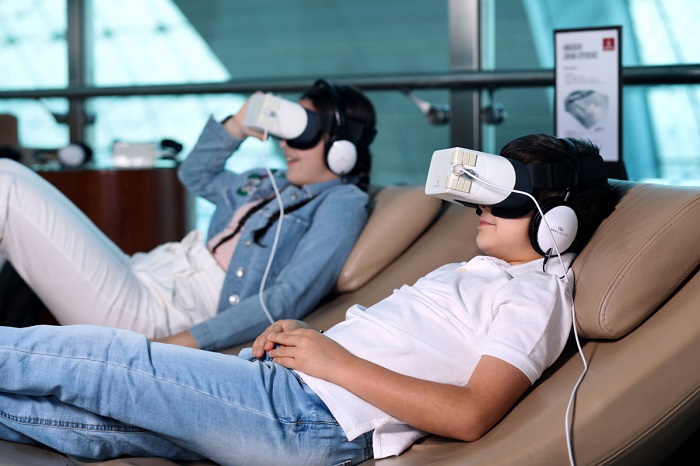 Emirates Introduces "Skylight Theatre Headsets"
If the trial is well received, Emirates will install more headsets across all its lounges in Dubai. But what exactly can we expect from a Skylight theatre headset? Here are some exciting features:
Weighs only 120 grams
Built-in sound & video
Full HD viewing experience
Wide-angle field of view for 3D & 2D content
At this time, passengers can watch 3D and 2D movies, including Boss Baby, Alien: Covenant, and Batman vs. Superman: Dawn of Justice. In addition, episodes of documentaries like Planet Earth and Cosmos are also available with 360-degree videos!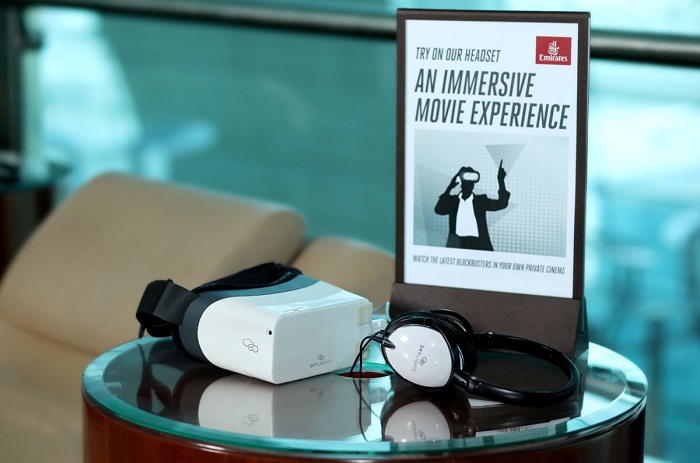 Emirates Lounges at Dubai International Airport
There are currently seven Emirates Lounges at the Dubai International Airport, spread across Concourses A, B, and C. Each concourse includes Business Class and First Class Lounges. Entrance is complimentary for Business Class and First Class passengers, along with Emirates Skywards Silver, Gold, and Platinum members.
Aside from the new Skylights theatre experience, Emirates Lounges also offer:
Gourmet cuisine prepared on-site by Emirates Chefs
Complimentary full bar service & wine cellar
Shower facilities
Health spa
Shoe shine service
Children's play areas
Cellphone charging stations
With all of these facilities, Emirates customers can look forward to traveling in comfort, style, and luxury. Speaking of which, have you ever wondered how much the airlines' pilots make? Check out this article about Emirates pilots' salaries.