We usually feature OFW interviews on this page, but today we are presenting someone who is familiar with both Philippine and UAE culture. In fact, he can speak Tagalog fluently! His name is Fahed, and he is half Emirati, half Filipino… In other words, he is an "Emaratino" Traveler!
Currently, Fahed is the Director for Sales Advisory in one of the country's leading financial institutions. Outside of work, he is a singer, poet, pianist, video producer, radio host, vlogger, car enthusiast, designer… Whew! Is there anything that this multi-talented Emaratino cannot do?!
Kidding aside, Fahed is a man who is blessed with "the best of both cultures." In the following interview, he describes his adventures in the Philippines, his favourite dishes, and how people in the UAE react when he speaks in Tagalog! He also talks about his online channel, EmaratinoTraveler, and its aim of showcasing Filipino talent. Keep on reading to know more about Fahed and his unique life story in today's feature!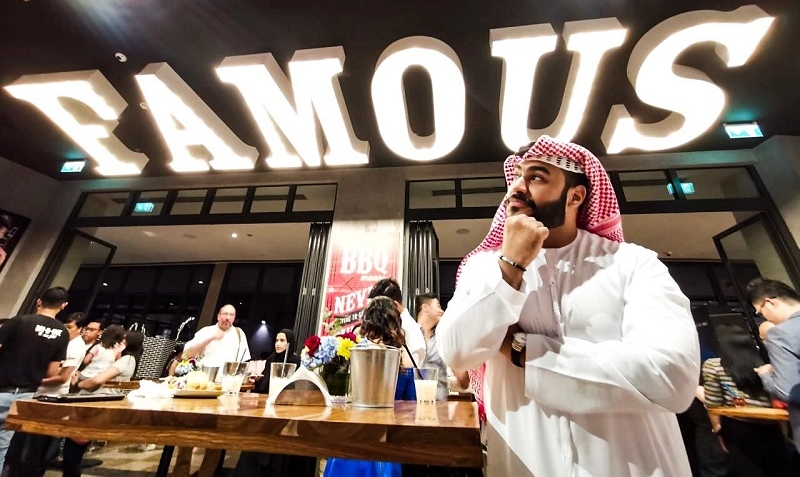 Interview with Fahed: a Half Emirati, Half Pinoy Vlogger
Name: Fahed Alblooshi
Age: 30 years old
Profession: Director for Sales Advisory
Interests: Sports, Cars, Music, Hosting, Vlogging… and more!
1. Tell us about yourself.
Hello! My name is Fahed Alblooshi, and I'll be 31 by December 25. I am currently the Director for Sales Advisory at one of the leading financial institutions in the UAE. I engage in lots of activities, such us sports (gym, basketball). I like to sing, write poetry, play the piano, produce music, and direct videos. I also do some hosting and radio hosting as well. I love cars and modifications, and I'm also interested in interior/exterior design for homes, etc… As you can see, I'm pretty much a "multitasking" character! 😆
Check out one of Fahed's videos here:
2. Can you tell us more about your page/channel?
Emaratino Traveler started with a simple thought… to help and support Filipinos in the UAE and globally. It's first aim was to gather talented people into a platform, showcase their talents, and reward them! Think of it as "Philippine Idol," but an online edition. It started 8 months ago with only 200 followers, and has grown ever since! People can simply expect lots of "goosebumps," hehe! 😜 Actually, they can really explore the UAE culture, language, and more through this page. I broadcast internationally, so majority of my videos is in English, for "both sides" to understand. I'd say we can all expect lots of giving from this page — within the society, from the society.
3. What is it like to live in 2 different cultures?
It's quite interesting, to be honest! The ability to understand both fully, and to give respect to both, is a huge learning curve. And for me to be put in this position, I'd say I have been blessed by Allah and for every moment.
In the UAE culture for example, you learn the heritage and how Arabs of this part of the region have grown over the past years and become "leading" countries. And not just that, you also learn how this transformation took place and yet the cultural heritage is still maintained and embraced fully.
As for the Philippines, I am blessed because I have always been exposed to the language and culture as well through my Mom. Sometimes, it can be confusing to relate one culture with the other, but it's always interesting!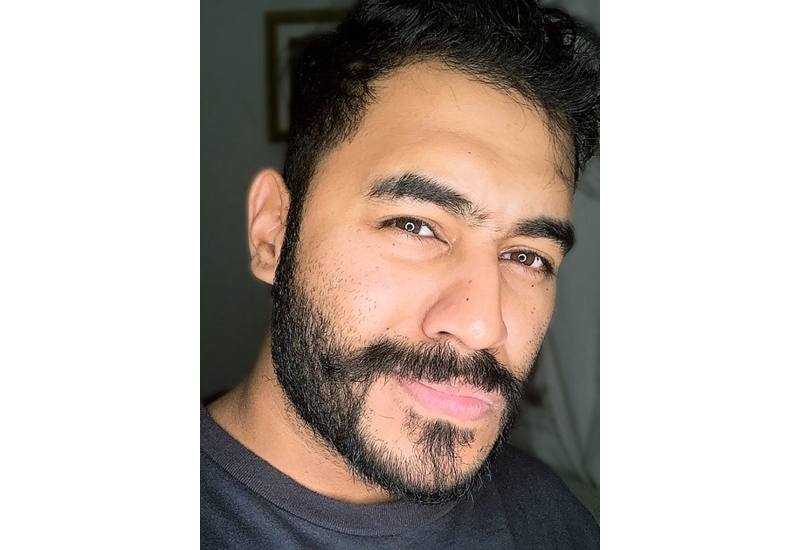 4. How many times have you been to the Philippines? What were your visits like?
I have visited the Philippines twice. Once when I was 10 years old, and then again back in 2013.
My visits were a remarkable experience! The first one was when I first met my family from my Mom's side. It was a beautiful honest memory, with lots of adventures. I used to stare at my grandma for hours trying to figure out how she smoked on back-flipped cigarettes! 'Til this very day, I still don't how she did it! I also remember riding with my Uncle Randy (RIP) on his jeepney, just to earn some income. I used to be the collector guy who gathered the peso payments. I also shouted to the people passing by, "Calasiao, Calasiao, Dagupan, Dagupan" — which refers to the two locations were my uncle transported passengers in Pangasinan. It was a day I would never forget!
The second trip was a little more interesting. I had grown from a 10-year-old boy to a 25-year-old, and it was a big change! My height became 5'8″ and I had grown some beard… I believe I was the tallest, biggest guy in the area! 😅 I could still remember the face of the little kids passing by the neighborhood and asking in Pangasinense, "Who is this guy? Who is his mother?" And my Lola (grandma), she couldn't believe her eyes when she saw me! But she was happy! We had different celebrations (Pasko) across the month of December, and it was an unforgettable experience.
Here's a video of Fahed singing "Buwan" by Juan Karlos:
5. How did you learn Tagalog?
I think in any learning curve, there should be that self-interest to learn anything, and everything else will follow afterwards. For example I have always wanted to know what the words at shaka (also) means, and I tried my best to learn how to use it in a sentence. Major credits also go to the little Karaoke box, which I used to sing classic Filipino songs!
And lastly, I learned because of "showbiz!" We have a daily routine of watching TV shows with Mom and family at home, where we have The Filipino Channel (TFC). So yes, thank you, TFC!
6. How do people react when they learn that you are fluent in Tagalog?
I think both (Filipinos and Emiratis/Arabs) get shocked in the beginning, to the point that they cannot believe it! So they will immediately say, "Oh, the guy just knows a few words only." But when I start speaking fully, they snap out of the conversation and start looking at me as if I have done a miracle! For the people from the Arab world and the UAE, they feel surprised because it's usually the first time they see someone like me. As for the Filipinos, they get super excited and proud because their language is embraced by an Emirati and Filipino character.
I remember the Ambassador, who said once that I am the true meaning of two countries and it's co-existence embraced in one person, as I have "the gift of two cultures and countries."
7. What's your favourite Filipino and Emirati dish?
My favourite Filipino dish is the Beef Sisig, while my favourite Emirati dish is Machboos Chicken!
8. What do you think about Filipinos abroad, especially in the UAE, who come here to work in order to support their families back in the Philippines?
I think Filipinos abroad (with respect to all the global overseas workers) are the most hardworking people in the planet. Not just because of the work ethics, but because there is a smile behind every global Filipino. Their hard work, diligence, and the consistency of delivery is just phenomenal. They simply give their all! And their sacrifice, by itself, deserves thousands of recognition. For me, honestly, being a father of two kids makes it difficult to even compare the feelings of a global Filipino working abroad to provide for their families. I salute every global Filipino!
9. Do you have any message to Filipinos working in the UAE?
First, I would like to extend my deepest thanks, from the bottom of my heart — to all Filipinos here — for being part of the UAE's success, and also for being part of the society. I would also like to emphasize that what you do today might be easy or difficult, regardless of the situation — but the outcome of it is tremendously valuable in terms of experience. Make every day count, and be sure that God will reward you infinitely.
Thank you global Filipinos!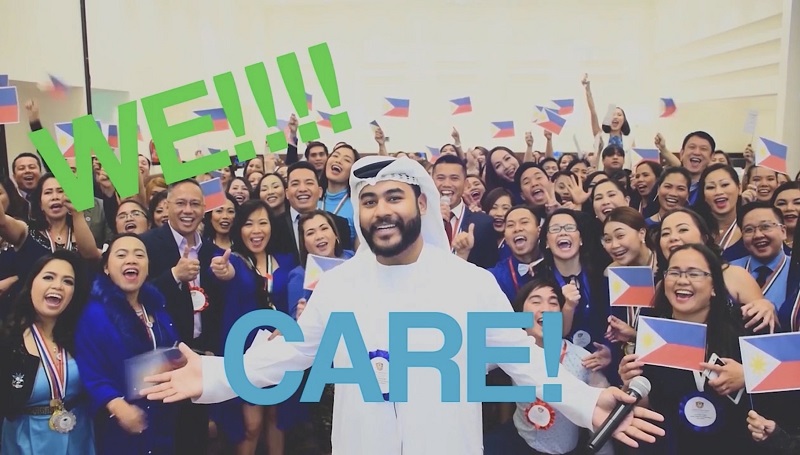 11. Do you have any plans for Emaratino Traveler that you would like to share with our readers?
Definitely, I have several upcoming surprises this year, the Year of Tolerance. I cannot disclose it at the moment, but we will surprise you with music video covers by Emaratino this Eid. We will also launch our new restaurant business concept very soon!
Connect with Fahed on Social Media
To know more about Fahed, you may get in touch with him through his social media channels:
Instagram: @emaratino_traveler
Facebook: Emaratino Traveler
YouTube: Emaratino Traveler
—————-
*Photos provided by Fahed
Are you an expat in Dubai? Do you want to be featured in the website? Send us an email telling us you want to be featured at admin@dubaiOFW.com and we will send you the set of questions! Let's help other Pinoys who want to come to Dubai understand what life in the UAE is like through your story.