Residents in the UAE, especially those in Dubai, are continuously reminded by the police to strictly comply with traffic laws through various awareness campaigns, fines, and regular updates to traffic and road ethics.
Much of what the police have been doing in the past is reinforcement by punishment (fines, violations). This time around, the police have resorted to the opposite – by reward, and one law-abiding citizen was surprised to find the police knocking on his door with special news.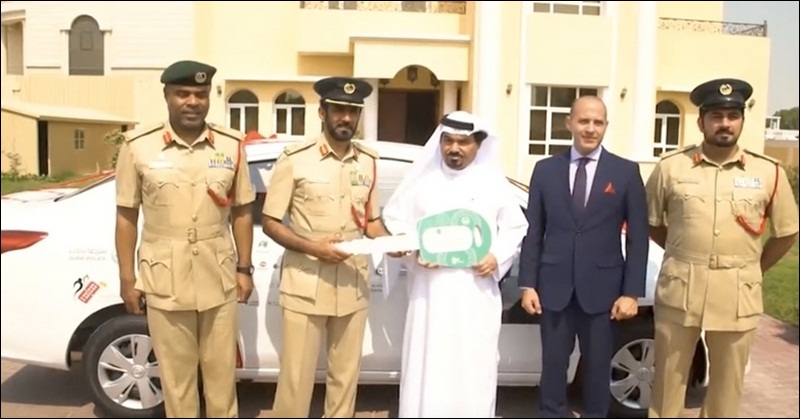 Dubai Police Rewards Driver with New Car for Following Traffic Laws
In a surprise visit, the Dubai Police have delivered a brand new car to the house of Saif Al Sweedi, who was recognized for always following the traffic laws of the emirate.
On Monday (August 5), Al Sweedi's family was surprised to find the police in their house looking for Saif with a brand new car in tow. And since he was traveling out of the country at the time, his family received the big surprise on his behalf.
According to Maj-Gen Mohammed Saif Al Zafin, assistant commander-in-chief for operations, Al Sweedi's driving records revealed that he never committed any road violations while driving out in the emirate, so as part of the police's 'white points system', he was given a brand new car as a reward.
Commenting on the event, Maj-Gen Al Zafin said "We encourage all motorists to abide by traffic laws. We have a system in place to honor good drivers and reward them with prizes."
The Major General explained that such rewards aren't much but they are being given to motivate others to follow the rules.
Here is a video clip posted by the Dubai Police via YouTube regarding the recognition of the law-abiding citizen:
If following the rules could land you a brand new car right at your doorstep, there's no reason for motorists in the emirate to commit any violations from this point out.
But of course, this is good motivation but the ultimate goal is to keep residents safe and happy living in the city – and a good way to do that is to ensure that everyone is being smart by following rules of good conduct when driving out in public.
In recent years, road accidents have been among the leading causes of deaths in the country, and the UAE authorities have launched various campaigns and innovative systems to curb the accident and death rates, as well as offered timely response facilities to address concerns arising from these incidents.