As part of the UAE government's campaign to uphold safe road traffic, the Dubai Police visited a UAE national in his home by delivering a brand new car that he won by simply adhering to traffic laws of the emirate.
In a video shared by the Dubai Police on Wednesday (September 4), Maj-Gen Mohammed Saif Al Zafin, Assistant to the Dubai Police Chief for Operation Affairs announced that Al Zubaidy won the car through the police's white point system.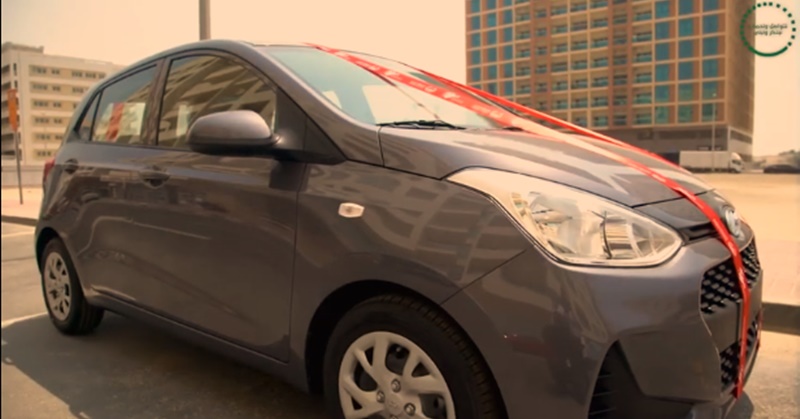 UAE Citizen Receives Brand New Car for Good Road Conduct
In the video, Maj-Gen Al Zafin can be seen visiting the winner at his house in Al Barsha where they personally handed him the keys to a brand new Hyundai.
White Points System: What You Need to Know
The Dubai Police's 'White Points System' was launched back in 2012 to recognize safe and law-abiding drivers in the emirate.
The scheme, as opposed to the fines and "black points" system, acknowledges the efforts of motorists who have not committed any traffic violations or incurred Salik and parking fines for an entire year by rewarding them with white points.
Each qualifying person can receive up to 12 white points in a year, one for each month.
Motorists lose their white point credit for one month if they get involved in any kind of accident or have committed a violation during that month.
White points are valid for one year. If a driver was able to comply with the rules and earn white points for five consecutive years, he/she will be eligible for a raffle draw on a vehicle.
The points can fetch big rewards and winners are randomly selected.
Last month, a UAE national was also awarded a brand new car, which the Dubai Police personally delivered to his home, as well.
Though widely appealing for the benefits, ultimately, the White Points System aims to develop a Positive Driving Culture in the UAE. In order to realize this, here are the 10 Golden Rules to follow:
Observe a considerate and kind behavior on the road: Remember, we should always treat others the way we want to be treated!
Safety is a priority: Always wear your seat belts.
Don't be an offensive driver. Learn to drive defensively.
Always keep your eyes on the road, and hands on the wheels: Put away your mobile phone when driving.
Remember to drive within safe distances especially during inclement weather conditions.
Do not rush out on the street: It's better to leave early than to rush just to be on time!
Always use your indicator every time before you make a turn on the road.
Do not drink and drive.
Watch out for pedestrians and vulnerable road users.
Remember to educate the young ones! Parents, Nurseries, Schools, and Universities must protect the children of today & nurture the next generation of caring and safe traffic participants.
More than the perks and rewards, driving safely and considerately is ultimately the driver's responsibility to himself. By recognizing the ten golden rules for driving, the UAE can become a better and safer place for everyone out in public.
ALSO READ:  AED 2000 Fine & 23 Black Points for Reckless Driving in Dubai