The Philippine Embassy in Abu Dhabi together with the Philippine Overseas Labor Office – Overseas Workers Welfare Administration (POLO-OWWA) in Abu Dhabi has recently assisted 92 undocumented, distressed OFWs to return back home in the Philippines.
The repatriated workers, according to the embassy officials, are expected to land in Manila via Philippine Airlines on Friday (September 6) around 9:05 am. The repatriation efforts were led by the Philippine Embassy in Abu Dhabi in coordination with UAE officials from the capital.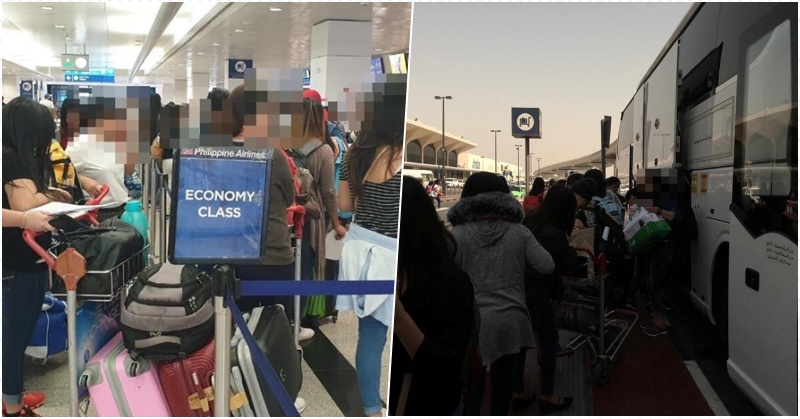 92 Undocumented, Distressed OFWs Repatriated from UAE
Since the beginning of this year, the total number of repatriated OFWs from Abu Dhabi has already reached 1,212 – most of whom have sought shelter at the POLO-OWWA center and were illegally brought here to the country to work.
In a statement shared by the Embassy: "Almost every one of them was irregularly recruited without undergoing POEA processing. Practically all of them were enticed into going to the UAE by social media posts (particularly Facebook) made by unscrupulous individuals."
Furthermore, embassy officials extend their gratitude to UAE authorities for the on-going assistance to help distressed Filipinos to head back home and to remind fellow Filipinos who plan to head to the UAE to go through proper channels when seeking employment.
"The Philippine Embassy thanks the UAE government for its assistance in ensuring the repatriation of these distressed Filipinos in the most expeditious way possible. The Philippine Embassy emphatically reminds all Filipinos seeking employment outside the Philippines to undergo processing by the POEA," it said.
To date, the UAE has expressed its commitment and dedicated support to bring an end to human trafficking, which is partly due to illegal recruitment activities among involved countries.
In the same way, the Philippines has urged all Filipinos looking for work overseas to look for jobs through legal channels and to seek assistance from authorities such as the POEA even before pushing through with the deployment for work abroad.
By going through the legal process, all stakeholders most especially the worker, will be secured of their safety and welfare wherever they may be assigned for work around the world.
However, for those who are unfortunately met with injustice at their workplace, it's important to know where to channel your concerns or to seek help, as the situation calls for it. Furthermore, a basic understanding of the labor laws in the country you are working on will be crucial in such situations, as these have been set in place to protect every resident's rights in a country.
For OFWs in the UAE, these are the channels where you can address your concerns and to seek for assistance regarding your work or immigration concerns.