If you've heard about the 'white points' system for drivers in the UAE, then you must've heard of the term 'Salik', as well. Salik is one of the things that the Dubai Police are looking into to reward white points to deserving drivers in the emirates.
This is a big deal for those living in the UAE because it could well determine, among other things, if you are eligible to receive rewards or discounts from the police for keeping a clean record. In this post, we will share everything you need to know about Salik and what it means for your driving history in the country.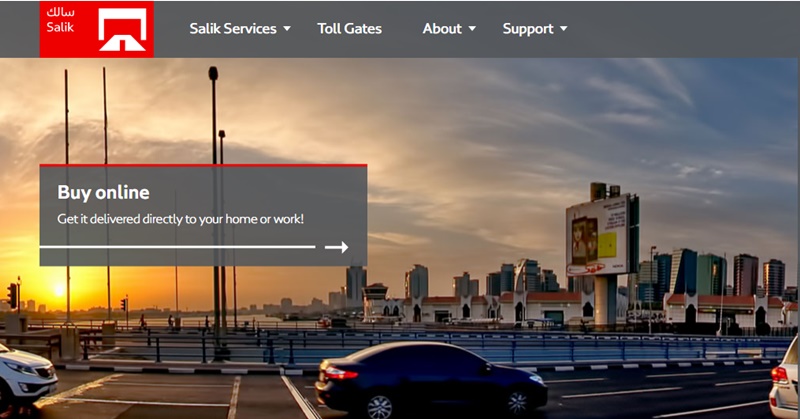 What You Need to Know About 'Salik' in UAE
First of all, let's define the term. Salik is an Arabic word that means "open or clear".
This also refers to the automatic road toll collection system, which has been in place in the emirate since 2007. Driving through a Salik gate with a Salik tag attached to your car will automatically deduct AED 4 from your registered Salik account.
At present, there are seven (7) Salik gates in operation within Dubai:
Maktoum Bridge
Garhoud Bridge
Al Safa (Shaikh Zayed Road)
Jebel Ali (Shaikh Zayed Road)
Al Barsha (Shaikh Zayed Road)
Airport Tunnel
Al Mamzar North*
Al Mamzar South*
* These are two gates in quick succession, however, driving through both of these in the same direction within an hour will only charge you once.
As of 2013, there is no daily limit as to the use of these toll gates. Previously though, motorists were capped at AED 24 a day (six trips in a day), but this has since been removed.
To get a Salik tag, motorists are required to provide the following documents:
A copy of the car registration card
Identification documents (i.e. Emirates ID or a passport)
There are two ways for you to get a Salik tag, the first one is by going to a shop to buy one. Do note, however, that not every shop around the emirate sells the tags, but these can be basically purchased at petrol stations and RTA facilities. Buying Salik tags from one of these outlets will cost around AED 100, and comes preloaded with AED 50.
The second way to get a Salik tag is to order one from the Salik official website. This method, though convenient, will cost you AED 120 but with the AED 50 balance. The additional AED 20 is for delivery charges.
Tip: If using the online method, it's best to double-check your area first to see if they offer delivery services.
Also, remember that from the date of purchase, you will need to attach the tag to your windshield.
Once you've secured your Salik tag – say, under the rear view mirror, you can now drive under any toll gates scattered across Dubai.
How to Top Up Your Salik Tag
If you've run out of credits, you can top up your account in one of two ways: either through the shop where you bought the tag or online.
If you choose to go to any of the shops, make sure you have the account number ready as you will need this to top up your account. Also, be sure to have your credit or debit card ready for payment.
You can check your remaining account balance by:
Using the Smart Salik App
Checking Salik's official website
Calling Salik's 24-hour number (800-72545)
Of note, the RTA will also send you reminders to the registered phone number if your balance is nearing its limit.
The maximum amount you can top up on your account is AED 50,000. Your account will remain intact even if you don't use it for up to five years.
Salik Fines
If you do not have a Salik tag when passing under a Salik gate, you are given ten working days to register an account for your vehicle, otherwise, you will be handed a fine as follows:
Insufficient Funds in Salik Account – If replenished within five working days, no fine will be deducted from your balance. Beyond this period, you will be fined AED 50 per day.
Driving without a Salik Tag – AED 100 on the first instance (after ten days grace period for all instances); AED 200 on the second instance; and AED 400 on the third and subsequent instances.
Important: To avoid any fines regarding number plates not matching the account number, be sure to update your number plate to your account number before accessing any Salik gates. The same rule applies to a change in a phone number.
FAQs:
Are there ways to bypass Salik Gates?
Yes. There are several alternate routes surrounding Dubai, which are free of Salik gates.
If you're driving underneath the Al Maktoum gate from 10 pm to 6 am on weekdays, you will not be charged the usual AED 4. This also applies when driving from 10 pm on a Thursday night to Saturday morning (6 am). Fridays are free of charge.   
Are there any exemptions from Salik fees?
People of determination, ambulances, RTA public buses, school or college buses, as well as military and police vehicles are exempt from paying Salik.
Taxis are no longer exempted from paying the AED 4 fee, but this will be charged to the passenger's total fare.
Are there other Salik gates outside Dubai?
Abu Dhabi will launch its own version of the Salik gates starting October 15 as per officials at the Abu Dhabi Department of Transport (DoT).
Driving in the UAE is a one-of-a-kind experience because of the government's strict implementation of traffic laws, as well as attractive benefits given to law-abiding citizens. While it seems like a tall order to follow, understanding the system as well as what is expected of drivers in the country is the best way to maximize your driving experience in the region.