If you want to learn more about the history of Dubai, simply head to the Dubai Frame. Yup, we are talking about that gigantic, golden frame at Zabeel Park that's perfect for taking selfies!
ALSO READ: Newest Landmark in the City Glitters in Gold
Just recently, the 150-metre-high landmark shared a video on their Instagram page. The clip features the sights and sounds of Souk Al Ras, one of the oldest markets in the emirate. Cool!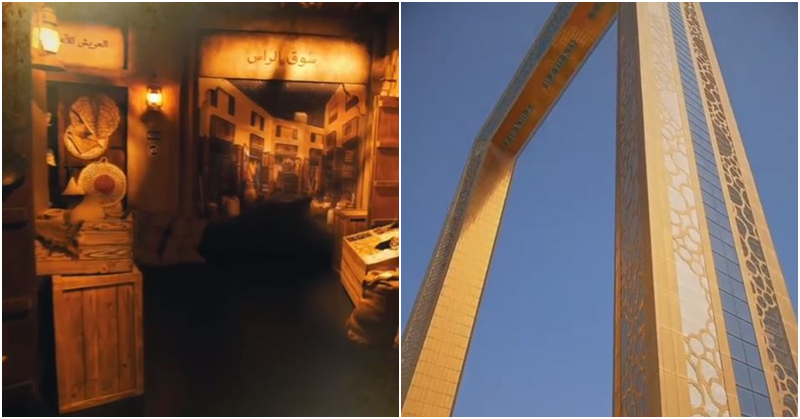 Dubai Frame Features 3D Show of Souk Al Ras
There's more to the Dubai Frame than being an eye-catching backdrop for photos. Visitors can take an elevator to the top of the frame, which actually houses an Old Dubai Gallery.
Inside the gallery, visitors can expect a multi-sensory experience featuring:
The transformation of Dubai, from a fishing village to a modern city
3D projections and special effects showcasing the emirate's history
A recreation of Al Ras and its famous traditional markets (souks)
Al Ras is the westernmost locality in Deira, bordering Al Dhagya and Al Buteen to the east, and Dubai Creek to the west and south. It literally translates to "the cape," and is one of the most historic communities in the area — an essential part of what we call "Old Dubai."
Aside from its narrow streets meandering through restored Emirati-style houses and museums, Al Ras includes several important landmarks, such as Al Ras Hotel, Dubai Central Public Library, Dubai Gold Souk, Dubai Spice Souk, and St. George Hotel.
Check out this video of Al Ras shared by Dubai Frame on Instagram:
Of course, if there's an Old Dubai Gallery… the Dubai Frame also has a Future Dubai Gallery. Here, visitors can pass through a swirling tunnel that uses audio and visual affects to highlight the city's futuristic themes.
ALSO READ: Dubai Frame Wins at Structural Awards 2018
With these amazing galleries, The Dubai Frame has certainly made its mark, and is now known as one of the city's most iconic landmarks. If you are a first-time visitor here, then you shouldn't miss this place, along with these other great places to see in Dubai.