Thrill-seekers are in for a treat, as Ferrari World Abu Dhabi is launching a new rollercoaster on March 27, 2017. Dubbed as "Turbo Track," it will zoom riders along a 180-meter track at speeds of about 102 kilometers per hour. Developer Miral is currently building the exciting new ride.
Miral's CEO, Mohammad Abdullah Al Zaabi, stated that Turbo Track begins from the inside and takes passengers through a tunnel. Then, it suddenly twists and rises to a height of 62 meters. Before going back, it gives riders a quick glimpse of Yas Island and the Ferrari World's red roof.
Al Zaabi also mentioned that Turbo Track's passengers will get a "free fall" sensation. They can also try riding on the front-facing seats or the rear-facing ones to have two different experiences.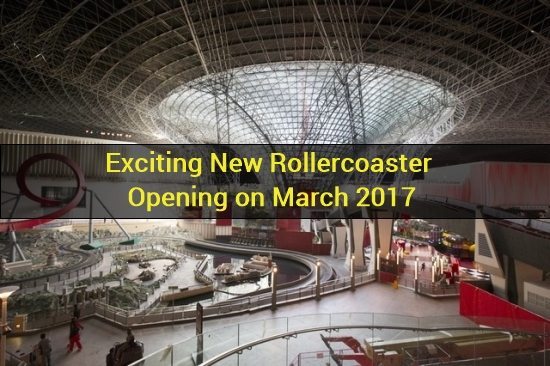 Ferrari World Theme Park in Abu Dhabi Launches New Rollercoaster Called Turbo Track
An Engineering Feat
Turbo Track is designed to pass through a new tunnel as well as the glass funnel roof of Ferrari World. Creating a hole within the funnel alone is an incredible feat of engineering. Al Zaabi explained that they had to consult engineers from around the globe before building the ride.
The team responsible for designing Turbo Track included AECOM, a leading engineering and architectural firm, and Intamin Amusement Rides, which specializes in creating rollercoasters.
Future Attractions
Aside from Turbo Track, Ferrari World will introduce three more attractions this year. These include a Ferrari driving simulation, another exciting rollercoaster, and a new attraction that "will go beyond Ferrari World boundaries," Al Zaabi hinted. Meanwhile, plans for 2018 will cater mostly to children and young riders.
Ferrari World started out with 24 attractions when it first opened. By the end of 2017, it will feature 39 attractions, and by 2018, it will have a total of 43 attractions. Meanwhile, developer Miral also plans to open a Warner Brothers theme park as well as "the world's widest indoor skydiving center" in 2018. And by 2022, it will open "Sea World Abu Dhabi."
Global Tourism Hub
Al Zaabi shared that Miral aims to attract more visitors and double their number from 24 to 48 million by the year 2022. According to him, this goal is part of a vision for Abu Dhabi to become a global tourism hub that offers world class attractions.
Image Credit: Ferrari World Abu Dhabi