Watch a video of this Filipina nurse in Dubai who was given an opportunity to talk to His Highness Sheikh Mohamed bin Zayed Al Nayhan, Crown Prince of Abu Dhabi and Deputy Supreme Commander of the UAE Armed Forces.
Also Read: OFW Interview with Franmark, Nurse and Bachata Instructor in Dubai
Jessa Dawn Ubag, a nurse works under the Dubai Health Authority, shared one of her experiences taking care of patients afflicted with the virus.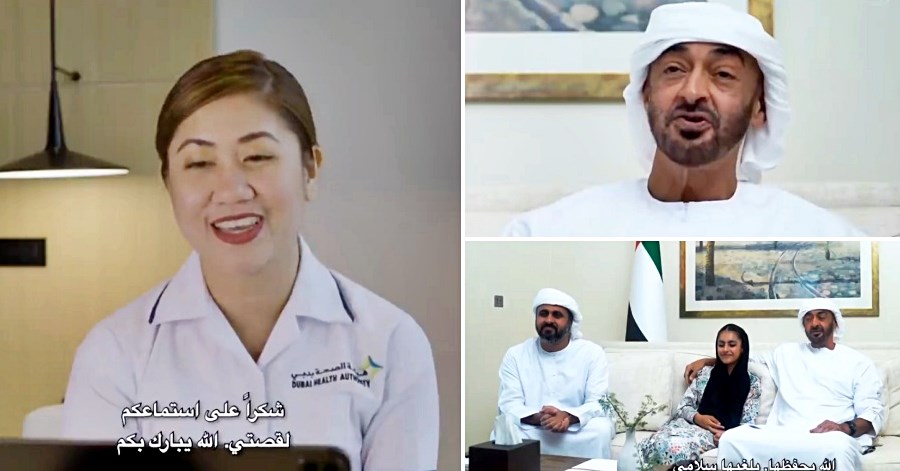 Filipina Frontliner, Jessa Dawn Ubag, Shares Experience Working as a Nurse in Dubai During Crisis
In the video, Jessa describes the conversation as a once-in-a-lifetime opportunity and she is thankful for being given the chance to speak to UAE leaders about her story.
Check out the video below:
Jessa's Personal Story as a Nurse Taking Care of Patients
His Highness asked Jessa to share an experience that we can all learn from.
"Tell us a story, Jessa. Tell us something that touched you that made a difference on your life. We want to hear it and learn something from it."
Below is the full statement Jessa shared that we have transcribed from the video:
"Thank you so much your highness for this once-in-a-lifetime opportunity. In the infectious disease unit where I work at, I am able to meet different kinds of patients in all walks of life.
I remember 2 months ago, I was assigned to a patient in her late 20s. She was previously healthy when she came but she had high-grade fever and cough. She was breathless. Thus she was needed to be on a ventilator.
Series of tests were done in the hospital and she was diagnosed as COVID-19. With no visitors allowed, I would constantly update her families back home on her general medical condition.
With my fervent prayers and my personal protective equipment as my shield, I would bravely enter her isolation room and perform the tasks needed of me as a nurse.
These personal protective equipment (PPE) might be exhausting at times for me, especially when I wear it continuously for my 8-hour shift. But I choose to bravely put on my shield and enter the war zone with an unseen enemy because I believe this is my calling as a nurse, to be of great service to most people more needy than I am.
After 3 weeks of active treatment, she was finally sent home and was discharged from the hospital in a perfect general physical condition and she was COVID-19-free.
I believe this pandemic has totally changed our lives. My work may be physically, sometimes mentally and emotionally draining – but stories of hope and successful recoveries from my patients prove that there is always a light at the end of a dark tunnel. I believe that we shall all get past through this ordeal and together we will heal as one.
Thank you very much, your Highness, for taking time and listening to my personal story."
His Highness Sends Regards to Her Family
His Highness also asked Jessa about how her family is back home (in the Philippines)
Jessa responded that she constantly reassures her mother that she is well.
"My mother is worried back home but I constantly reassure her that I am perfectly fine. Her daily prayers for me helps me a lot and gives me the driving force to face each day in my work." Jessa responded.
Sheikh Mohamed tells Jessa to send his regards to her mother:
"God bless her, give her my best regard and tell her that you are fine with your second family," said His Highness.