In our next OFW feature, fortune favors the bold as Lorna Lacambra Soriano, an Ilocana who is a living proof that perseverance, courage, and determination to go beyond in life is worth it. The 55-year-old Dubai-based Office Manager, mom of two, nature lover, and English teacher is a breath of fresh air, and she'll regale you with her adventures, mishaps, and pieces of wisdom. 
What you see is what you get with her refreshing honesty and her joie de vivre personality. There's never a dull moment being with her; behind her joyful demeanor and success here in the UAE, she also has her fair share of ups and downs that might teach you a thing or two. Read on to find out more about Lorna and how she can inspire you to live life to the fullest and not take anything for granted.
1. Tell me about yourself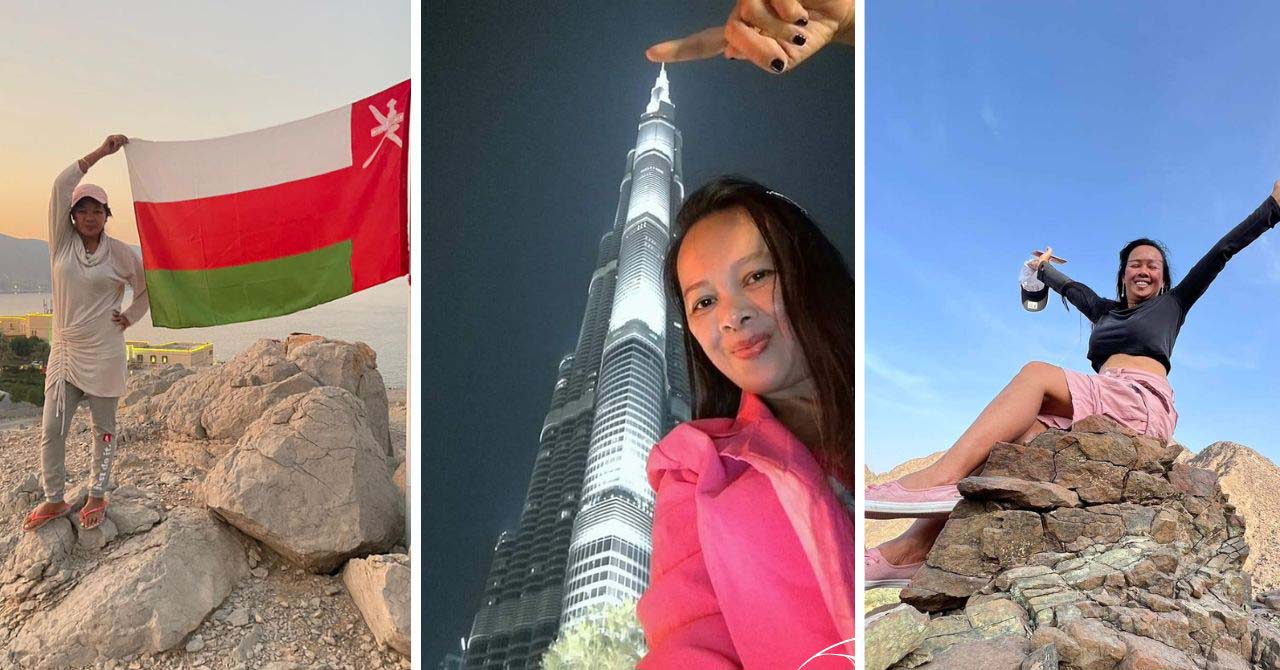 Lorna Lacambra Soriano, also known as Lorn to her close friends, she's a native of Maria Aurora, Aurora in Ilocos Norte. She's currently 55 years old, but you wouldn't even guess her age since she exudes a fun and youthful vibe. She holds a bachelor's degree in science, majoring in secondary education at Mount Carmel College in Baler, Aurora, and she also has a certificate in nursing aid from the Philippines Women's University in Manila. 
Lorna is passionate about upskilling and constantly collecting certificates to add to her list of credentials. She's currently an Office Manager at a Kuwait and Dubai-based facilities management company in the real estate industry.
Before she came to Dubai, she has worked in 4 different countries and proved with determination you can climb the ladder of success. When she's not being the strong and independent woman that she is, she's a mother of two; both of her sons graduated with flying colors in the Philippines. She's been in the UAE for over 13 years now, and she's just getting started!
The first time I met Lorna, you'll be caught off guard by her energetic yet warm personality. She's clearly a people person and definitely knows how to have fun. When I interviewed her no-nonsense attitude and faithfulness to candor will draw you in. There's more to Lorna; she's beautiful, brave, and definitely a go-getter that will inspire you to push your limits with her life story.
When she's not busy working as an Office Manager, she's side hustling as an English teacher for special kids, she also loves to go on a road trip even calling herself a "lagalag" or a wanderer. She loves to stay long hours at the beach, have overnight camping in the desert or mountains, attend ladies golf clubs, shop, and travel for work.
2. Why did you come to Dubai?
Working abroad has never been easy, but Lorna working for different countries from Europe to the Middle East, shows how OFWs are willing to go far just to get better opportunities. 
Just like any OFW family, Lorna's story on why she became an OFW and her motivation for staying in the UAE, is to provide for her family. According to her, "Dumating ako sa Dubai para sa pamilya ko, because broken family kami, 5 days old palang yung youngest ko na anak, naghiwalay na kami ng father niya kaya kailangan ko to stand on her own para mabuhay sila."
 ( I came to Dubai for my family, my youngest son was only 5 days old when his father and I separated, we became a broken family, which motivated me to work abroad , be strong and to provide for my family."). 
She said, "Pang limang country ko na tong UAE, nagtrabaho din ako sa ibang bansa bago ako pumunta dito tulad sa Saudi, Bahrain, Singapore, tapos UAE." ( UAE is the fifth country that I have to work as an OFW, the previous countries are Saudi Arabia, Bahrain, Singapore, Cyprus then the UAE.)
3. What were your previous jobs? 
Despite having a Bachelor's degree in secondary teaching, and working as a teacher in Dingalan, Aurora, where one of her students back then was the current mayor of the city, she wasn't happy with her career path. Lorna said, " Di ko talaga gusto maging teacher, mga magulang ko sinunod ko." Nagturo naman ako ng 1 year, naging happy naman ako kasi isa sa mga naturuan ko yung mayor na ngayon ng Dingalan Aurora. Iniwanan ko kasi di ko pa linya magturo, I hate paperworks, araw araw gagawa lesson plans,I was not happy and fulfilled.
( I don't really like being a teacher; I just obeyed my parents. I taught for a year. I was somehow happy since one of my students back then was the current mayor of Dingalan, Aurora. I left the teaching profession since it's not my forte, I hate paperworks, every day I have to create lesson plans, I was not happy and fulfilled.)
Her first taste of working abroad, started when an acquaintance offered her an opportunity to work abroad in Saudi as a housemaid, she grabbed the opportunity. 
Before landing in Dubai, she worked in Saudi Arabia for two years, then worked in Bahrain for two years, Singapore for three years and six months , and Cyprus for four years and six months as a housemaid. 
However, she stayed the longest in Dubai, UAE, she said, " nagustuhan ko dito kaya ako tumagal kasi sa ibang pinuntahan ko housemaid ako kaya nung may opportunity dito na mag start sa office, grinab ko yung opportunity."
 ( I really liked it here, I stayed here the longest because in the previous countries I've worked, I was working as a housemaid, here there's an opportunity to work in the office and climb up the ladder, so I grabbed the opportunity.) "Di sa inaano ko mga housemaid, I'm proud to say that I worked as a housemaid pero naghahanap ako ng iba pang opportunities." (Don't get me wrong, I'm not judging anyone who works as a housemaid, in fact I'm proud to be one, but I'm looking for better career opportunities.)
Lorna's career shifted from being a housemaid to starting her career in Dubai as a receptionist; she worked for a cleaning company, worked in a hotel for housekeeping, then a security company that became one of the turning points of her life here in the UAE.
 She used to work as a receptionist admin for a security company, where she was accused of stealing access cards, important documents, and laptops of the company. It was 2015 when she had to report to the Sharjah police station to clear her name. It was an uphill battle, but her fearlessness and determination to prove her innocence shined through. For five months, she had to attend the court hearings in the Sharjah labor office. Her perseverance paid off, and she won the case after the court sided with her. After winning the case, she opened another one against her previous employer since they were withholding their passport. 
According to her, "On the spot binigay passport ko sa harap ng judge then pinagbayad sila ng mga AED 670 para sa pinangopen ko ng case. Ang maganda talaga dito yung legal system at maayos sila. Sinolo ko lahat ng yun for 5 months straight ako magisa naga-appear sa court, di alam ng pamilya ko, sinabi ko nalang nung tapos na. Kahit sinabi sakin ng former employer ko sakin bago mapunta sa korte, umuwi ako ng may gratuity o magkorte kami. Sabi ko take me to court kasi clear ang name ko. 
 (They gave me my passport on the spot in front of the judge, then they paid AED 670 for the fee of opening a case which I paid for. The good thing here is the legal system in the UAE is organized, there's due process. I didn't tell my family about my dilemma, I was alone appearing in the court for 5 months straight, I only told them when the case was done. I persevered despite my former employer telling me to go back to the Philippines with my gratuity or they will take me to court. I said, take me to court since I'm innocent.)
It shows that working as an OFW does have its ups and downs, and if you're not strong enough to fight for your rights, stand up to the truth and be strong, working abroad may not be for you. Fortunately, with her courage, Lorna overcame one of the major dilemmas she faced in the UAE. 
4. How do you find your current job? Are you happy/satisfied with it? 
Lorna is currently working as an Office Manager for a Kuwait and Dubai-based company, she came a long way from being a housemaid. She said in our interview, " Yung tumuntong ako sa UAE excited ako magwork sa ibang field, proud ako na naging housemaid ako kasi hirap ng buhay, walang ibang source of income kaya ako nag abroad ulit, pero lagi ako nag ga-grab ng opportunity, Very happy ako sa work ko ngayon, may extra time pa ako na mag aral at mag turo ng English sa mga special child."
( When I came to the UAE, I was excited to work in a different field, I'm proud to work as a housemaid since life is hard, there was no source of income that's why I decided to work overseas again, I just always grab every opportunity that comes my way, I'm very happy with my current job, I have extra time to study and teach English for special child students here.)
Nung 2020 na nag pandemic, bumaba yung sahod namin, kaya nagtanong ako sa boss ko if puede ako magtrabaho ng iba pa, nung time na yun pinayagan ng UAE basta alam ng employer mo and may NOC ka. ( In 2020 since its the pandemic, our salaries was affected, that's why I asked my boss if I can have a side hustle, my boss was supportive. That time the UAE allowed that kind of special working permit as long as your employer knows and you have NOC.)
"Nung nagstart ako na housemaid sa Saudi Arabia, di ako marunong sa gawaing bahay, kaya yung amo ko nun, pinagalaga nalang ako ng 5 anak niyang mga babae, tapos kumuha siya ng isa pang housemaid para dun naka focus maglinis. Tuwing weekends, sinasama ako pa Bahrain kaya nakakapag travel din ako. Pareho din sa current work ko, supportive yung boss ko sakin."
( When I worked as a housemaid in Saudi Arabia, I didn't know how to do household chores; fortunately, my employer then let me take care of her five daughters and hired someone to do the household chores. We would travel to Bahrain on the weekends, so I can travel. My past employer and current employer are both supportive of me.)
This shows how working abroad may not always be a bed of roses, but once you land a job with a supportive employer that helps you grow, it will help you flourish in your career, just like what happened to Lorna. It's also a full circle moment for her since she was practicing her teaching career in the Philippines, and now she's teaching again in the UAE as a side hustle.
"Tinuloy ung mga naipundar nung nagkatulong ako noon, nafulfill lahat sa Dubai. Naituloy ko yung pagpapagawa ng bahay ko na may swimming pool, nabigyan ko ng house and lot yung 2 anak ko, naitransfer ko na sa kanilang pangalan. Di na ako magiisip kapag umuwi na ako one day, pero hanggat kaya pa ineenjoy ko nalang since maganda naman situation ko sa trabaho ko ngayon. Masaya din ako nung nakuha ko isa mga anak ko, nakapagstay siya dito ng 1 year, nagtatrabaho sya ngayon sa Pilipinas, sa isang Japanese IT company."
( I continued my investments and projects when I was still working as a housemaid in other countries, I continued the house that I was building with a swimming pool, I gave each of my sons a house and lot, and the rights have been transferred to their names, I don't have to worry going home one day, but as long as I can still work here, I will enjoy since my work situation is currently smooth sailing. I'm also happy that one of my sons visited her for a year; he's now working in a Japanese IT company in the Philippines.)
6. Is it difficult to live in Dubai? What are your struggles? What's life like outside work? 
Credit cards always have a bad reputation and for a reason. One of her struggles living in Dubai was when she allowed her friend of eight years to use her credit card as a loan and couldn't repay it. It was the start of her dilemma, and she kept on paying since she didn't want to tarnish her name, but fortunately, the flow of income was still steady. One of the struggles that Lorna faced in Dubai is common, which is caving to the city's many discount centers, sales, and shopping culture.
"Nahirapan mag ipon sa dami ng sale, halos monthly nagpapadala ng cargo, kasi andaming sale, gusto ko rin maranasan ng family ko ano kinakain ko dito, nagpapadala ako ng mga sabon, mantika, pag sahuran na larga na andun nako sa Carrefour."
( I struggle to save money since there's always a sale, almost every month I'm sending cargos in the Philippines, since I want my family to get a taste of what I'm eating here, I want them to experience what I'm experiencing. I send them soaps, oil and more. Whenever I get my salary, I immediately go to Carrefour.)
7. What do you Like about Dubai? Best experiences in Dubai?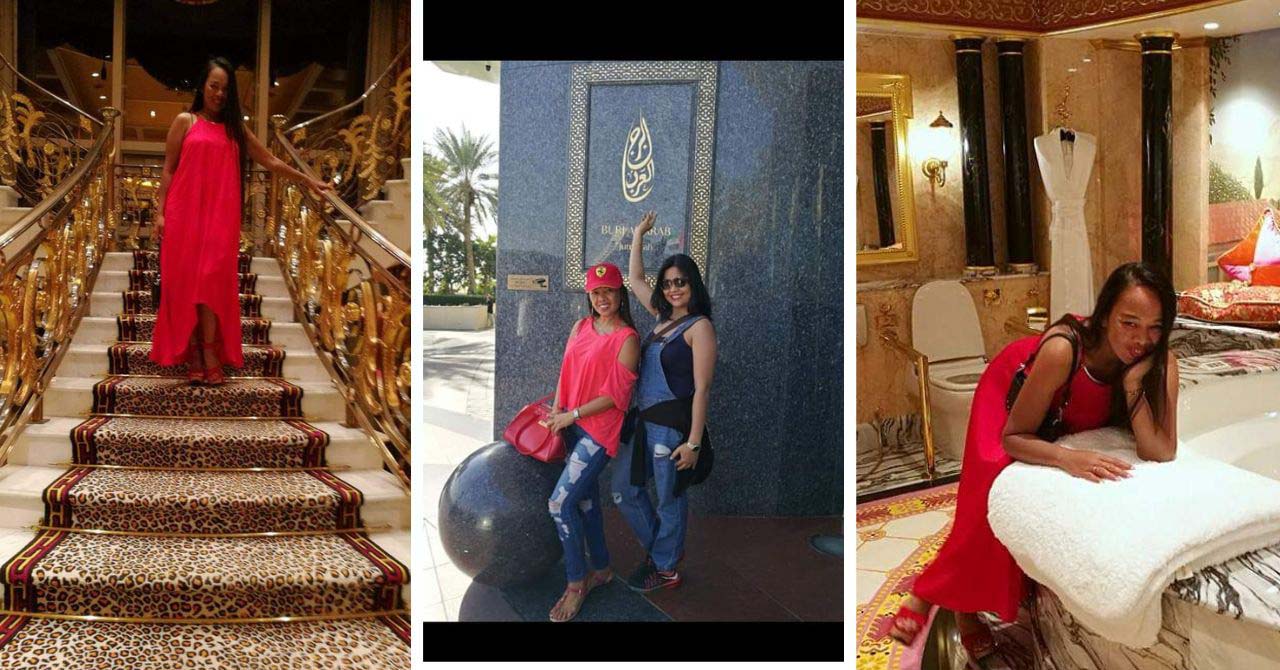 "Nangarap din kasi ako yung makapunta sa mga luxury hotels, maramdaman ano feeling maging mayaman, kaya nung di pako nagkakaproblema mag che-check-in ako sa mga five-star hotels, madami nako napuntahan katulad ng Emirates palace,  Atlantis, Caesar's Palace, Ritz Carlton sa Jumeirah."
( I dreamed of going to luxury hotels to feel what it's like to be rich when I was still not having problems before, I checked into five-star hotels, like  Emirates Palace, Burj Al Arab, Atlantis, Caesar's Palace, and Ritz Carlton in Jumeirah.)
"One time nagtatrabaho ako, minura ako ng client, sinabi ko sa guard and boss ko, rineport ko sa police, inurong ko nalang kasi naawa ako sa nanay nung nagmura sakin. Ito yung maganda dito bawal ang slander." 
(One time, I was working, and a client cursed at me, I told the guard and my boss, and I reported to the police. I didn't continue the report since I felt sorry for the mother of the one who cursed me. The good thing here is that slander is not allowed.)
8. What do you NOT Like about Dubai? 
"Ayoko yung di ako nakakalabas ng bahay, yung init during the summer season grabe lang. Mahilig kasi ako lumabas, lagalag ako, ayoko nasa bahay, di ko alam kung stress ako or hilig ko lang talaga yun."
( I don't like it when I can't leave the house. The heat during the summer can be intense. I'm fond of going out, I like to explore, and I don't like to stay in the house often. I'm not sure if it is because of stress or a habit.)
One of the common dislikes UAE residents have in the UAE is the intense heat during the summer season. It's completely normal since it is a middle eastern country. Lorna, who loves to explore and is a nature lover, you'll indeed find refuge from the scorching heat from the numerous parks and beaches in the UAE. One of Lorna's favorite places to visit are beaches, especially the Flamingo Beach in Ras Al Khaimah. She would drive all the way from Dubai to Ras Al Khaimah.
9. What are your plans for your career/family/future?
"Namimiss umuwi sa pilipinas, gusto makita mga napundar ko, makapagswimming saswimming pool sa bahay ko, 5 years na since umuwi ako, di talaga ako umuuwi since gusto muna mabayaran credit cards ko. Ayoko masira pangalan ko."
( I missed going home to the Philippines, I want to see the fruits of my labour; I want to swim in the swimming pool in my house, it has been five years since I went home, and I don't go home since I want to pay all of my credit cards first, I don't want to tarnish my name.)
"Gusto ko makauwi ulit ako bakasyon, 2019 pa huling uwi ko mas gusto ko mag stay dito, mas ok dito sa edad ko puede pa mag tutor, mag work, madami pa puedeng gawin unlike sa pinas mahirap ang buhay."
(I want to go on a vacation in the Philippines; it's been 2019 since I last went home. But I like it here and want to stay here, since even at my age, I can still tutor and work, and there are many opportunities here, unlike in the Philippines, life is hard.)
10. Do you have any tips for Kabayans when working/finding work/living/studying in Dubai?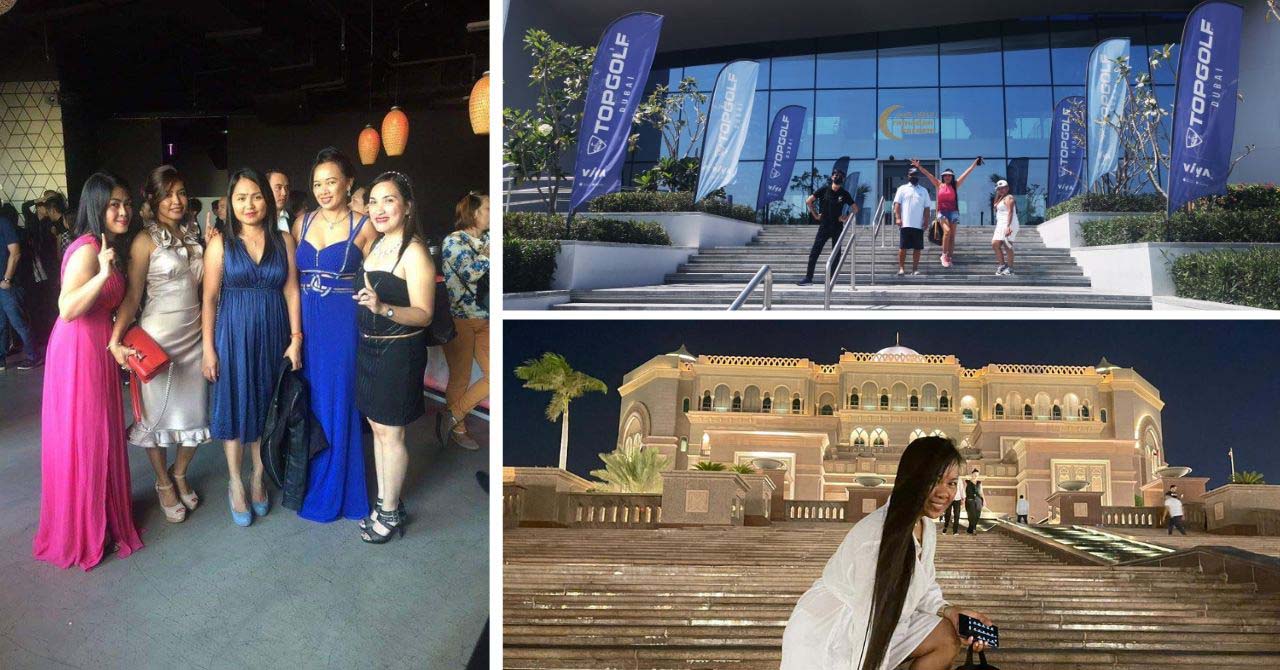 Mahirap pala na kahit 8 years mo nang kilala na pinagkatiwalaan, wag kang nagpapahiram ng ganun kalaki pera. May kaibigan na after lang sa makukuha, pero may mga totoo akong kaibigan na nasa likod ko parin nung nagkaproblema ako sa credit card ko. 
(Even though you have known someone for eight years, it is hard to trust, don't lend them a huge amount of money. I have friends who are after my money and only need something from me, but honestly, I still have friends with me even when I had problems with my credit card.)
With Lorna's life story, you can see that life is a rollercoaster ride full of adventures and struggles, yet you can see how she overcame and rose from the ashes like a phoenix. Lorna started from the bottom and is now enjoying life and thriving. 
Like many OFWs, her story echoes a story of courage, selflessness, and passion; Lorna will inspire you to be open to every opportunity that comes your way, don't be afraid to have fun and persevere whenever there are struggles. Lorna is a fine example of being an advocate of work-life balance in the UAE!