A Filipino blogger and his team based in Dubai recently launched Eternitee LLC, which offers inspirational apparel such as motivational t-shirts and other merchandise. As the company name suggests, their products are inspired by words of wisdom from the Bible.
The company was founded by Ion Gonzaga, a blogger and senior web designer. In a previous OFW interview, we learned that he has been living in Dubai for more than 10 years now. Despite having a full-time job, running a blog, and taking care of his family — it's pretty amazing that he still finds time to start a business in Dubai. Just a note, not many Pinoys come to the UAE to build a business as we normally aim to work as employees. So this ecommerce shop is something that a lot of us can find inspiration from.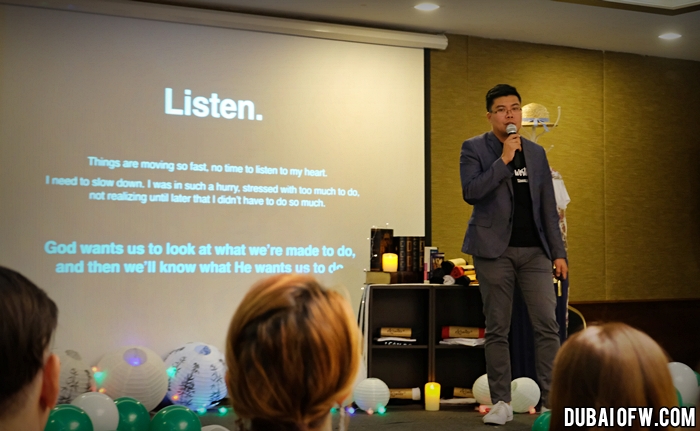 Ion, sharing his story of how he came up with this Dubai-based business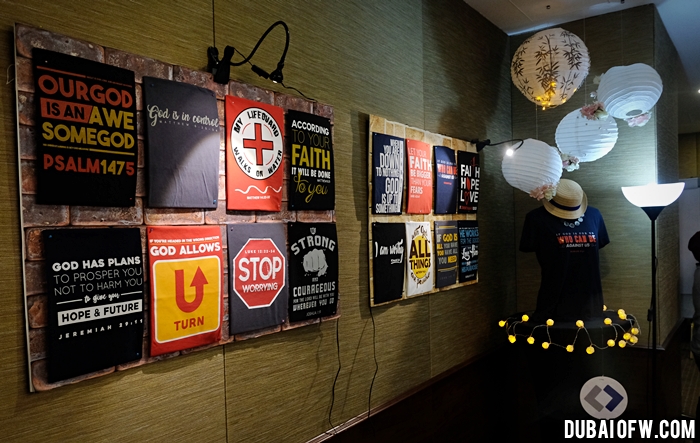 WearEternitee, inspirational and cool designs
Pinoy Start-Up in Dubai Sells Inspirational Tees & Merchandise
Eternitee officially opened its business and launched its online store recently. According to its website, the company offers "clothing that won't only make you look good, but make others feel better, too."
"The purpose of the business is to remind the world of the importance of having true wisdom in our way of life," stated Gonzaga in a press release. "Especially for OFWs who are dealing with homesickness, oftentimes, what they really need are words of encouragement to lift their spirits up, more than anything else. And what good way to start reviving wisdom-filled lifestyle by way of wearing simple, yet stylish t-shirts."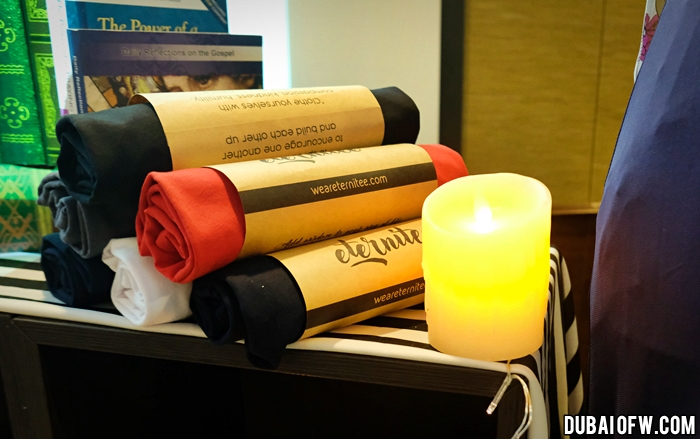 Eternitee t-shirts
Aside from being able to share inspiring messages, Gonzaga cited more reasons why people should wear Eternitee apparel:
Eternitee t-shirts are eco-friendly, made from organic cotton, printed and packaged with environment-friendly materials.
Customers can have their t-shirts customized for personal or for group use.
For every product sold, 5% goes to the company's advocacy to clothe the "naked in spirit" by creating inspirational campaign videos and short films.
Eternitee Team – All Filipino Team 🙂
The Team Behind Eternitee
The Eternitee team is composed of Gonzaga; Raquel, his wife; Gus Erni and Gwyn Sanchez Erni, his fellow graduates from the Ateneo Leadership and Social Entrepreneurship program in Dubai; and Matilyn Bagunu, one of the Pillars of St. Mary's Church choir and an incumbent leader of the Filipino Community.
"It's not just about what we want to do, it's about what God wants us to do, how we submit ourselves to be used as His messengers in the world today," Gonzaga explained. "Our t-shirts never get obsolete – because the word of God endures forever."
Contact Information
For more information as well as to order Eternitee merchandise, you may contact them via phone number +971-50-9846019 or visit their website at https://weareternitee.com/.
Notably, Gonzaga also happens to be the blogger behind BoyDubai.com, a highly-acclaimed lifestyle blog featuring people, places, and events in the emirate. Not many Filipinos are able to launch businesses in the UAE, so he and his team at Eternitee are truly an inspiration — much like their motivational products! To read more success stories about fellow Pinoys in Dubai, check out our section on OFW interviews.