Aside from pancit bihon (rice noodles), another favourite dish at Filipino parties is spaghetti. Not just any spaghetti, but "sweet style" spaghetti — with ground pork, sliced hot dogs, and lots of cheese!
Whether you're attending a birthday party, town fiesta, or Noche Buena (Christmas Eve dinner) in the Philippines, yummy spaghetti is bound to be served, with a sauce that is sweet, tasty, and distinct from the tangy taste of tomato-based Italian spaghetti sauce.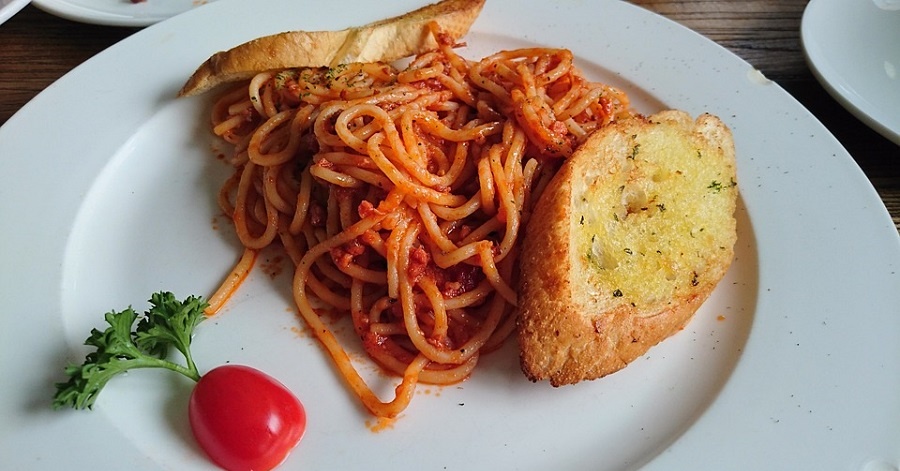 How to Cook "Sweet Style" Filipino Spaghetti
Filipino spaghetti is sweet, delicious, and easy to cook! It involves two major steps: cooking the pasta (simply follow the package instructions), and making the sauce. You can either use ready-made Filipino Style Spaghetti Sauce, or make your sauce own from scratch!
You can buy Ready-made Filipino Style Spaghetti Sauce in most markets and grocery stores. Some of the more popular brands are Del Monte, UFC, Royal, RAM, Clara Ole, and Fiesta. If none of these are available in your area, don't worry because you can always make your own sweet style sauce using tomato sauce, white sugar, and banana ketchup.
The following Filipino spaghetti recipe takes about 1 hour to cook and makes 6 servings. Simply adjust the amount of ingredients based on how many people you're going to serve.
Ingredients
2 lbs spaghetti (cooked)
1 lb ground pork
6 ounces luncheon meat (minced)
4 pieces hot dogs (sliced)
35 ounces Filipino Style Spaghetti Sauce (ready made)
1 piece onion (minced)
1 tsp garlic (minced)
1 1/2 cups water
3 tbsp cooking oil
1 piece Knorr Beef Cube
3/4 cup cheddar cheese (shredded)
Salt and ground black pepper (to taste)
NOTE: If there is no ready made Filipino Style Spaghetti Sauce available, you can make your own sauce by mixing 1 can (26.5 ounces) of tomato sauce, 1 jar (14 ounces) of banana ketchup, and 1/4 cup of white sugar.
Instructions
Cook the pasta according to package instructions. This involves boiling water in a pot, adding some salt, and cooking the pasta for 8 to 10 minutes (although this depends on the kind of pasta and brand). For best results, simply follow package instructions. Once cooked, drain the pasta and set aside.
Start making the sauce by heating oil in a cooking pot.
Saute the onion for 30 seconds, add the garlic, then continue cooking until the onion softens.
Add the ground pork into the pot and cook until it turns light brown.
Add the luncheon meat and hot dogs; cook for about 2 to 3 minutes.
Pour Filipino Style Spaghetti Sauce and water, stir, and let boil. If you don't have ready made sauce, make your own mixture using tomato sauce, banana ketchup, and white sugar as stated above.
Add the Knorr Beef Cube, stir, and cook in medium heat for half an hour.
Season with salt and ground black pepper to taste.
Pour sauce over the cooked spaghetti pasta and sprinkle some cheese on top.
Serve and enjoy your Filipino style spaghetti!
When Should You Add the Sauce?
The above recipe suggests topping the sauce over the spaghetti after cooking them separately. Similarly, you can allow guests to put the sauce and sprinkle some cheese by themselves; this way, they can control the amount of sauce and cheese based on their preference.
Another option is to heat the cooked sauce and pasta together, right before serving. Simply heat the sauce, add the pasta, and toss. Whichever way you serve it, your guests are bound to love your spaghetti!
Notably, Filipino spaghetti is usually served with friend chicken as well as skewered hot dogs and marshmallow. These dishes are always a hit with kids and even adult guests!
Indeed, a Filipino party or fiesta would not be complete without some delicious, sweet style spaghetti. It's also a great dish to introduce to your foreign friends! Don't forget to prepare some finger foods as well, like crispy fried lumpia or spring rolls.