A Filipino birthday, fiesta, or celebration would not be complete without pancit, which, just like lumpia, was introduced to Philippine cuisine by the Chinese. There are many variations of pancit, but for today's recipe, we will focus on pancit bihon or rice noodles.
As the name suggests, pancit bihon uses rice noodles — also called rice sticks or rice vermicelli — mixed with chicken, pork, shrimp, and vegetables. The great thing about pancit bihon is that it can be a complete meal by itself, although pairing it with cooked rice is also possible!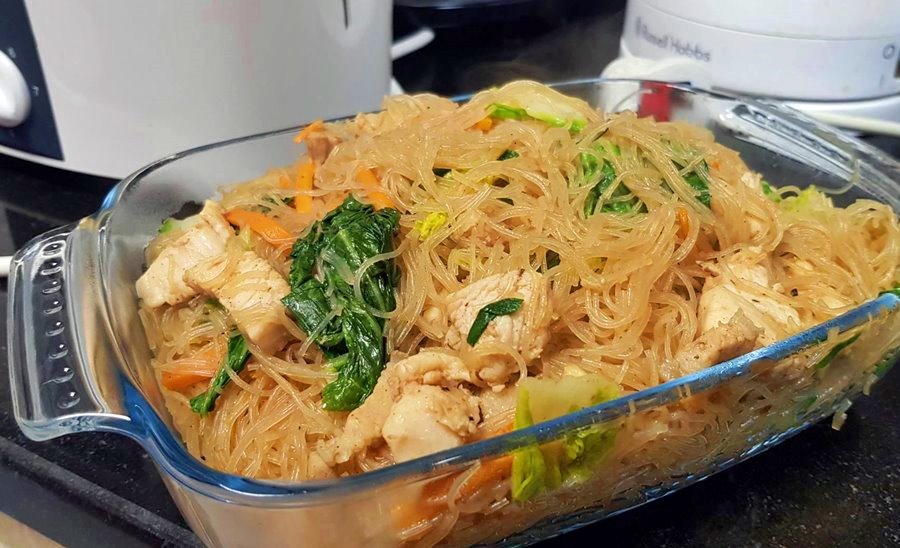 How to Cook Filipino Pancit Bihon
Here's an interesting fact: the word pancit comes from the Hokkien term pian i sit, which literally translates to "something conveniently cooked." Indeed, pancit is fast and easy to prepare, with ingredients available in most supermarkets and groceries. Interestingly, a restaurant that serves different kinds of pancit is called a panciteria in the Philippines.
It only takes around 15 minutes to prepare the ingredients, and 40 minutes to cook pancit bihon, for a total time of 55 minutes. The recipe below is good for eight servings, though you can always reduce or increase the portions, depending on how many people you are planning to serve!
Ingredients
1 lb pancit bihon (rice noodles)
1/2 lb pork (cut into thin slices)
1/2 lb cooked chicken (cut into thin slices)
1/8 lb sitsaro (pea pods)
1 cup carrots
1 cup celery leaves (chopped)
1 medium-sized onion (chopped)
1/2 small cabbage (chopped)
1/2 tbsp garlic (minced)
5 tbsp soy sauce
1 pc chicken cube
3 to 4 cups of water
Procedure
Soak the pancit bihon in water for about 10 minutes. Set aside.
Saute the onion and garlic in a large pot.
Add the chicken and pork. Let them cook for 2 minutes.
Add the water and chicken cube, then let simmer for 15 minutes.
Add the sitsaro, carrots, celery leaves, and cabbage. Let simmer for a few minutes.
Remove all the ingredients from the pot except for the liquid. Set them aside.
Add the soy sauce to the liquid and mix well.
Add the previously soaked pancit bihon to the liquid. Mix well and cook until the liquid evaporates.
Return the meat and vegetables to the pot and simmer for 2 minutes.
The pancit bihon is now ready. Serve and enjoy while it's hot!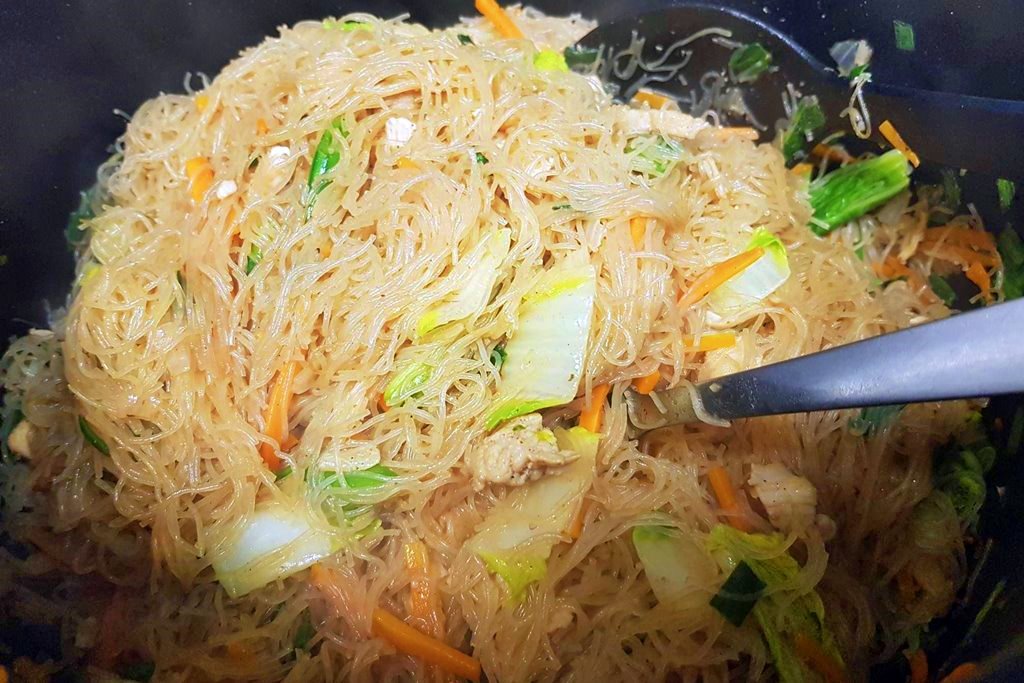 Variations of Pancit
Aside from pancit bihon, there are different versions of pancit, mostly based on the type of noodles and toppings used. For instance, there's pancit canton (egg noodles) and pancit sotanghon (glass noodles), both of which also use meat, chicken, or seafood with vegetables.
Take note that while pancit bihon and pancit sotanghon both use "thin" noodles, the former is made from rice vermicelli, while the latter is made from mung-bean starch or potato starch.
Another popular version is pancit palabok or pancit luglug, which uses thicker rice noodles. Its toppings often consist of shrimp, tinapa (smoked fish) flakes, crushed chicharon (fried pork rinds), and hard-boiled eggs — all smothered in thick, golden shrimp sauce. Yum!
Indeed, a Filipino party would not be complete without pancit bihon, pancit canton, or other types of noodles. And speaking of Filipino food, have you ever tried kare-kare or ox tripe stew? This is another Pinoy favourite that you can make by trying out this recipe.