Aside from lumpiang shanghai and pancit bihon, there's another dish that is often present in Filipino fiestas and parties: lechon kawali, which is basically seasoned pork liempo (belly) deep-fried in a pan, then chopped into slices and served with delicious dipping sauce.
Notably, lechon kawali is different from lechon, which is whole roasted pig cooked over charcoal. Lechon itself was introduced to Philippine cuisine by the Spanish, the word being derived from the term "leche" (milk) — with reference to a suckling pig or roasted baby piglet.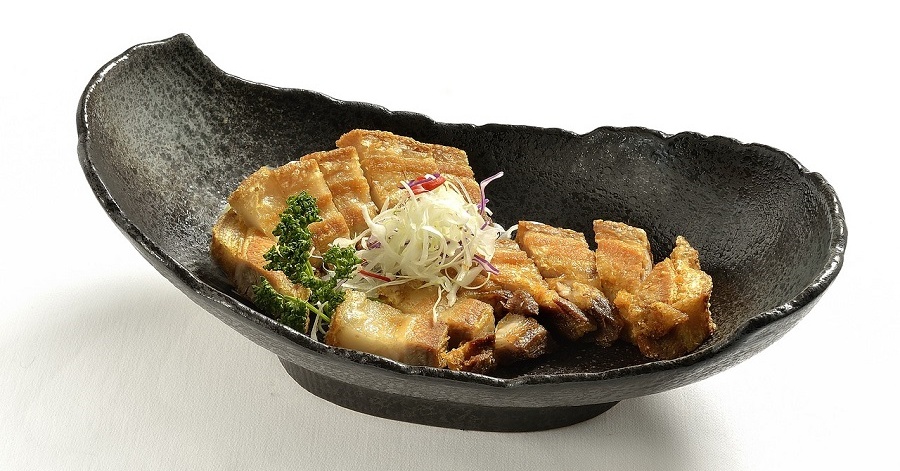 How to Cook Lechon Kawali, Filipino-Style
As mentioned earlier, lechon kawali is different from lechon, both in terms of appearance and method of cooking. While lechon refers to a whole roasted pig, lechon kawali involves just the pork belly, which is seasoned and deep-fried.
Speaking of deep-fried, this is related to the second part of the dish's name. "Kawali" is the cooking pan used to cook lechon kawali, and it can be found in almost all Pinoy households.
There are two basic steps in cooking lechon kawali. The first step is to boil the pork belly, while the second step is to deep-fry until the skin becomes crispy. The whole process takes about one hour. The recipe below is applicable for about six servings, though of course — portions can be increased depending on the number of people you're going to serve!
Ingredients
2 lbs pork belly
2 tbsp salt
2 tbsp whole peppercorn
5 pieces dried bay leaves
3 cups cooking oil
34 ounces water
Instructions
Put the water in a cooking pot and bring to boil.
Add the pork belly, one tablespoon of salt, some pepper, and dried bay leaves. Boil for half an hour — or longer — until the meat becomes tender. Take note that it is important for the pork belly to get tender at this stage, while it absorbs flavour from the seasonings.
Remove the meat from the cooking pot. Let it cool for a few minutes.
Spread one tablespoon of salt on the pork belly, making sure that is evenly distributed on all parts of the meat.
Heat oil in a cooking pot and start deep-frying the meat.
Be careful of oil splatters when putting the pork belly into the pot. You can cover the pot partially, but not completely as steam could get trapped and cause more oil splatters. Deep-fry the meat until it becomes crispy.
Remove the meat from the cooking pot. Let it cool down on a wire rack before slicing into desired portions.
Serve the dish with lechon sauce, which is made from liver spread, vinegar, brown sugar, soy sauce, salt, and pepper. You can also serve it with "toyo-mansi," which is a mix of soy sauce and calamansi.
Of course, don't forget the rice! Lechon kawali is best enjoyed as ulam (viand), although some enjoy it as pulutan (finger food partnered with alcoholic drinks) as well. Cool!
Juicy, crispy, and relatively easier to prepare than lechon, lechon kawali is definitely a favourite among all Filipinos, wherever they may be in the world. Meanwhile, another popular Pinoy dish is ox tripe stew, which is better known as kare-kare. In case you've always wondered how to cook this delicious dish, here is a step-by-step kare-kare recipe!