History shows that Chinese cuisine has greatly influenced Philippine cuisine, as evident in dishes like pancit bihon and lumpiang shanghai. Aside from these, another Pinoy recipe that is of Chinese origin is sweet and sour pork.
Sweet and sour pork is usually served in Chinese restaurants, although many Filipino outlets and Asian restaurants serve it as well. In fact, this dish is popular around the world!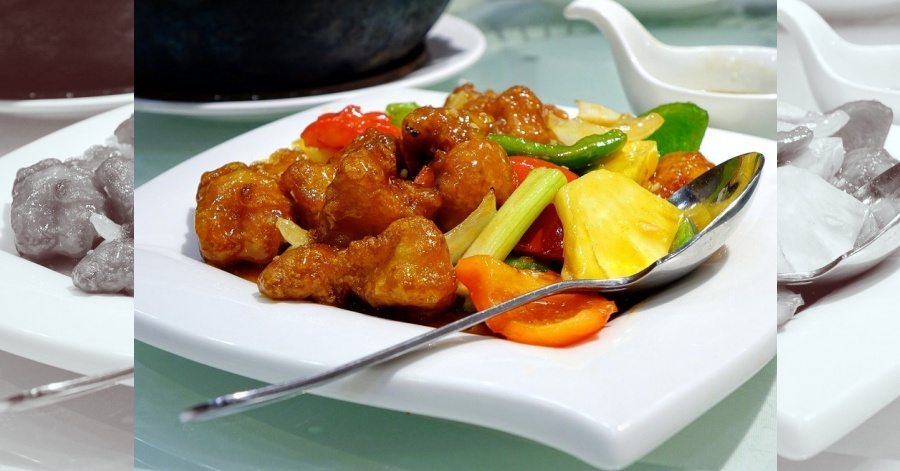 How to Cook Sweet and Sour Pork, Filipino-Style
As the name suggests, the dish is made up of pork, which is sliced into serving pieces, marinated, dredged in flour and cornstarch, then deep-fried. It is then combined with sweet and sour sauce, which is a mixture of water, vinegar, sugar, and something tangy like tomato ketchup or pineapples.
The sweet and sour pork recipe below takes about one hour to prepare, and makes around four servings. Of course, feel free to adjust the amount of ingredients, based on the number of diners as well as their taste preferences (i.e. extra sweet or sour, etc.)!
Ingredients
1 lb pork loin (sliced)
1 piece carrot (sliced)
1 piece red onion (wedged)
1 piece green bell pepper
1 piece red bell pepper
3 tablespoons soy sauce
3 tablespoons cornstarch
1/2 cup all-purpose flour
For the sauce:
1 1/4 cup water
5 tablespoons tomato ketchup
4 tablespoons white sugar
3 1/2 tablespoons vinegar
Salt and pepper (to taste)
Procedure
Place the pork loin in a bowl, add soy sauce, then marinate for about 10 minutes. If desired, you may also add salt.
In a bowl, combine the flour and cornstarch until they are well mixed.
Heat cooking oil in a pan.
Dip the marinated pork in beaten egg, and then onto the flour and cornstarch mix.
Deep fry the pork for about 10 minutes or until golden brown, then set aside.
In a separate pan, pour in the sauce ingredients. Heat until the mixture boils.
Add the carrots and let simmer for 3 minutes.
Add the onions, green bell pepper, and red bell pepper. Add more water as needed, and let simmer for 4 minutes.
Add the deep-fried pork into the sauce and stir for 2 minutes. Season the dish with salt and pepper.
Transfer the sweet and sour pork into a serving dish. Serve with hot rice!
Other Sweet and Sour Dishes
As mentioned earlier, sweet and sour pork is popular in Filipino cooking, and in Asian cuisine in general. The sauce itself can be combined with other main ingredients, coming up with other well-known dishes, such as: sweet and sour fish (also called escabeche), sweet and sour fish fillet, sweet and sour chicken, and sweet and sour bola-bola (meat balls).
Aside from being part of the main dish, the sweet and sour sauce may also be used as dipping sauce for finger food like lumpiang shanghai, kikiam, fish balls, and okoy (fritters).
Perhaps what makes this dish popular is the combination of sweet and sour taste that most Filipinos love. Whether you're serving sweet and sour pork as viand, or using the sauce as dipping for party foods — the sweet and tangy flavour is bound to be a hit!
Meanwhile, another popular Pinoy pork dish is lechon kawali (deep-fried pork belly), which should not be mistaken for lechon (whole roasted pig). Check out this easy to follow lechon kawali recipe, so you can prepare a delicious feast for your family and friends!