What do you usually pair with your morning coffee? Cereal, pancake, toast perhaps? How about trying something different — like soft, purple yam rolls oozing with delicious cheese filling? That's right, we are talking about the latest bread craze… ube cheese pandesal!
Many of us grew up having pandesal for breakfast (and sometimes, for merienda, as well). Who would have thought that this simple bread roll can be turned into something more… delicious and decadent? Certainly not us! But to whoever thought of combining sweet ube and savory cheese into one delicious pastry, we offer our uttermost thanks!
How to Bake Ube Cheese Pandesal
Indeed, we've been seeing more of this yummy purple bread in bakeries and grocery stores lately. But what if you tried making ube cheese pandesal yourself? Since most of us are urged to stay at home these days, now is the time to bring out your "inner" baker!
Making ube cheese pandesal involves preparing the yam, dough, and assembling everything together before baking. You'll also need to allot time for the dough to rise. Considering all these, the following recipe should take around 3 to 3 1/2 hours in total, and produce about 14 servings. Of course, you can always increase the ingredients to make more pandesal!
Recipe  Ingredients
6 tbsp white sugar
3 tbsp butter (softened)
1 tbsp vegetable oil (for kneading)
2 1/4 tsp active dry yeast
1 tsp salt
1/2 cup cooked ube (mashed)
3 1/2 cups flour
1/2 cup bread crumbs
1/4 cup warm water
1/4 cup warm milk
2 eggs (lightly beaten)
1/2 lb quick melt cheese (any kind, cut into 14 squares)
Procedure / Instructions
The recipe involves three major steps, as follows:
A. Purple Yam Preparation
This depends mainly on the type of ube you have:
If you have fresh ube, place one medium purple yam in a saucepan. Cover with enough water and cook over medium heat until the yam is tender. Drain and allow to cool, then peel the yam and mash it with a fork. Use 1/2 cup of the mashed ube.
Meanwhile, if you are using prepared ube halaya (ube jam), use 1/2 cup of ube jam and reduce the sugar to 4 tablespoons.
On the other hand, if you are using ube powder, combine 1/4 cup of ube powder with 3/4 cup hot water and stir until you come up with a smooth mixture.
B. Making the Dough
Pour the warm water into a mixing bowl, add one tablespoon of sugar, then sprinkle the active dry yeast. Stir and let the mixture stand for 5 minutes.
Add the eggs, mashed ube, warm milk, softened butter, salt, and the remaining sugar. Stir until all the ingredients are well mixed.
Add 3 cups of flour, one cup at a time. Stir well with each addition. Add the remaining flour and stir until the dough comes together in the middle of the bowl.
C. Kneading, Assembling, and Baking
Place the dough on a lightly greased kneading board. Knead until the dough becomes less sticky, adding oil and a little flour as you go along. The resulting dough must be elastic and smooth.
Place the dough in a lightly greased bowl and cover it with a kitchen towel. Let it rise for about 1 1/2 hours or until it has doubled in size.
Form the dough into a "log" and cut it into 14 equal portions.
Flatten each portion, add a piece of cheese in the middle, then fold the dough around the cheese to make a smooth ball.
Roll each portion in bread crumbs, then place them on a baking sheet lined with parchment.
Cover with a kitchen towel, and let the dough rise for 1 hour or until the portions have doubled in size.
Bake the dough in a preheated oven (350 degrees Fahrenheit) for about 20 minutes.
Remove from the oven and let the bread cool. Serve and enjoy!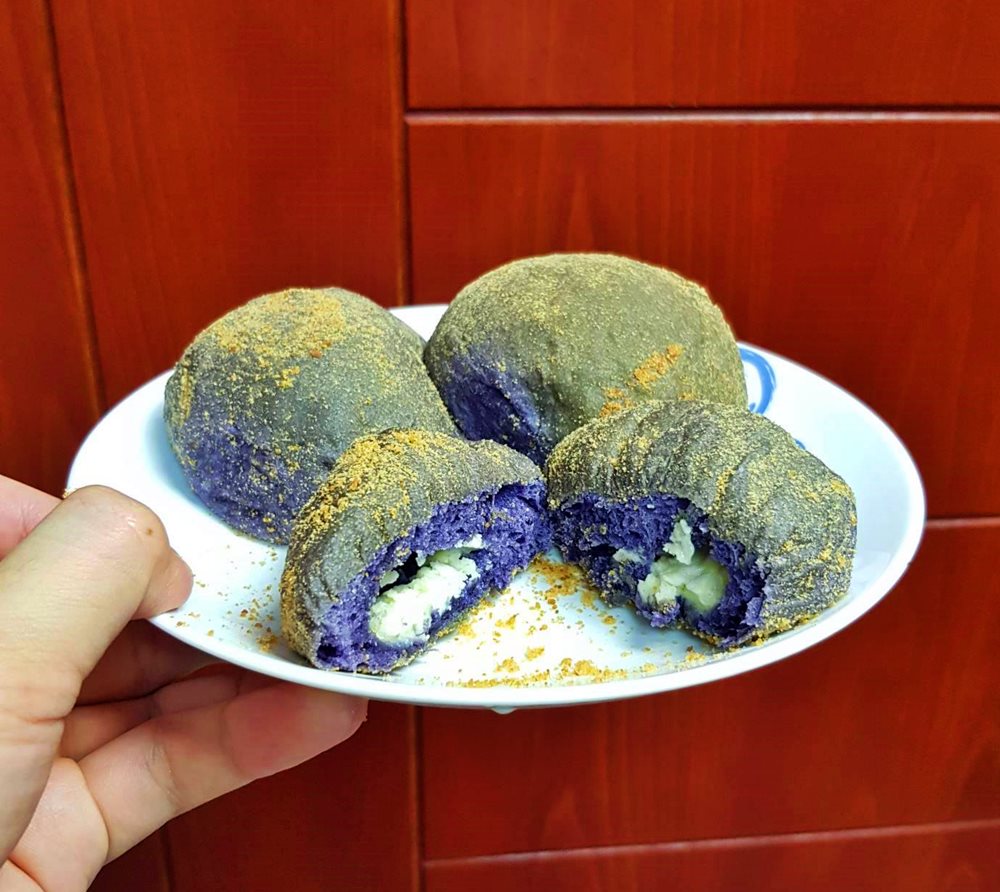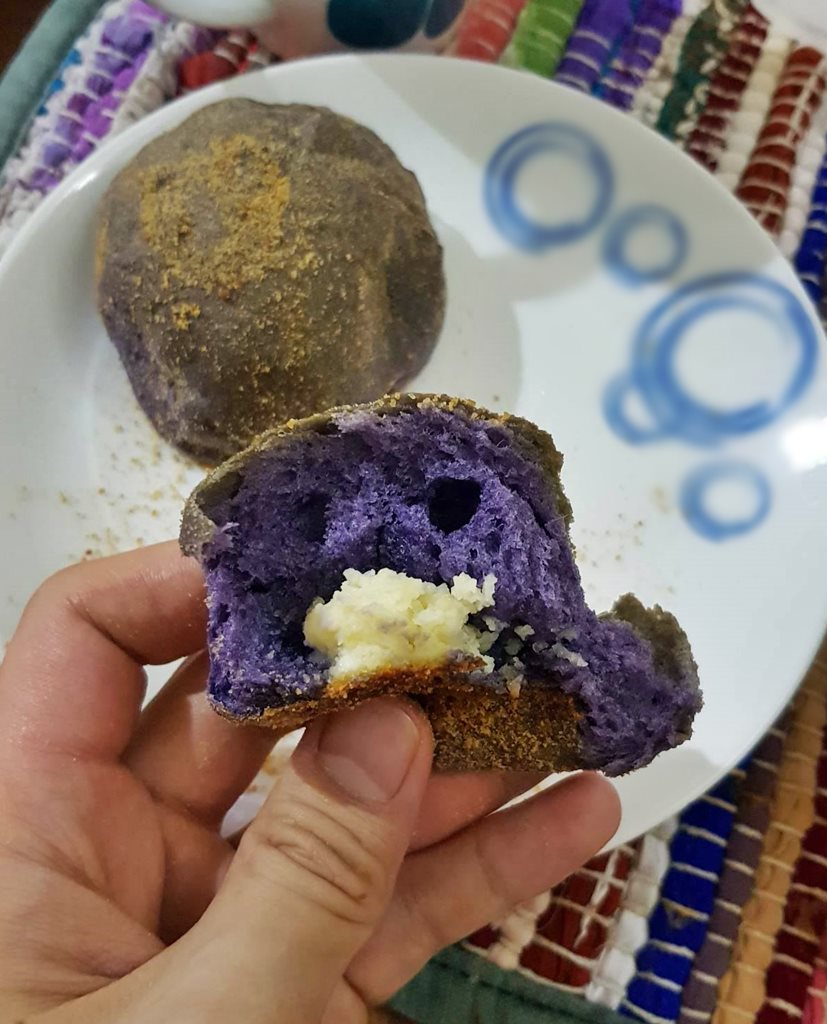 Enjoy Yummy Ube Cheese Pandesal
You can enjoy ube cheese pandesal for breakfast or even as a mid-morning/afternoon snack. It is best served hot, with a cup of coffee, tea, or any favourite drink!
The good thing about this pandesal is that it can stay soft for up to two days at room temperature, and even up to one week if refrigerated. Simply reheat the bread in a microwave or oven, and enjoy again!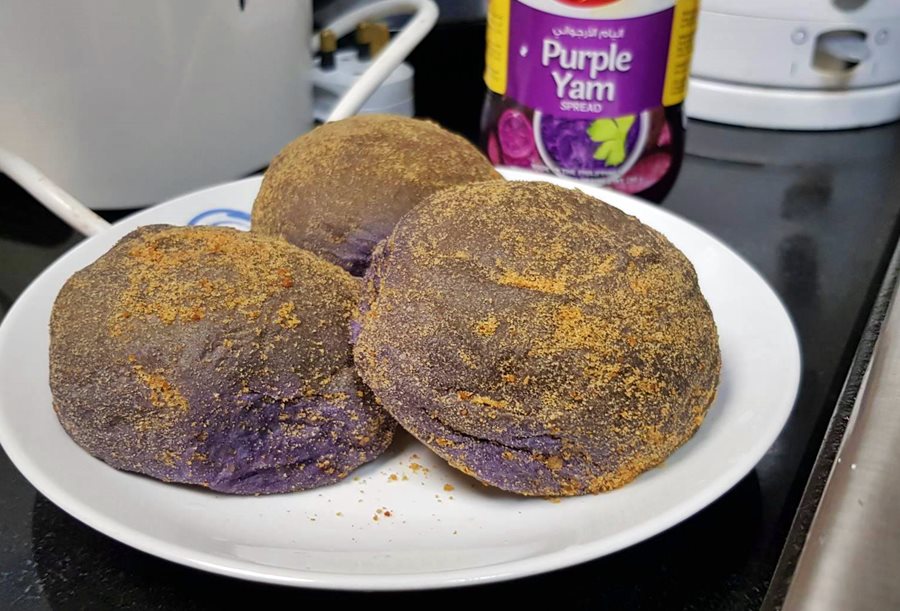 Video: Ube Cheese Pandesal
Here is a video on how to cook delicious ube cheese pandesal, as shared by Kawaling Pinoy on YouTube:
In case you haven't tried the "trending"
ube cheese pandesal
yet, just follow the above recipe and make your own! And speaking of
merienda
, why not pair your
pandesal
with some savory
pancit bihon
? Check out this
pancit bihon recipe
and enjoy a taste of Pinoy food!