Anyone who loves good 'ole American food is in for a treat as one of the biggest fast-food chains in the US is now available here in Dubai!
Freddy's Frozen Custard and Steakburgers has officially set up shop and opened its doors in the Dubai Mall last July, and we are getting all the rave from their delectable food items! Without spoiling too much about how awesome this place is, let's get right on to what makes Freddy's a hit among the crowd.
Freddy's UAE in The Dubai Mall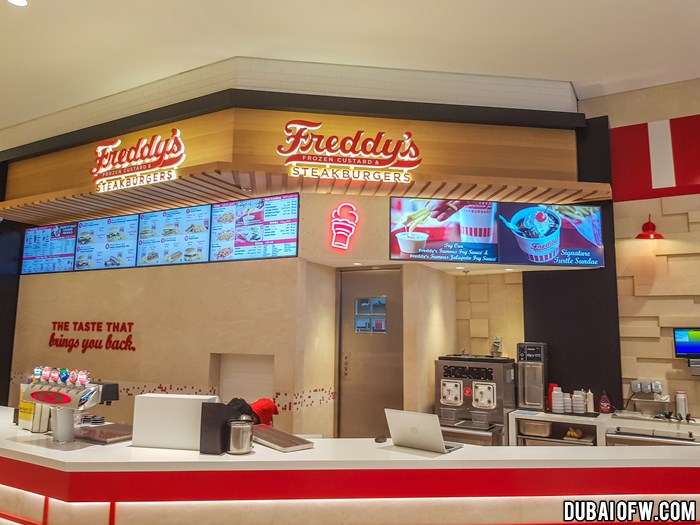 Freddy's Frozen Custard and Steakburgers
Popular US Fastfood Chain Freddy's Frozen Custard and Steakburgers Now in Dubai
Now with its first international store location open in the UAE, Freddy's is out to give its competition a run for their money with its signature burgers such as Freddy's Original Patty Melt, crispy chicken, grilled chicken, double steakburger and bacon and cheese double steakburger, and frozen custard flavors including the chocolate brownie delight as well as the mouth-watering "Turtle Sundae", which are all absolutely fantastic!
Staying true to their motto: "Enjoying great food without a long wait doesn't mean your meal has to be cooked before you order it," the popular American fast-food chain is widely inspired by the '50s-style diners and "made-to-order meals of the era".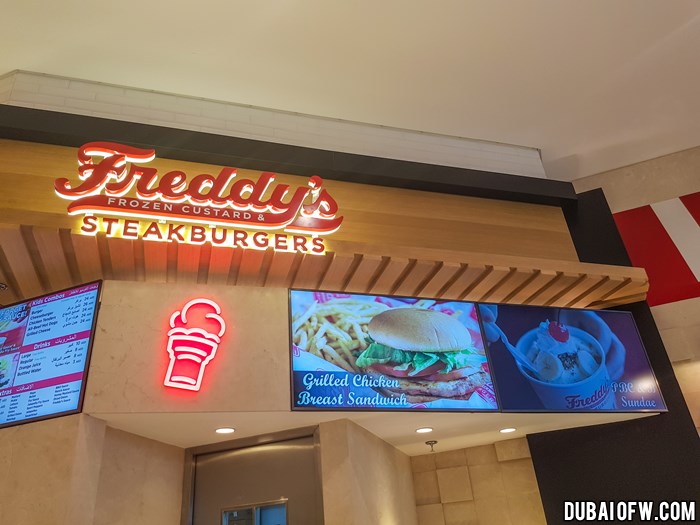 Freddy's Steakburgers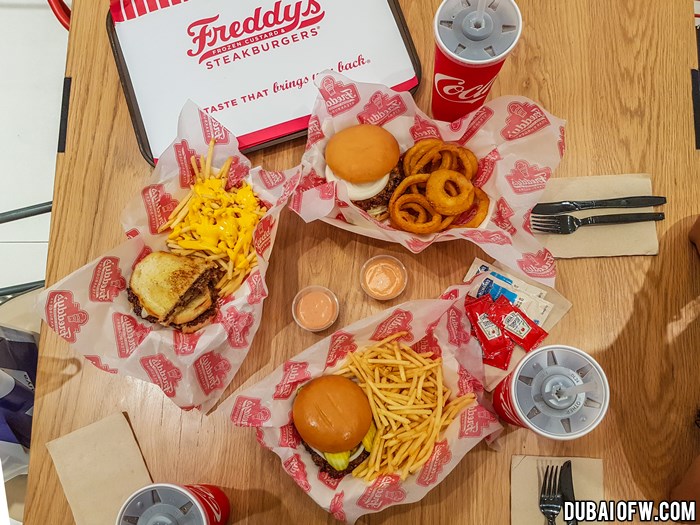 Freddy's Frozen Custard and Steakburgers in the Ground level foodcourt of The Dubai Mall
Freddy's menu offers a variety of signature American snacks and meals such as burgers and fries, hot dogs, sandwiches, and desserts, among others.
Since its opening in Dubai last July, the management has already expressed plans to open five more locations for the brand in the UAE in the next 18 months.
Freddy's UAE menu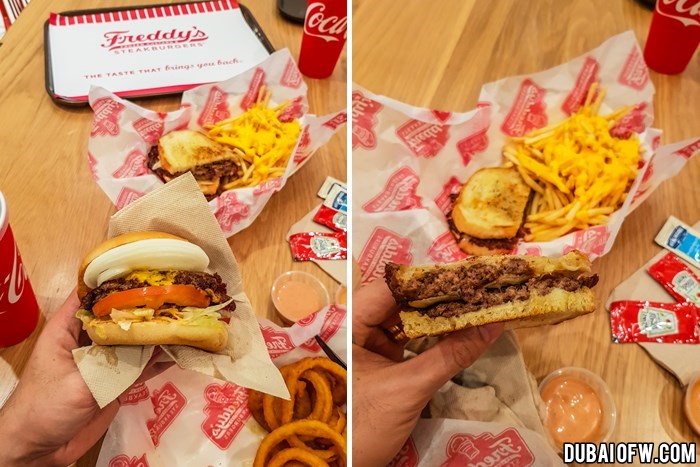 dining at Freddy's Steakburger
According to Yousef Khattar, managing director of Tastebuds Group, which represents Freddy's in the Middle East, "The training and support that we've received from Freddy's since signing our initial master franchise and development agreement has been incredible and a true testament to the level of passion they devote to each venture."
"It has been a pleasure working alongside the team to ensure that all aspects of the family-friendly concept will be received well by our guests in Dubai. We are truly elated to celebrate the opening of Freddy's first international location, and to be able to bring the taste of Freddy's authentic steakburgers and frozen custard to the Middle East for the first time," Mr. Khattar added.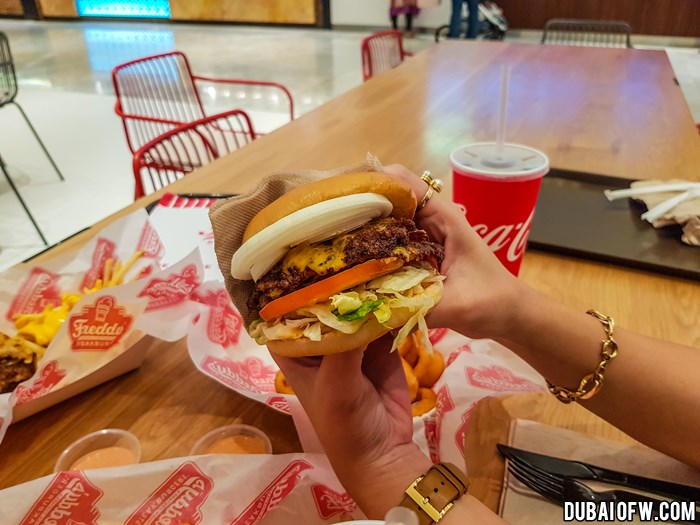 steakburger imported from USA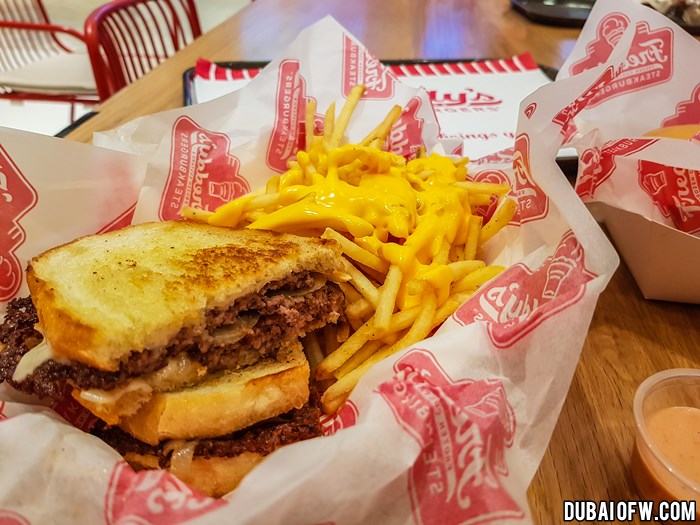 Freddy's Double Patty Melt Combo – AED 39
Opening Hours and Prices
Freddy's at the Dubai Mall is open daily from 10:00 am to 1:00 am. A typical meal would cost around AED 55 for two people. The store also accepts cash and cards for payment.
Another store location for the franchise has also been opened at the Ground Floor of the Mall of the Emirates in Al Barsha, Dubai. The store is open from 10:00 am to 10:00 pm from Sunday to Wednesday, and from 10:00 am to 12:00 am from Thursday to Friday.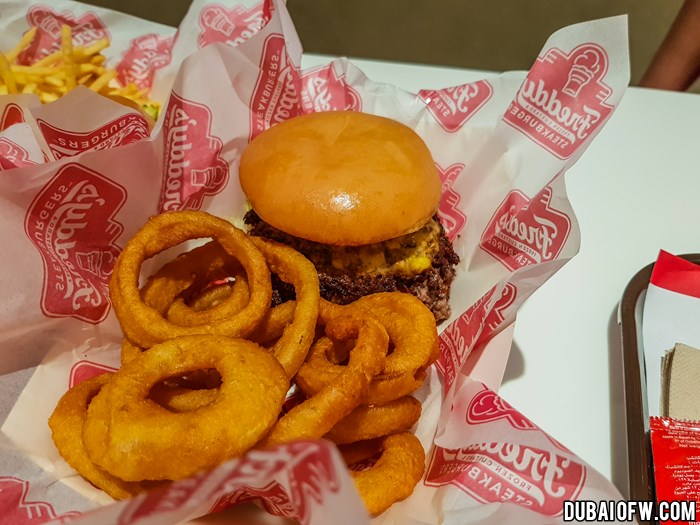 Freddy's Original Double – AED 37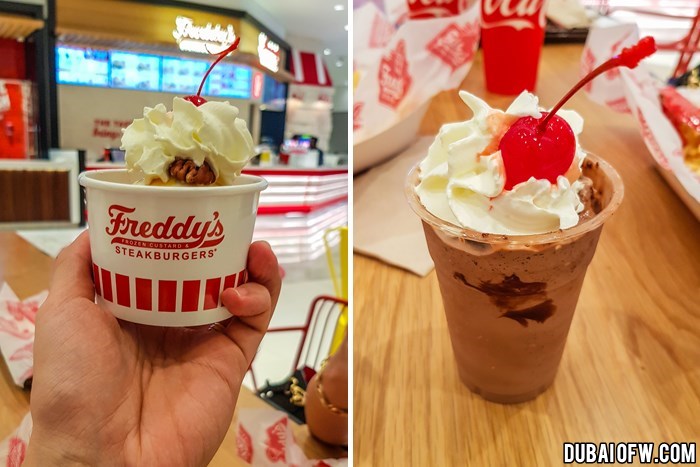 Freddy's frozen custards desserts
Contact Information
Freddy's Frozen Custard & Steakburgers
Store Location: Ground Level of the Mall of the Emirates, Al Barsha Sheikh Zayed Road, Dubai, United Arab Emirates
Telephone:  04 325 0702
Website: https://freddysuae.com/store/mall-of-the-emirates/
Google Map Location:
If you're craving for casual no-fuss comfort food, head over to Freddy's in Dubai and indulge yourself in meals for the whole family – even the kids can enjoy!
ALSO READ: Top Family-Friendly Attractions in Dubai