In just a few weeks' time, another milestone in UAE history will officially be one for the books, as UAE Prime Astronaut Hazza Al Mansouri along with his team will be rocketed to the ISS, as announced at the Gagarin Cosmonaut Training Center (GCTC) in Star City, Russia last Thursday (Sept 5).
The prime crew, headed by Russian commander Oleg Skripochka, NASA astronaut Jessica Meir and  Hazza Al Mansoori, were presented to the media on Thursday morning for their final press conference before they are flown to Baikonur Cosmodrome in Kazakhstan on September 10.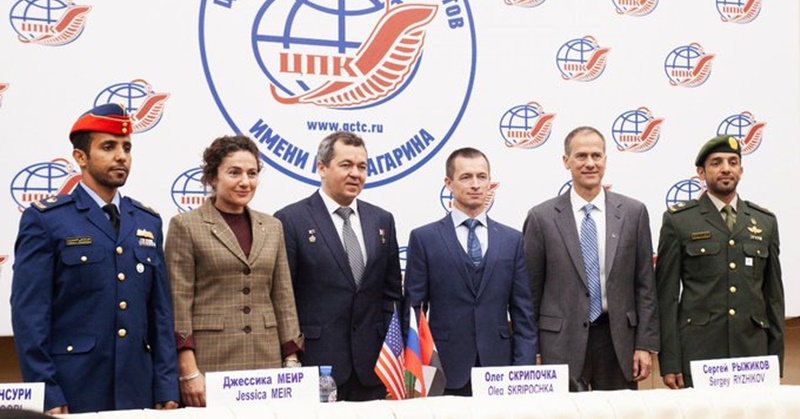 It's Official: UAE Mission All Set for Sept 21 Launch
Meanwhile, the reserve crew led by Russian commander Sergei Ryzhikov, NASA astronaut Thomas Marshburn, and Emirati astronaut Sultan Al Neyadi were also present at the press event to answer questions, as shared in a report by the Gulf News.
The two teams have completed their training at the GCTC earlier this week and will be flying to Kazakhstan on separate planes by next week.
There, the teams are expected to participate in more astronaut activities until the two-week quarantine period.
During the press launch, fellow astronaut Jessica Meir described both Hazza and Sultan as "enthusiastic and energetic", while Commander Oleg described Hazza as "hardworking" all throughout their training.
Commenting on this development, Yousuf Hamad Al Shaibani, Director-General of the Mohammad Bin Rashid Space Centre (MBRSC), shared: "We are delighted to be seeing the first outcomes of the UAE Astronaut Programme; this is the start of a sustainable program for space exploration."
Al Shaibani added that the UAE's first mission to the ISS is the result of extensive efforts by dedicated individuals and organizations in the UAE, and also the result of important strategic partnerships with major global space agencies such as NASA, the European Space Agency and of course, Roscosmos, who spared no effort in preparing the astronauts and providing them with all the support and training they need.
During the media event, prime crew Jessica Meir from NASA shared that they are looking forward to the Emirati traditional night where her fellow astronaut, Hazza, will introduce Emirati food to them.
Three Emirati dishes have been prepared for space: the madrooba, a salt-cured fish seasoned with spices; saloona, a traditional Emirati stew; and balaleet, a sweet Emirati breakfast dish of egg and vermicelli.
Jessica, a comparative psychologist shared that she's very excited to try Emirati food. "For me, I really appreciate good food and I love Russian food as well. So I'm excited to have a good variety. And we did actually get to taste the UAE meal prepared for us and it was delicious," she noted.
According to Commander Oleg, the gathering on the ISS typically happens on Friday nights, when astronauts get to share their food with other astronauts. He noted that they could either have it on the Russian segment and the US Orbital Segment.
ALSO READ: UAE Space Agency Explores Possibility of Farming Palm Trees on Mars