Philippine Elections for Overseas Filipino Workers will begin on April 10, 2022. If you are a Filipino Citizen and are currently living in Dubai, United Arab Emirates, and would like to cast your vote, there are procedures that you need to follow in order to make it happen.
We recently dropped by the PCG office to cast our votes for this upcoming Philippine National Elections. For overseas Filipino workers, our voting schedule starts on April 10 and will end this May 9. The month-long voting gives us time to plan our days off or time off from work to visit the Philippine Consulate General office in Al Qusais.
Are you eligible to vote? Check if your name is part of the List of Certified OFW Voters in Dubai
We have to say that voting is very easy, especially if there's no queue in the office. We encourage all those who are certified voters to cast their votes and make it count. The schedule of voting is from
10 April to 9 May 2022 – 8am to 9pm
9 May 2022 – 7pm Philippine Time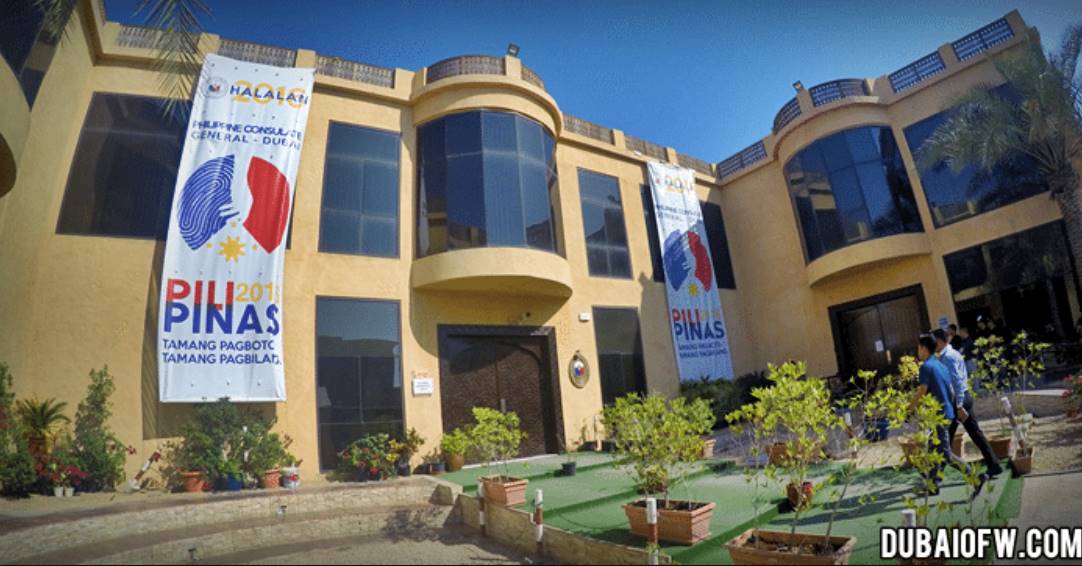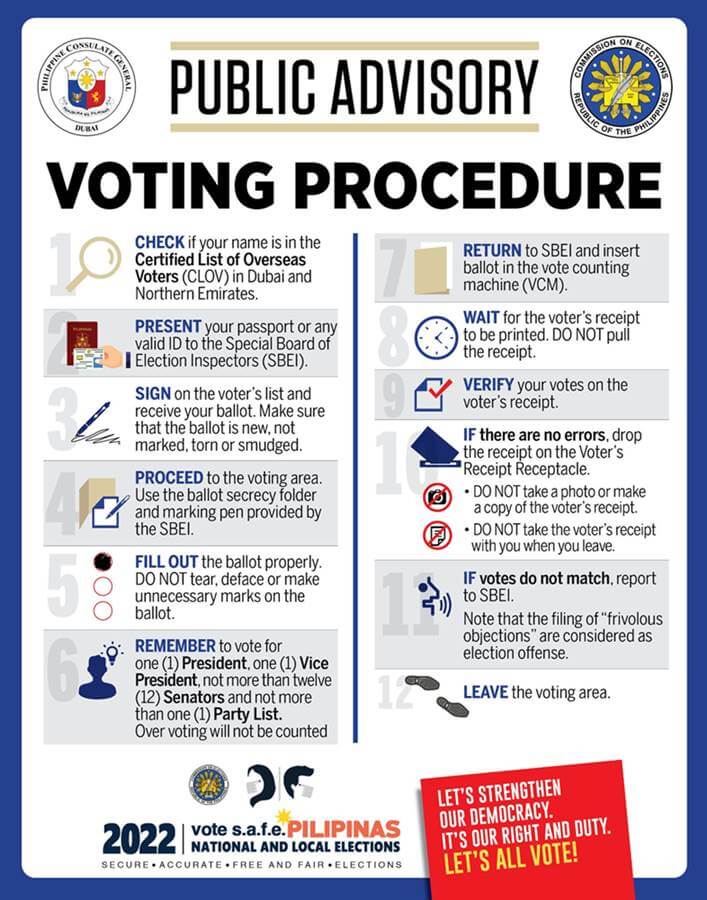 Steps: Voting at the PCG Dubai Office in Al Qusais
Registered Filipino voters in Dubai, it's easy to vote for the coming elections, you can spend a maximum of 15 minutes (or less) when voting. It's a fast and easy process, here's how it went for us.
Step 1. At the office, show your ID (voter's ID/passport/Emirates ID) to the staff. They will verify your name if you are eligible to vote according to the list of certified voters.
Step 2. Once your name is called, you will be tasked to sit in an assigned seat in the voting area to start voting. You are allowed to vote:
1 (one) President,
1 (one) Vice President,
12 (twelve) Senators, and
1 (one) Party-list group.
Step 3. After choosing your candidates, you may submit your ballot to the staff and they will issue a voter's receipt. Double-check the receipt if it reflects your votes correctly. If there are objections, you can inform the poll clerk and make sure it is noted.
Step 4. Drop the receipt on the voter's receipt box.
Philippine Elections Voting Schedule in Dubai
In case you are wondering what is the schedule for voting for OFWs. COMELEC has released the dates on when we can visit the PCG Dubai office to cast our votes. It is from
10 April to 9 May 2022 – 8am local time until
9 May 2022 – 7pm Philippine Time
Overseas Voting in Dubai and the Northern Emirates
The Philippine Consulate General Dubai informs the public of the following schedule of the Overseas Voting in connection with the Philippine National Elections 2022 at the Philippine Consulate General Dubai and POLO-OWWA (Al Qusais 3, Dubai, UAE)
10 April to 8 May 2022 – 8am to 9pm
9 May 2022 – 8am to 3pm
Voting ends at 7pm Philippine Time
10 Clustered Precincts – PCG Dubai will deploy ten (10) clustered precincts during the election period at the Consulate, POLO-OWWA and other field voting venues. Venuss and schedule for field voting will be announced at a later date.
Check if you are included in the Certified List of Voters (CLOV) in Dubai and Northern Emirates at the Consulate website.
Registered overseas voters in Dubai and the Northern Emirates who wish to cast their ballots are required to present Emirates ID or Passport or any valid ID during the election for identification purposes.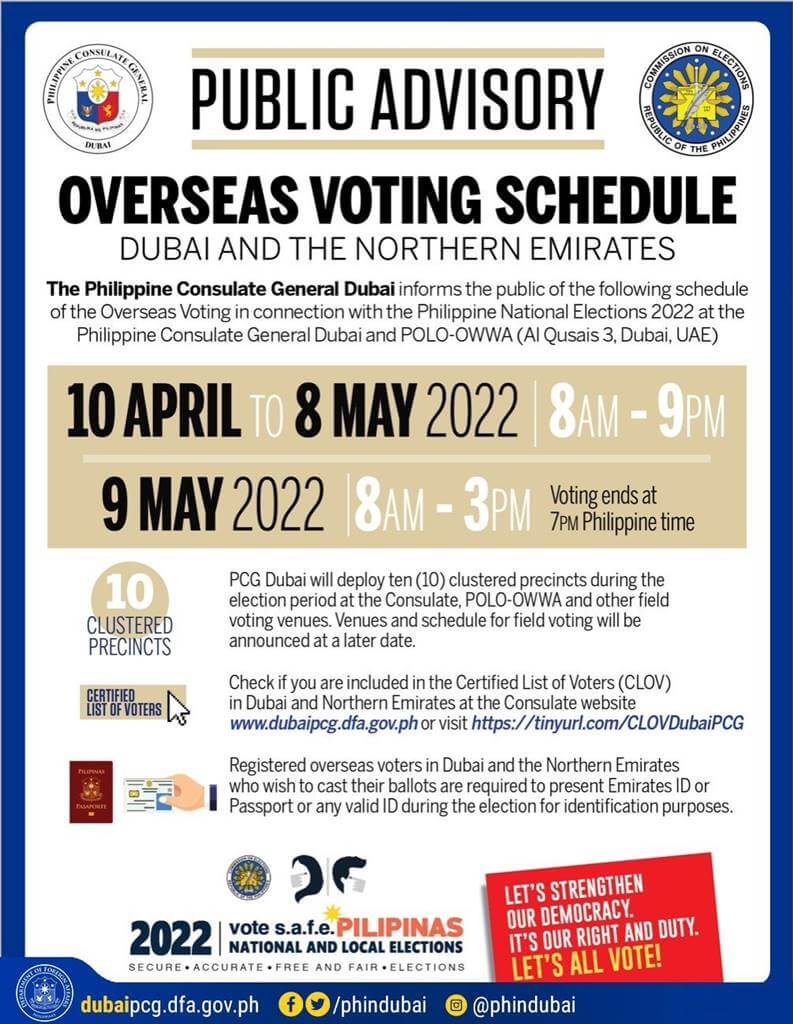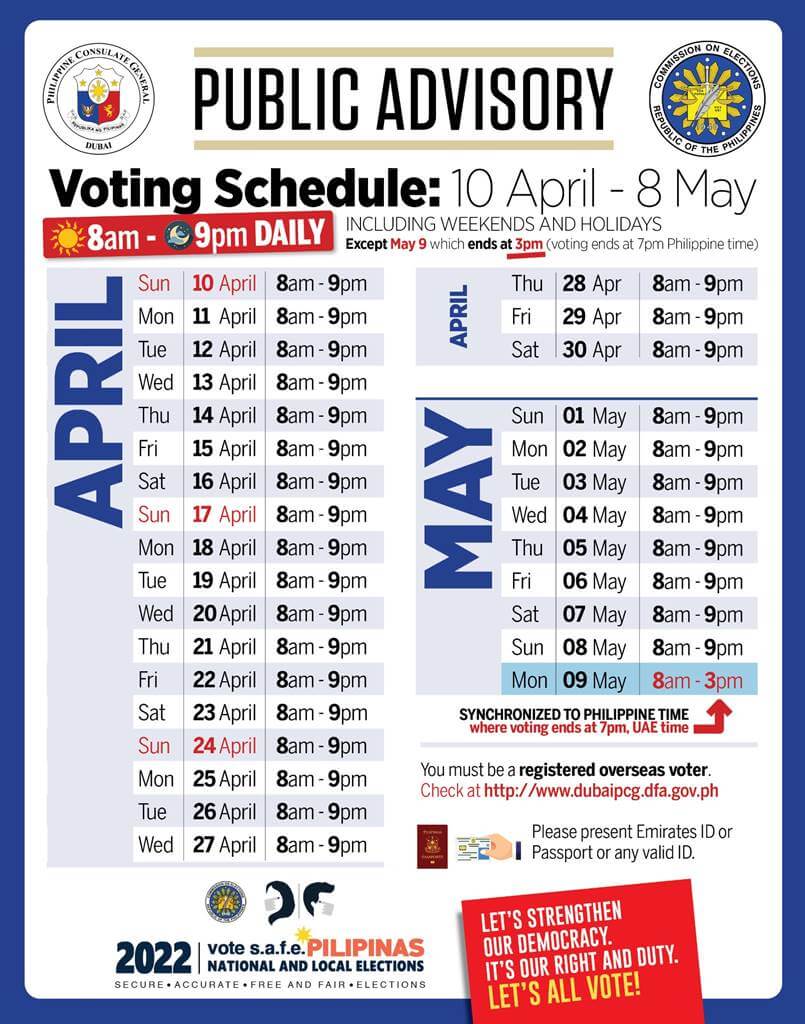 PCG Dubai Voting Procedure Reminders
Check out these reminders about the voting process at the Philippine Consulate General in Dubai:
Check if your name is on the Certified List of Overseas Voters (CLOV) in Dubai and the Northern Emirates.
Present your passport or any valid ID to the Special Board of Election Inspectors (SBEI)
Sign on the voter's list and receive your ballot. Make sure that the ballot is new, not marked, torn, or smudged.
Proceed to the voting area. Use the ballot secrecy folder and marking pen provided by the SBEI.
Fill out the ballot properly. DO NOT tear, deface or make unnecessary marks on the ballot.
Remember to vote for one (1) President, one (1) Vice President, not more than twelve (12) Senators and not more than one (1) Party List. Over voting will not be counted.
Return to SBEI and insert ballot in the vote counting machine (VCM).
Wait for the voter's receipt to be printed. DO NOT pull the receipt.
Verify your votes on the voter's receipt.
If there are no errors, drop the receipt on the Voter's Receipt Receptacle. Do not take a photo or make a copy of the voter's receipt. Do not take the voter's receipt with you when you leave.
If votes do not match, report to SBEI. Note that filing of "frivolous objections" is considered an election offense.
Leave the voting area.
Note: You are not allowed to use your mobile phone while in the voting area.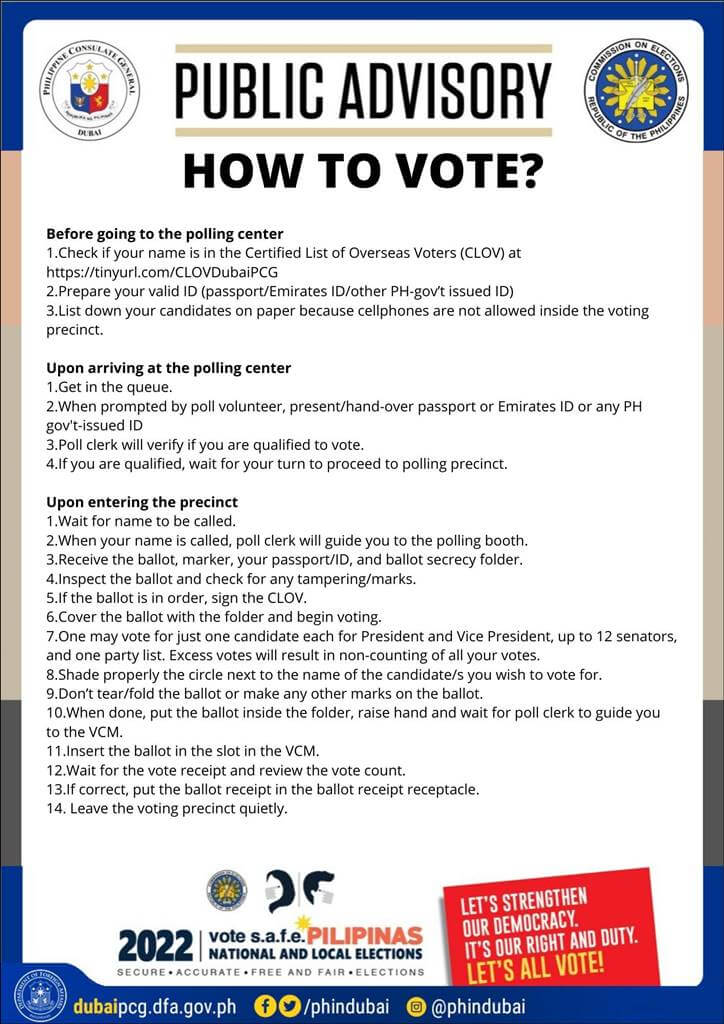 This is a very smooth process of voting, so while there's still time, visit the PCG Dubai office and cast your votes!
Be advised on what to wear when visiting the PCG Office:
no slippers
no sando
no short pants
no plunging necklines
Video: Overseas Voting for Filipinos Dubai
Check out this video as shared by the PCG Dubai regarding the latest voting updates for our National Elections in the Philippines:
All Systems Go in Dubai PH Elections
According to the latest update from PCG Dubai, it is an all-systems go for the 2022 National Elections at the Philippine Consulate General in Dubai (Dubai PCG) as it conducted successful Final Testing and Sealing (FTS) of the Vote Counting Machines (VCMs) on 2 April 2022 at the Rizal Hall of the Consulate.
The activity, which is in accordance with Commission on Election (COMELEC) Resolution No. 10751, was attended by members of the media, poll watchers, and volunteers who also served as test voters during the mock voting portion of the activity.
At the media and poll watchers briefing held prior to the event, Vice Consul Elizabeth P. Ramos underscored the importance of the FTS process as it tests the accuracy of the VCMs and its proper operations in preparation for the overseas voting that will start on 10 April 2022 and end on 9 May 2022.
She also noted that there are 191,779 registered voters in Dubai which is the highest number in the region, and encouraged the registered overseas voters to vote early and not wait until the last minute to cast their votes.
The Special Board of Election Inspectors (SBEI) members, as deputized representatives of the COMELEC conducted an end-to-end test on ten (10) VCMs assigned to them for this year's overseas election. The FTS process included the installation of the VCM, the performance of the diagnostic procedure, facilitation of voting, closing of voting, re-zeroing of the VCM, and the manual verification of results. All ten VCMs were working properly.
The volunteers and poll watchers considered the overall procedure of the FTS and conduct of mock voting as satisfactory.
Summary
Voting is a right and a duty of every citizen. Voting is done by marking an "X" beside the name of the candidate you are voting for. You can also write in the name of the candidate if you choose to. If you make a mistake, you can erase it and write again. Be sure to completely darken the box beside the name of your chosen candidate.
It is important that you cast your vote and make it count as we are choosing our next leaders that will help determine the course of our country. Please vote wisely so that we can have the best leaders that will serve our country well.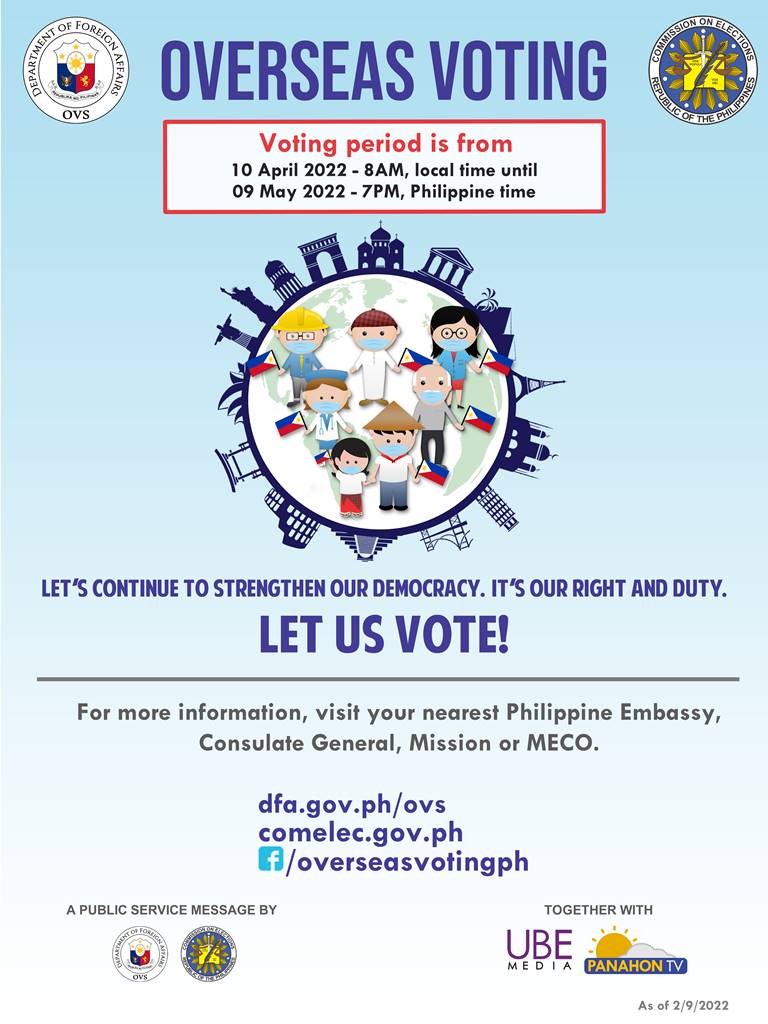 Contact Information
PCG Dubai
Address: Al Qusais 3 Dubai, United Arab Emirates P.O. Box 94778
Website: http://dubaipcg.dfa.gov.ph/
Email: pcgdxb@pcgdubai.ae or pcgdxb@gmail.com
Telephone Number:+ 971 4 2207100
Office Hours: Sunday – Thursday (Except Legal Holidays)
8:00 a.m. – 12:00 nn (Consulate Compound closes during lunch break: 12- 1 PM)
1:00 p.m – 5:00 p.m. (Cashier accepts payments until 4 PM only)
Directions / How to Get There
You may check out the following instructions below on how you can get to PCG Dubai via public transport:
Metro Via

Red Line

– Drop off at Rashidiya or Emirates station, take a quick cab trip to Al Qusais. Most, if not all cabs know where the Consulate General is. Fare approximately (20 AED). The Consulate General will be on your right from Beirut St.
Metro Via

Green Line

– Drop off at Al Qusais station, approximately 3 blocks away, a bit of a walk.
By Public Bus – From Bur Dubai Bus 33, from Satwa Bus 32C, from Deira Bus 13, drop off at Al Qusais Bus Stop across Al Qusais Police Station. From station, the Consulate is on your right side, approximately 50m walk.
Google Map Location
Please check out this map guide below to the location of the PCG Dubai office: