2017 has been declared as the Year of Giving in the UAE and what better way to start it than to learn about this act of kindness from an Indian businessman in Dubai. Firoz Merchant,  Chairman of Pure Gold Jewellers has pledged 1 Million USD (3.8 Million AED) to free those who are in jail in UAE due to non-payment of debts. This began when he rescued 132 expats (including Filipinos) from Ajman Central Jail.
Among the prisoners that Merchant helped came from the Philippines, Ethiopia, Ghana, Indonesia, Oman, Syria, Uzbekistan, and Yemen. There were also prisoners from his homeland, India, and its neighboring countries, Pakistan, Sri Lanka, Nepal, and Bangladesh.
Firoz Merchant, Chairman of Pure Gold Jewellers, to Spend 1 Million USD (3.8 Million AED) to Rescue Debt-Ridden Prisoners in UAE
Photo credit: Pure Gold Jewellers FB page
"Not Real Criminals"
Merchant described the prisoners as "unfortunate victims of circumstances," citing that they are "not real criminals." He explained that they were sent to jail due to debt-related cases, and mentioned that he wanted to do his best to send them back to their families. Hence, he also provided prisoners with flight tickets, and they are expected to go home over the next few days.
The businessman clarified that his company only considers cases that have been forwarded by prison authorities. These cases have an upper limit set at AED 30,000 and include car loans, rents, medical cases, and school fees. In other words, he and his company consult with official authorities first before settling any cases.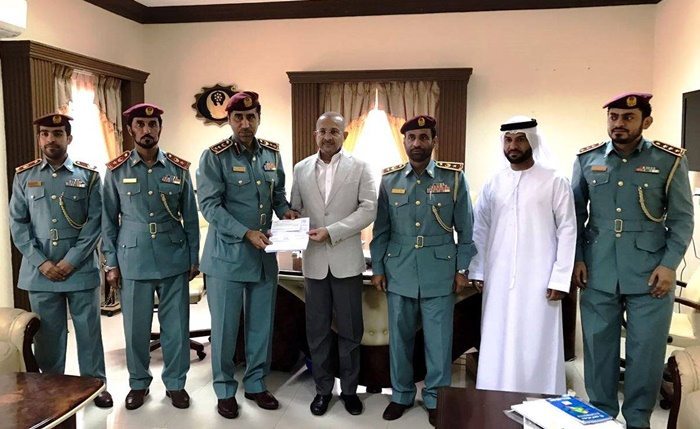 Photo credit: Pure Gold Jewellers FB page
Businessman and Philanthropist
As the chairman of Pure Gold Jewellers, Merchant has made a fortune as a businessman. But despite his success, he is a philanthropist, having sent many prisoners back to their homes. Since 2011, he has paid more than AED 3.5 million in debt, thus releasing around 4,000 prisoners.
What's more, Merchant has pledged USD 1 million (another 3.8 Million AED) to help release prisoners this year. Aside from Ajman Central Jail, he also plans to get in touch with prison authorities at Fujairah, Ras Al Khaimah, Sharjah, and Umm Al Quwain.
"Year of Giving"
Merchant's efforts are in line with the UAE government's theme for 2017 as the "Year of Giving." This was decreed last December by none other than the President, HH Sheikh Khalifa bin Zayed Al Nahyan. The government will launch initiatives to spur social development and "create a sense of community responsibility." It will also focus on giving back to the community, promoting volunteerism, and instilling loyalty and commitment in the next generation.