An Indian expat won 12 Million Dirhams in a raffle draw organized by BigTicket Abu Dhabi. Hari Krishnan is a resident of Dubai and and won the biggest-ever prize money raffled by the company which was held in Abu Dhabi International Airport.
Related Post: 8 Indians, 1 Filipina, & 1 Canadian Win 1 Million AED Each in Big Ticket Raffle
Krishnan's winning ticket was numbered 086828.
Indian Instant Millionaire in Raffle by Big Ticket Abu Dhabi
For those of you who are wondering of joining this raffle, you can buy tickets to the Big Ticket Abu Dhabi online through their website or at the Abu Dhabi International Airport, Al Ain Duty Free or City Terminal Abu Dhabi.
There are also other winners in the said raffle draw. 4 Indians, 1 Filipino and 1 Korean won the 2nd to 7th prizes.
Check out the full list of winners below: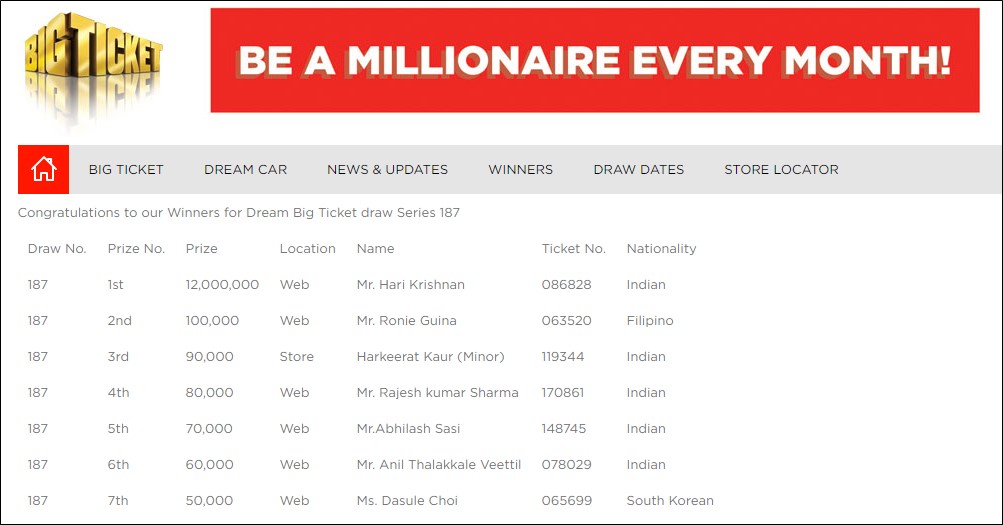 Congratulations to all the winners of the Big Ticket Draw! As for other participants — don't lose hope! After all… who knows? The next Big Ticket millionaire could be you!
Tickets currently cost Dh500 and there is a buy-two-get-one ticket offer scheme available. It may change without prior notice.