Filipinos in the UAE seem to be on winning streak lately. Earlier this year, a Filipina in Dubai won 1K AED for safe driving. Similarly, a Pinoy salesman won 150K AED and an Infiniti car, while another lucky Filipino won 1 Million AED in a raffle promo!
Just recently, another "kabayan" won in the biggest and longest-running raffle draw hosted at Abu Dhabi International Airport. Along with one Canadian and eight Indian nationals, Leilani Quijano del Rosario won 1 Million AED through the Big Ticket Draw.
Filipina among "Big Ticket" Millionaire Winners
The latest Big Ticket raffle drew 10 winners, each winning 1 Million AED. They were picked by Manekudy Varkey Mathew, who happens to be the grand winner of the August 2017 draw.
Remarkably, Leilani is the only Filipina and the only woman among the list of winners. She is currently working as a nurse in Abu Dhabi, and has been living in the UAE capital for about 14 years now. She is separated and has three children in the Philippines.
According to Leilani, she will use the money to support her children's education as well as to settle her loans. She mentioned that she will also be sharing the prize with her colleagues, since they all chipped in to buy the winning Big Ticket.
Interestingly, this is not the first time that Leilani won a huge prize. Two years ago, she won a Volkswagen through a lucky draw at Madinat Zayed Shopping Centre in the capital.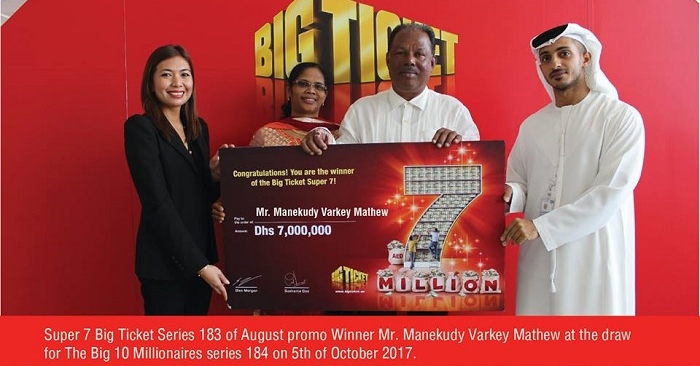 "Big 10 Millionaires" for September 2017
The winners of the latest Big Ticket Draw are as follows:
Abhaya Kumar Vennarathil Krishnan
Afsar Pasha Shamsheer Ali
Chandresh Motivaras
Kishore Kumar Reddy Beesireddy Gari
Leilani Quijano del Rosario
Muthukumar Sanjeevi
Sayef Ali
Sharafudheen Tharakka Veetil Sainudheen
Sundaran Nalam Kandathil
Sameet Tijore
How to Join the Big Ticket Draw
Since 1992, the Big Ticket Draw has been awarding huge prizes to lucky winners. Aside from the 1 Million AED cash prize, participants also get a chance to win BMWs, Hummers, Mercedes, and other luxury cars.
Each Big Ticket costs 500 AED, but if you purchase two tickets, you get a third one for free. You can buy them through the Big Ticket website or through their stores at Abu Dhabi International Airport, Abu Dhabi City Terminal, Al Ain Duty Free, and Gweihfat Duty Free.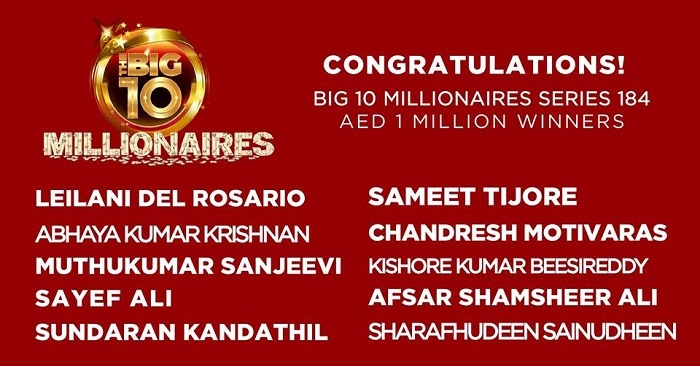 Congratulations to all the winners of the Big Ticket Draw! As for other participants — don't lose hope! After all… who knows? The next Big Ticket millionaire could be you!