A Filipina housemaid in the UAE has just become an instant millionaire! Gina Realuyo Soriano from the Philippines is the fifth grand winner of the Al Ansari Exchange – Summer Promotion, and she gets to take home AED 1 million, according to the Al Ansari Exchange website.
Last year, a Filipino engineer based in Sharjah won the top prize in the same raffle draw. Pinoys are definitely on a lucky streak these days! Read more about the grand raffle below.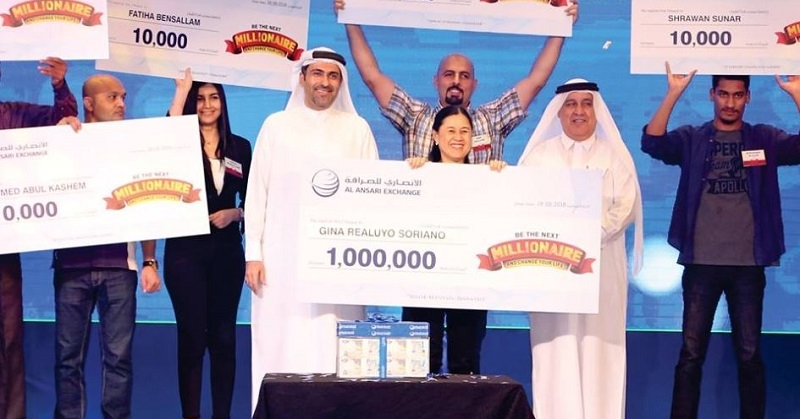 Pinay Wins Top Prize in Al Ansari Exchange Raffle
Al Ansari Exchange is a foreign exchange and money transfer company based in the UAE. Their latest event, the Al Ansari Exchange – Summer Promotion, garnered 5 million entries from all over the country in just two months! Customers joined the draw by sending remittances, exchanging currency, purchasing air tickets, and other transactions through Al Ansari Exchange.
The grand draw was recently held at the Metropolitan Hotel in Dubai. Prizes included a Mercedes Benz 2018 model, cash prize of AED 10,000 each for the finalists, and the top prize — AED 1 million — of which Gina Realuyo Soriano is the lucky winner!
Winner Sends Money to Her Family Regularly
Gina has been working as a housemaid in the UAE for 10 years now, sending money to her family through the Al Ansari Exchange branch in the Mall of the Emirates. Her recent transaction, a remittance of AED 1,695 to her family in the Philippines, qualified her for joining — and eventually winning — the grand draw!
"I was very surprised to be this year's millionaire," Gina exclaimed. "This is a life-changing event that will surely help me improve my life and realize all my dreams, including providing a decent life for my family."
"Thank you, Al Ansari Exchange, for holding the promo yearly and appreciating us, your loyal customers," she added. "I invite all the customers to participate in the succeeding competitions so that they too will have a chance to win valuable prizes and change their lives for the better."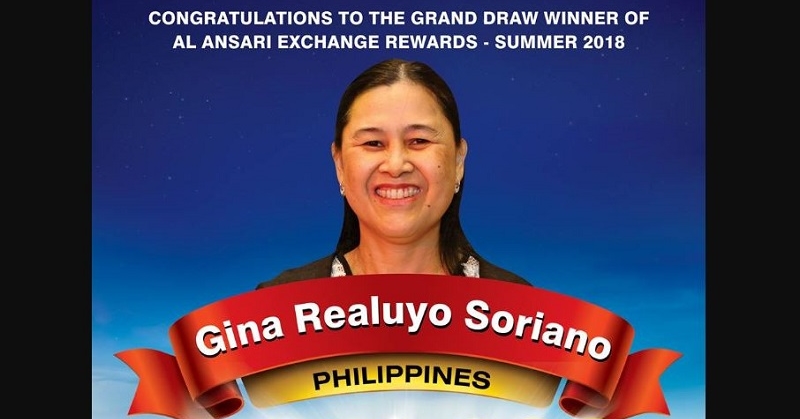 Making a Difference in Customers' Lives
The General Manager of Al Ansari Exchange, Rashid Ali Al Ansari, stated: "We would like to congratulate Ms. Gina for winning the grand prize and becoming our fifth millionaire. We hope that the cash prize will make a positive difference in her life and her family's life."
"We were also overwhelmed by the number of entries we received during this year's promo and we deeply appreciate our customers' patronage who made our summer promotion a true celebration of success for our winners and for the company," he shared.
"We cannot thank our customers enough for the continuous support and loyalty, which is why we look forward to work even more to deliver greater rewards in the upcoming editions," he added.
Winners of AED 10,000 Prize
Aside from Gina who won the top prize, there were other finalists who won AED 10,000 each:
Amr Bakoor (Syria)
Azeez Ahmed Khan (India)
Fatiha Bensallam (Morocco)
Honesto Dela Cruz Corpuz (Philippines)
Mohammed Abu Rahayan (Bangladesh)
Rasheed Kunhammed (India)
Sameer Abdelghafur (Jordan)
Shrawan Sunar (Nepal)
Congratulations, Ms. Gina and other winners! Indeed, winning these prizes are a big deal and even a life-changing experience. Who knows, the next winner could be you, dear reader! Of course, we don't really have to win a raffle to "make it" in life. Here are some tips to becoming a successful OFW in Dubai… or anywhere else, really!