A Filipina expat working as a housemaid in the UAE won a brand new BMW luxury car earlier this month, as part of a weekly raffle held by UAE Exchange. Congratulations, kabayan!
ALSO READ: Filipina Hailed as UAE Best Nanny 2018, Wins PHP 1 Million
In a video shared by UAE Exchange on Facebook, Florinza Santos was hailed as the third weekly winner of a BMW car. She has been working in the country for just 11 months!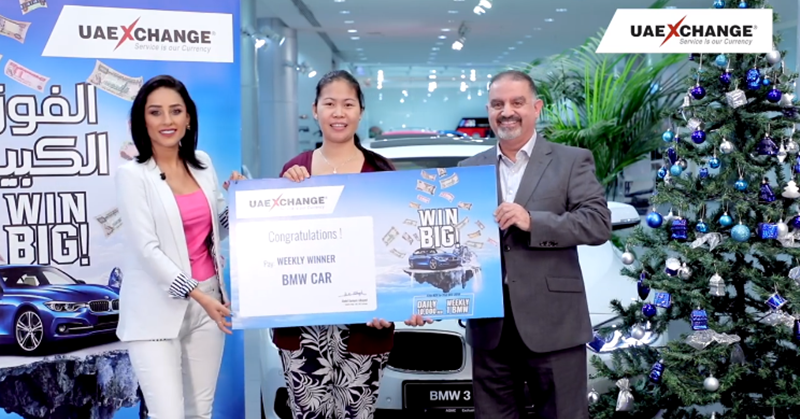 UAE Exchange Awards BMW Car to Filipina Winner
UAE Exchange is currently giving away BMW cars to weekly winners, and AED 10,000 to daily winners. For a chance to win these prizes, all you have to do is make a transaction in any of the UAE Exchange branches across the country.
On December 7, 2018, UAE Exchange announced Florinza Santos as the weekly winner of a brand new BMW car. "I am very blessed and extremely happy," she shared in the video. Having transacted with UAE Exchange for just three times, she is one lucky winner, indeed!
According to Florinza, she plans to sell the car and use the money to return to the Philippines. Back in her home country, she intends to build her house and start a small business.
Here is the video shared by UAE Exchange on their Facebook page:
ALSO READ: Filipino Expat Wins 10g of Gold for Losing 10kg in Fitness Drive
Simply by sending money, anyone holds the chance to win a BMW car or AED 10,000 cash from UAE Exchange. Who knows? The next winner could be you, so keep on sending!