ISO Certification is always beneficial for industries as it helps in achieving business productivity. It also helps organizations to enhance customer satisfaction and improve product quality
ISO Certification consists of certain guidelines, standard practices, and requirements. It will help to transform organizational culture.
The organization will embrace the process of :
Practicing quality first business processes
Optimizing business operations to continue, and,
Achieve higher business productivity.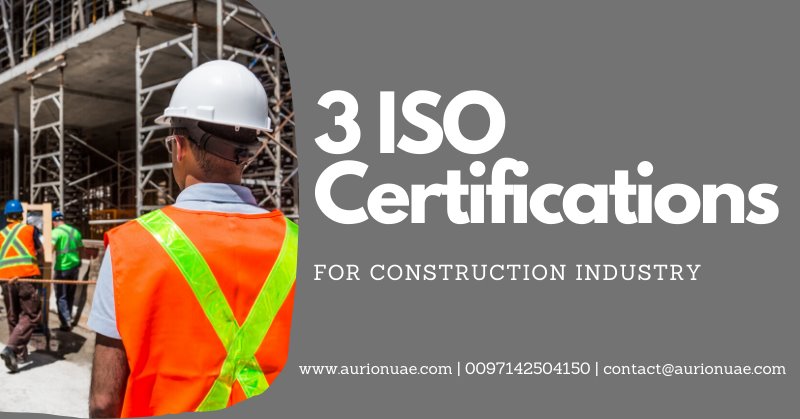 ISO Certifications ideal for the Construction Industry
The most beneficial ISO Certifications for the Construction Industry are:
ISO 9001:2015 Certification for Quality Management System
ISO 14001: 2015 Certification for Environmental Management System
ISO 45001: 2018 Occupational Health and Safety Management Standard
Implementing ISO 9001:2015 Standard in Construction Industry
SO 9001:2015 is the ISO Standard is a globally accepted certification. It insists on implementing a Quality Management System (QMS) to enhance operational efficiency.
The Quality Management System Certification focuses on 7 key areas:
Customer Focus
Leadership,
People Management,
Process Optimization,
Continuous Improvement,
Evidence-based Decisions, and,
Relationship Management.
ISO 9001:2015 Standard in the Construction industry helps in :
Improving Employee Training
Employee Development, and,
Overall Corporate Communication
It helps employees increase job satisfaction, streamline business operations and enhance productivity.
To know more: https://www.aurioninternational.com/iso-9001-certification.html
Key Areas where ISO 9001:2015 Certification will be beneficial for the Construction Industry
You can evaluate supplier performance by leveraging practices of relationship management.
The Quality Management System framework can be used to assess the suppliers. Also, it improves the overall supply chain performance.
Companies can pitch to more Public Sector and Large Private Sector Clients.  They can demonstrate the practices of continuous improvements and business process optimizations.
Practicing quality in business proceedings will attract international clients.  ISO 9001 Certified supplier will be trusted by international companies. They will be more likely to establish a long term partnership
ISO 9001:2015 Certification helps you to easily comply with the legal regulations. The QMS requires the organization to follow and practice certain regulatory requirements.
ISO 9001:2015 certification also helps in managing the risk effectively. Especially in case the construction contracts, often the budgets go up due to lack of planning.
QMS system ensures proper measures are taken to ensure the project is managed well. It helps in flagging any deviation from the scope and budget.
Additional Benefits for Construction Industry by getting ISO 9001:2015 Standard
Continuous improvements and practice industry best practices
Reduce Construction cost significantly to both builder and customer
A pre-requisite for participation in tenders of large Multi-National & Government Projects
Gain higher client and stakeholder confidence by being ISO 9001 Certified
Higher customer satisfaction due to streamlining of business process and product/service quality
Implementation of ISO 14001:2015 Standard in Construction Industry
ISO 14001:2015 Environmental Management System (EMS) ensures environmental protection.   The organization at every stage of the construction operation follows environmentally-friendly measures.
The Environmental Management System Standard is vital to ensure the environment is protected.
The organization ensures that there are no harmful elements are discharged to nature. No activities hinder the environment is undertaken by the company.
ISO 14001:2015 Certification specifies the requirements for building an Environment Management System.
It is to protect the environment, inspect and test systems and comply with environmental protection.
The organization must meet the environmental expectations of customers and the government. They must incorporate environmental management elements into organizational business processes.
Key benefits from implementing ISO 14001:2015 Standard
Improve resource efficiency
Reduce waste and drive down costs
Measure environmental impacts and rectify
Transform supply chain design into an environment-friendly one
New business opportunities from large companies
Build stakeholder and customer trust
ISO 14001:2015 will help in reducing the organization's role in impacting the environment. It helps in understanding the effect the environment will have on the progress of the business.
It will save the consumption of materials and energy during construction projects. It reduces the overall cost by efficient waste management
ISO 14001:2015 will Improve environmental performance over the years. It will reduce harmful impacts on the surroundings. A system for continuous environmental support will be developed and maintained.
ISO 45001:2018 Standard in Construction Industry
Occupational Health and Safety Management System will take care of employee safety and health. Employee safety plays a significant role in the construction industry especially.
It will prevent various incidents and accidents in the workplace that lead to serious injuries.
ISO 45001:2018 Standard is a globally recognized ISO Standard with external accreditation.
It will help gain trust and get new business by showcasing to clients the compliance to ISO 45001:2018. It will ensure a safer workplace environment.
Some of the large clients specify the ISO 45001:2018 Standard as a requirement for participating in the tendering.
ISO 45001:2018 helps organizations to reduce:
The overall occurrence of worksite incidents
Downtown and cost of disruptions due to health hazards
Cost of insurance premiums
Employee turnover rates
ISO Standard Certification helps organizations across industry verticals to achieve enhanced business productivity, boost product quality and achieve customer satisfaction.
To know more about ISO 9001:2015 Certification and its business benefits for the Construction sector, connect with our experts right away!
https://www.aurioninternational.com/contact.html