Today's expat feature puts the spotlight on Maria, an Office Manager from India who has been living in Dubai for almost five years now. At the same time, she is also a Freelance Writer, Editor, Content Creator, and Blogger. As you can see, she dons many hats!
With all these roles, another person might feel overwhelmed, but not Maria! She thrives on doing different things at the same time; going places, meeting people. Indeed, she is a risk taker, having left a stable job in her home country to tackle new adventures in Dubai!
Like most expats, Maria has faced hardships, including losing her job without a new offer, as well as the challenges of living away from her family. Despite all this, she has managed to stay positive and to move forward, while learning how to better manage her time and finances. In the following interview, she also recommends some practical tips for expats.
Whether you're new to Dubai or have been staying here for quite a while, we're sure that you will be able to relate with Maria's story, so keep on reading to know more about her!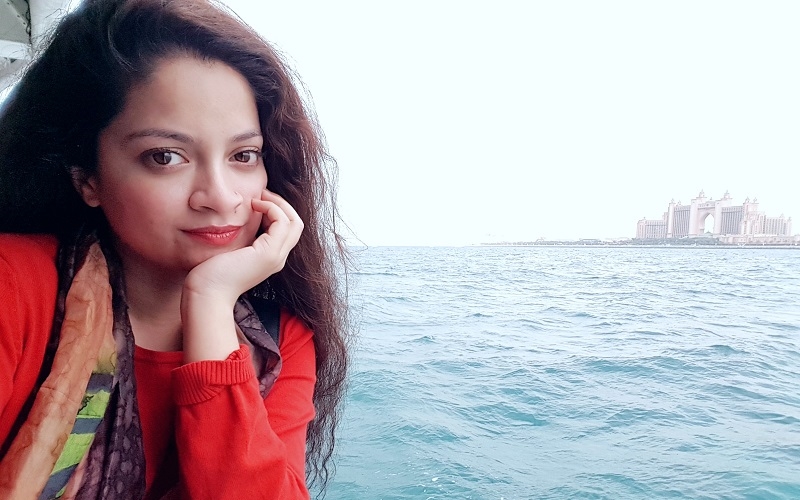 Expat Feature: Maria, Indian Office Manager and Freelance Writer in Dubai
Name: Maria
Current Profession: Office Manager and Freelance Writer/Editor/Content Creator/Blogger 
College Degree: Masters in English Literature
Years in Dubai: 4 years (almost 5)
1. Tell us about yourself.
Hello! My name is Maria and I often wish there were fewer songs written on my name. As a teenager I was always bullied by all these songs! I am an Office Manager, I also work as a Freelance Writer/Editor/Content Creator/Blogger. People often find donning too many hats difficult but for me, it is something that keeps me on my toes — always!
I am always working on different projects in different fields with so many different people simultaneously, and this gives me an excellent opportunity to look at things from different angles, especially in a place like Dubai where there are so many opportunities to garner experience. I have done my Masters in English Literature (I love to read!) and I have been living in Dubai since 2015.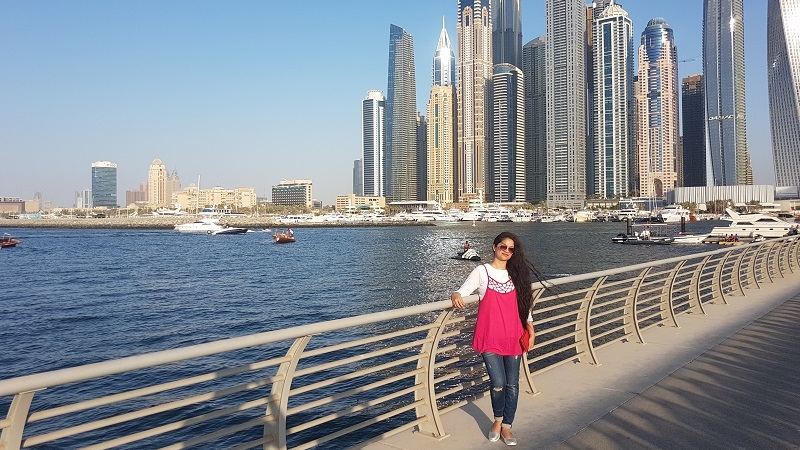 2. Why did you come to Dubai?
I would say I came to Dubai because I am a risk-taker who enjoys challenges and moving out of my comfort zone! I left my very secure and prosperous job back in India and accepted an offer in Dubai, which was completely different from what I have been doing back in India.
3. What were your previous jobs?
Back in India, I was working as a Banker. I grew up looking at my dad and admiring the work he did as a banker. But as they say, "Life is what happens to you when you are busy planning other things." I quit my job and moved to Dubai in the summer of 2015.
Less than a year in the job and the worst nightmare of any Expat became a reality for me — I lost my job and didn't have any job offers in hand. That phase was a real test of my endurance, as we all know the stress of being jobless in a foreign land. However, I did not lose faith; I decided to keep looking and not settle for anything that came in my way.
4. Are you able to save in Dubai? Why/How?
Living in one of the most popular shopping destinations of the world can be (very!) injurious to your wallet and your bank account if you don't keep a check on your spending habits! I have always been a shopaholic and a hoarder, and it became even worse after I moved to Dubai.
It was only after the first 2 years that I decided to keep a check on my spending habits. The sales, the wide variety of products, the ease of shopping in Dubai can be very tempting but you need to draw a line and keep yourself debt-free as much as possible. One advice that I can give to new expats in Dubai is: spend only as much as you can afford, don't let plastic money fool you, always go by a list, and don't buy anything just cause it's cheap!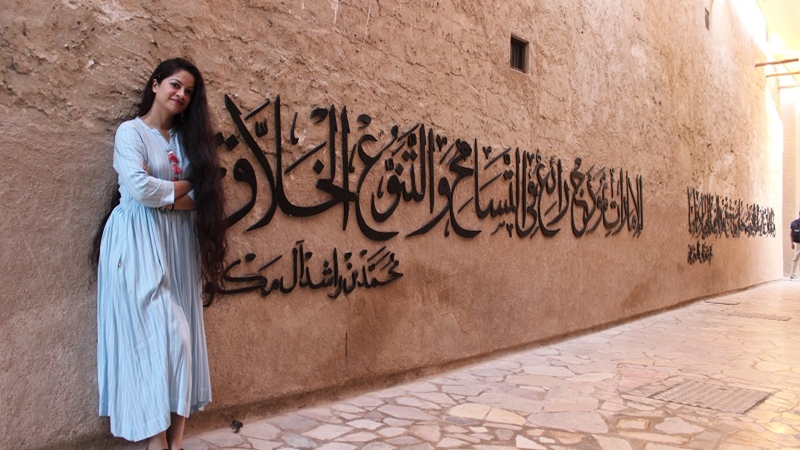 6. Is it difficult to live in Dubai? What are/were your struggles? What's life like outside work?
Mark my words, you may leave Dubai, but Dubai will never leave you! Dubai welcomes every nationality with open arms. You will find people from all over the globe living in this beautiful city harmoniously. It is exceptionally safe, it is (very!) clean, and it is probably one of the best cities in the world to live in.
Of course, everything has pros and cons, and so does living in Dubai. The biggest challenge we expats face here is lack of support from family. At times, it can be really lonely and difficult to manage everything on your own. You have to be very strong mentally and emotionally, or else it can affect you negatively. Most of the people you meet here are expats like you, so you miss that family-connection.
Also, the friendship here is very different from what we had back home. People keep on moving to different countries and at times you miss consistency when it comes to relationships. Having said that, it doesn't mean that you become a loner here; in fact, you make a lot of friends from different nationalities and get to learn so many new things.
7. What do you like about Dubai?
So far (apart from the scorching summers!) I haven't found anything that I don't like about Dubai! I like how this city is a fine blend of culture and modernization; it has a rich past and a glorious future. I love how so many nationalities live here in peace and there's so much to do, to see, to learn. There's never a dull moment here!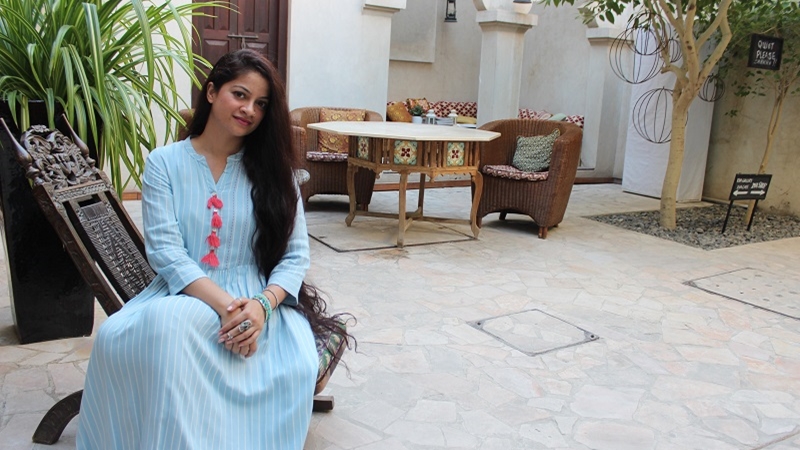 8. What do you NOT Like about Dubai?
Oh, I don't like summers here! For a person who believes in taking public transport, walking in the scorching heat is just unbearable. Honestly, I guess that's the only thing I don't like about Dubai.
9. What are your plans in your career/family/future?
Right now I am focusing on my blog and my Instagram page; I am also looking for a job change. I plan to call my parents to come and stay with me.
10. You have any tips for your fellowmen when working/finding work/living in Dubai?
There are so many things that you wish somebody told you during your initial years in Dubai, and I would want to share some of these tips with everyone:
Do not fall for the debt trap.
Respect the culture and laws of the city.
Stay updated with what's happening in the city/country; it will help you in many ways.
Make a habit of saving a portion of your salary.
Get a hobby or join a group.
Stay healthy.
There are so many free activities and things to do; make use of those.
Don't go broke trying to look rich!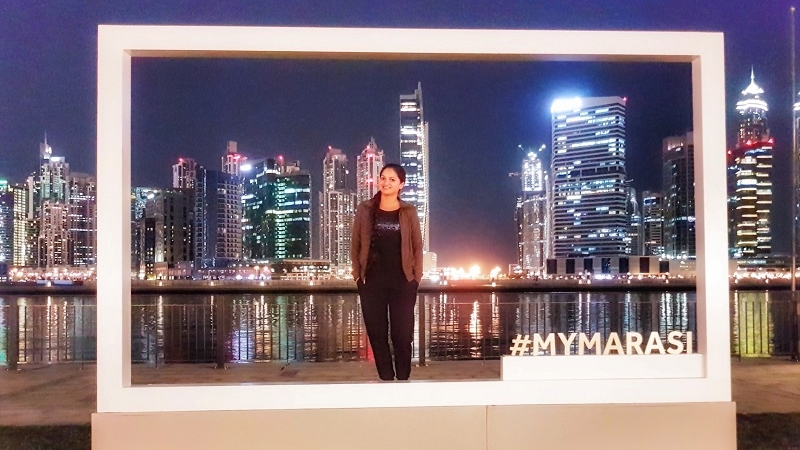 Connect with Maria on Social Media
To know more about Maria, you may get in touch with her through her blog, official website, and social media pages:
Official Website: World with Maria
Facebook: The World With My Lens
Instagram: @worldwithmaria
Twitter: @worldwithmaria
—————-
*Photos provided by Maria
Are you an expat in Dubai? Do you want to be featured in the website? Send us an email telling us you want to be featured at admin@dubaiOFW.com and we will send you the set of questions! Let's help other people who want to come to Dubai understand what life in the UAE is like through your story.