Just as there are many places to visit in Dubai, there are also different ways of getting around the city. You can board a traditional "abra," ride an air-conditioned bus, take the metro, hail a taxi, or jet off on a helicopter – Dubai transportation has them all!
Of course, if you're planning to commute regularly, then you should have a Nol card, which is a smart card used in Dubai's public transport. You can buy it in bus stations, metro stations, airports, and malls. Notably, there's a loyalty points program coming soon for Nol card users.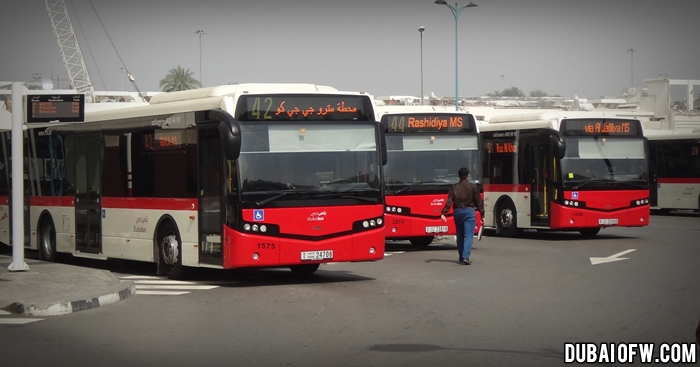 Using Different Modes of Transport in Dubai
To travel around the city, you can choose from the following options:
#1 – Ride the bus.
Dubai's public buses are air-conditioned, making them a comfortable yet inexpensive way of getting around. For just 3 AED, you can take a short ride along the city's major thoroughfares. Keep in mind that traffic could build up during rush hours.
Related Post: How to travel from Dubai to Abu Dhabi via Public Bus
#2 – Take the Metro.
The Dubai Metro has stations located at the Dubai International Airport, marina, city centre, and even shopping malls. Ever since it opened in 2009, millions of passengers have been taking the metro. In fact, along with bus riders, the number of metro riders increased early this year.
#3 – Hail a taxi.
Taxis are widely used in Dubai, and they are actually quite affordable. A couple of tips: (a) be sure to carry small notes so you can pay the fare easily; and (b) bring a piece of paper indicating the name of your destination in English and Arabic – for easier communication.
#4 – Hire a car.
If you prefer to drive instead of taking public transportation, you can also hire a car in Dubai. This way, you will have the freedom to travel around comfortably, in your own pace and time.
#5 – Board a boat.
A trip to this city would not be complete without a visit to Dubai Creek. Here, you can board an "abra" or traditional boat, which takes you on a relaxing ride for as low as 1 AED. There are also evening cruises that include Arabic dishes and folk music.
#6 – Travel in style.
Of course, if traveling in style is what you prefer, you can charter a helicopter to pick you up from the airport and fly straight to the Burj Al Arab. There are also helicopter tours that offer an exciting way of seeing the sights and sounds of Dubai — from above.
Indeed, there's a mode of transport for every kind of traveler in Dubai… and there's more to come! In a few years' time, you can hop on a flying taxi or ride self-driving vehicles that can take you anywhere around the city. How's that for futuristic and "hi-tech" travel!