For non-Muslims in Dubai who are craving for pork dishes, it is possible for us to buy frozen meat in selected supermarkets that sell pork in Dubai or go to a few restaurants like the pork buffet at Lamesa in Asiana Hotel. However, we saw this great find when we visited the Spinneys in Al Ghurair Centre Mall.
Also Read: WeMART Asian Hypermarket and Foodcourt in Deira, Dubai
The Pork Section grocery of Spinneys Al Ghurair is selling ready-to-eat pork dishes and prepared home-made Filipino-style. Aside from the taste, the price are sold per gram and they are affordable!
UPDATE: One of our readers mentioned that Spinneys in Business Bay and Trade Centre Road branches also have these pork food hot counters available. But we have not verified it yet. Please contact Spinneys in case you have questions/clarifications.
Check out the video below for a quick run-through on where you can check out the pork dishes in Al Ghurair Spinneys supermarket:
Note: While the UAE is a Muslim country and has shown tolerance and openness to other people's religions and culture, it is still best that we show respect. Please make sure that we are responsible when carrying these items and avoid displaying them in public.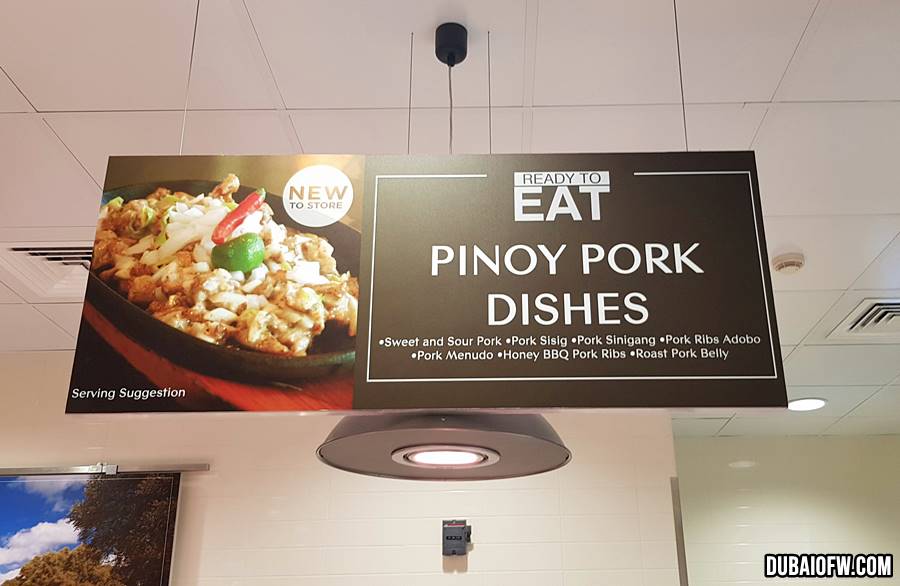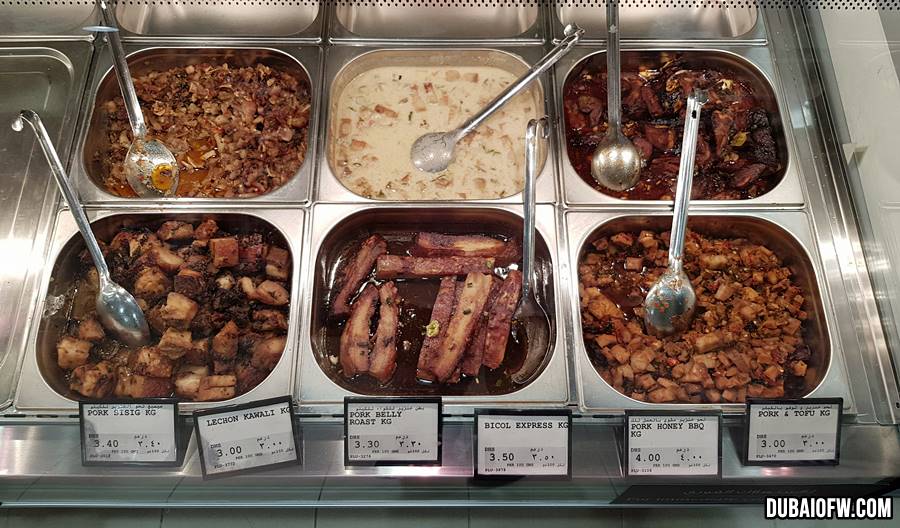 Where to Buy Cooked Pork Meals in Dubai – Home-made Pinoy Dishes in Spinneys Supermarket, Dubai
During our visit, there were 6 dishes being served Pork Sisig, Lechon Kawali, Pork Belly Roast, Bicol Express, Pork Honey BBQ, Pork &Tofu.
We asked the staff if there are other branches of Spinneys selling this and they said as of now, they are the only ones offering this 'carenderia/cafeteria' take home style food, though there are other Spinneys branches may offer reheat-able pork meals.
As we mentioned, probably the best thing about the cooked pork meals is the price. We bought 3/4 of a kilo lechon kawali that could serve about 3 persons and the price was only 22 Dirhams!
We ordered a few other items as well such as pork sisig and Bicol express. The prices are quite cheap for the value and taste of the products. We were happy with our purchase and we consumed them at the comfort of our home.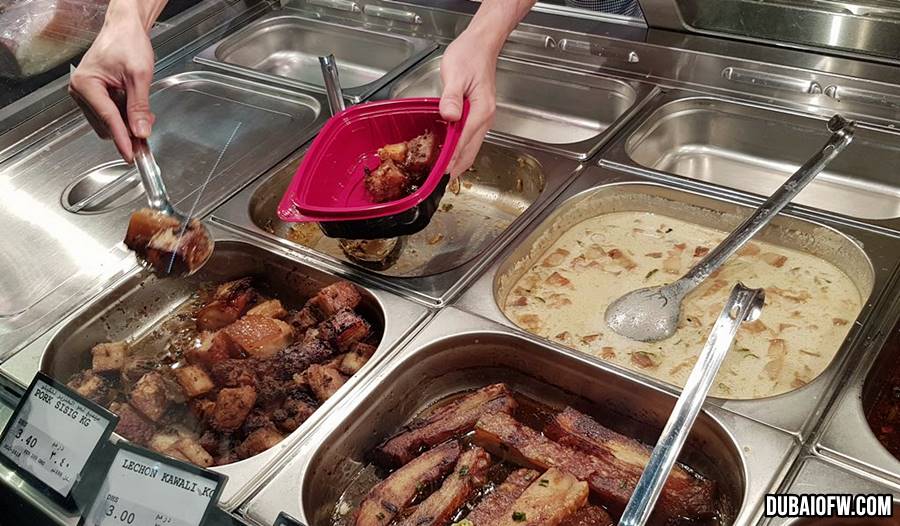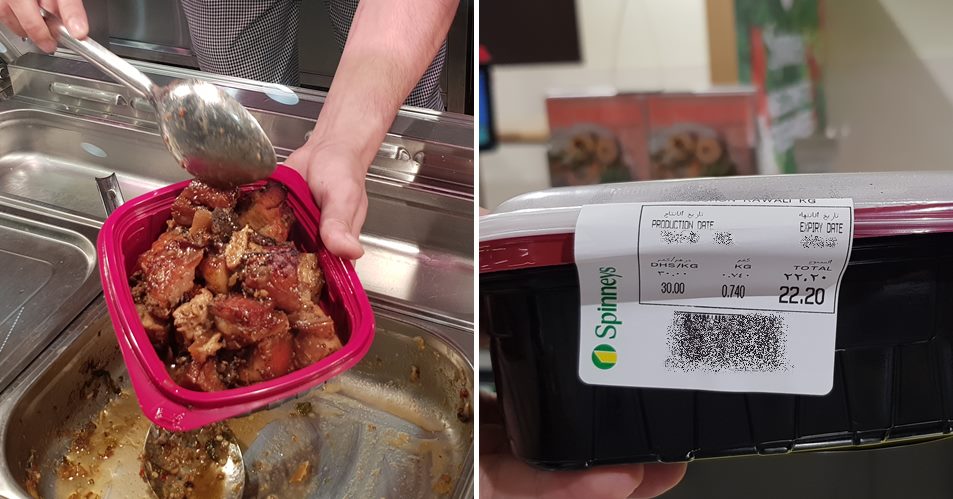 Usually supermarkets in Dubai sell pork as frozen products or in packs and they are accessible in specific sections of the groceries. These sections are labelled as 'for non-Muslims'.
For other non-Muslim expat nationalities who would like to try our Filipino dishes and how we cook our meat, this is a good opportunity for you to sample how a typical Filipino pork dish is prepared.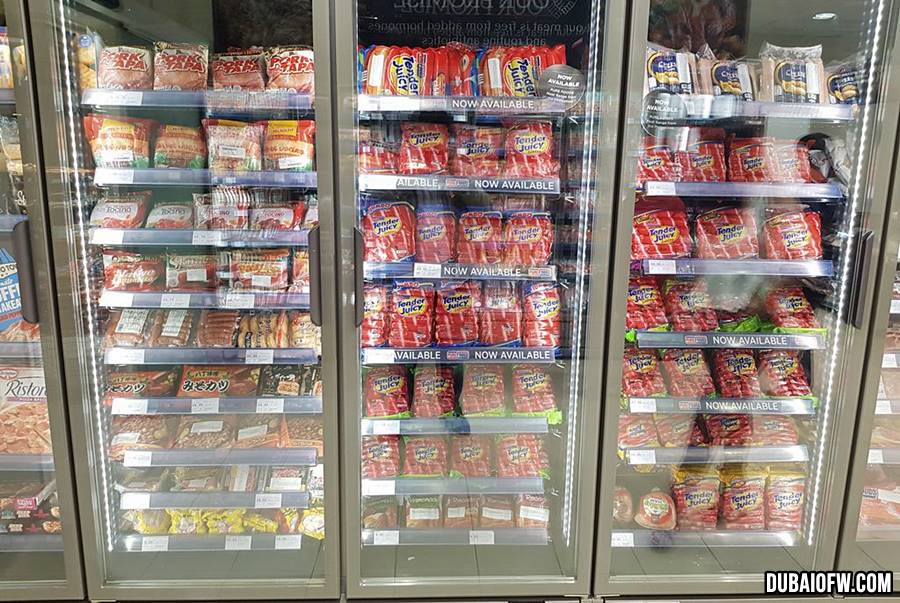 About Pork in the UAE
While it is forbidden for Muslims to eat pork, we appreciate the UAE considering that there are other expat nationalities in the country with different beliefs and religions.
Check out this video by Emirati personality Khalid Al Ameri about UAE and non-halal items.
Spinneys Offering More Filipino Items
When we shopped in Spinneys 7 or 8 years ago, I noticed that this supermarket chain has a lot of upscale items. But during our visit, we noticed there were more aisles offering Filipino food items. Now they have opened these hot counters too. I'm very glad that they have more products that cater to the masses now since this is the what Dubai mostly consists of.
Spinneys Al Ghurair is spread across 13,411 square feet and features a wide array of products for day-to-day needs such as groceries, fruits and vegetables, meat, home products, etc.
Contact information
Address: First Floor, Al Ghurair Centre
Phone: 04 222 1665
Google Map Location
Below is map guide to the location of Al Ghurair Centre Mall. Spinneys is on the 2nd floor of the mall.