In the Philippines, street vendors are a common sight, selling different kinds of food such as isaw (pork or chicken intestine), grilled hot dogs, and of course… pork barbecue!
Basically, pork barbecue is composed of sliced pork pieces that are marinated, skewered, and grilled. After marinating in a special mixture of spices and seasonings, the meat is grilled — usually over wood charcoal — then served with spicy vinegar as dipping. Yum!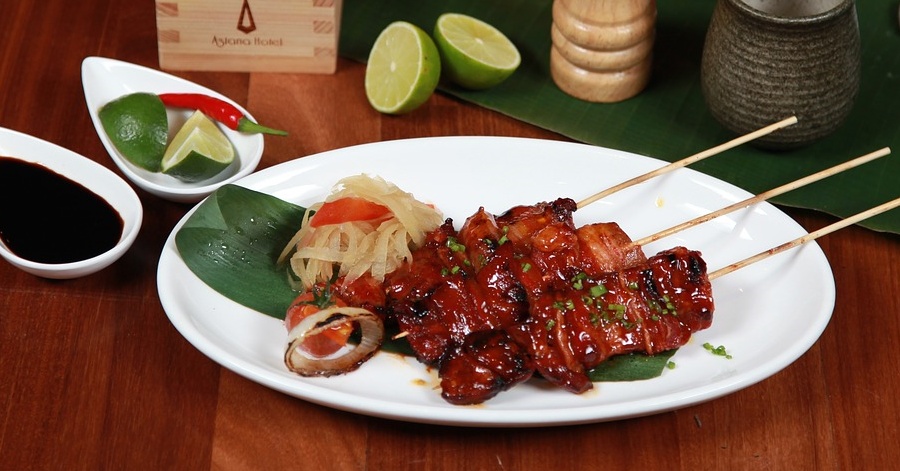 How to Cook Pork Barbecue (Pinoy Style)
Pork barbecue may be enjoyed as a snack, appetizer, or as a main dish served with rice. If there aren't any street food vendors near you, don't worry because you can easily make your own pork barbecue at home!
This dish involves just two major steps: marinating and grilling. The following recipe recommends that you marinate the meat for at least three hours; but for best results, you can opt to leave it overnight. While grilling, the meat is basted to keep it moist and flavourful.
The recipe below is estimated to make 8 servings; however, you can always adjust the amount of ingredients to make more delicious pork barbecue!
Ingredients
4 lbs pork shoulder (sliced into pieces)
For the marinade:
3/4 cup soy sauce
3/4 cup banana ketchup
1/2 cup calamansi or lemon extract
4 tbsp brown sugar
2 tbsp garlic powder
2 tsp salt
1 tsp ground black pepper
1 1/2 cups lemon or lime soda
NOTE: After marinating, set aside the remaining mixture, to be used as basting sauce while grilling the meat.
Procedure
Arrange all the pork slices in a large bowl or container.
Add all the marinade ingredients and mix well with the meat. Cover the bowl and marinate for at least 3 hours. For best results and stronger flavour, you can marinate the meat overnight.
Place the marinated pork into bamboo skewers.
Heat up the grill. You may use a gas grill or charcoal grill, depending on what's available.
Start grilling the meat for 3-5 minutes per side until thoroughly cooked. Before turning the meat over, baste the top side using the remaining marinade mixture to help keep it moist and flavourful.
Remove from heat once the meat is thoroughly cooked.
Serve the pork barbecue with spicy vinegar. Enjoy!
As mentioned earlier, pork barbecue may be eaten as a snack or appetizer. It's also great as pulutan (finger food) served with ice cold beer! And of course, pork barbecue may be enjoyed as a main dish or ulam (viand) paired with a cup (or two) of hot rice.
As an alternative to spicy vinegar, you may also use "toyomansi" (soy sauce with calamansi) as dipping sauce for your pork barbecue. Likewise, you can also eat it with some papaya achara or pickled green papaya. This is a sweet-and-sour salad that is usually paired with fried or grilled dishes.
As you can see, making Filipino-style pork barbecue is easy as long as you have all the ingredients. On the other hand, if you are craving for more Pinoy food, here's a list of Filipino restaurants in Dubai where you can order your favourite dishes!