If you're wondering where you can buy pork in Dubai, there are several supermarkets in the city that offer this type of meat. What you will get are frozen products and these are located in special sections inside these groceries. Here we list the supermarkets that sell pork for your reference.
Related Post: UAE Do's and Dont's
Pork is considered haram (forbidden) in Muslim culture but there are places in Dubai that have a license to sell them. Pork counters are marked with "Pork Section: For Non-Muslims". You can buy pork sausages, bellies, loins, ribs, chops, bacon, etc.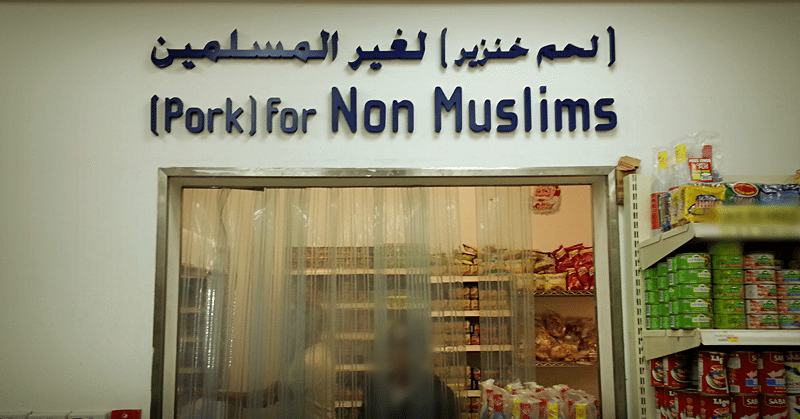 special sections in selected grocery stores
Where to Buy Pork in Dubai Supermarkets
You can buy pork in the UAE except in the Emirate of Sharjah, where there is a total ban on pork and alcohol. Here are some popular supermarkets in Dubai where you can buy pork products:
1. Al Maya Supermarket – Al Maya is a supermarket chain that operates several stores in the UAE.
2. Choithrams – Choithram is an Indian-owned chain of supermarkets, most of which have pork sections. In 1974, the first Choithram supermarket was established in the UAE. Today, the company operates 30 branches in the UAE, including 16 Choithram supermarkets in Dubai.
3. Baqer Mohebi Supermarket – Known for having a section selling 1 Dirham products as well as cheap chocolates in Dubai, they also have a pork section.
4. Philippine Supermarket – The Philippine Supermarket along Al Muraqqabat Road sells pork, among many other Filipino products. As most Pinoys love to eat pork, this supermarket is a favorite among many OFWs.
5. Spinney's – Spinney's operates 33 branches in Dubai, but not all of these outlets offer pork products. Notably, there are pork counters at the Spinney's outlets in Al Furjan, Golden Mile, Bur Dubai, and The Villa Mall.
6. West Zone Supermarket – Another place where you can buy pork in Dubai is West Zone, whose outlets are frequented mostly by the Filipino community.
7. Waitrose Supermarket – a chain of British supermarkets that have a few branches in the city.
Restaurants that Serve Pork in Dubai
As for dining places that serve pork, you can find them in restaurants attached to certain hotels. Some famous restaurants that serve pork are Lamesa at Asiana Hotel in Muraqqabat, Manila Grill in Asiana Hotel, Movenpick Hotel Bur Dubai, Four Seasons Hotel, Al Murooj Rotana, etc.
—————————-
Despite being a Muslim country, the UAE has allowed the selling of pork in licensed stores and restaurants. In return, consumers should be responsible and careful enough when carrying these items during picnics or avoid displaying them in public. Even in a tolerant country such as the UAE, it is always wise to be respectful of the local culture and religion.
We might have forgotten a few shops in this list as these are the areas where we have personally visited at one point of our stay in Dubai. If we missed any from this list, please do let us know and we'll add it here.