A few decades ago, many people have heard of the UAE, but only a few would know what the letters actually stand for. But today, the country is one of the world's top business centers and tourism hubs. Almost everybody is now familiar with the "United Arab Emirates."
Related Post: UAE Do's and Dont's
Nowadays, a lot of people travel to the UAE for business purposes and job opportunities. Likewise, tourists are also heading to see the country's sights and wonders. If you are planning to go to the UAE anytime soon, there are certain things that you need to know first. Read on to learn about 20 things that every first-time tourist should know before visiting the UAE.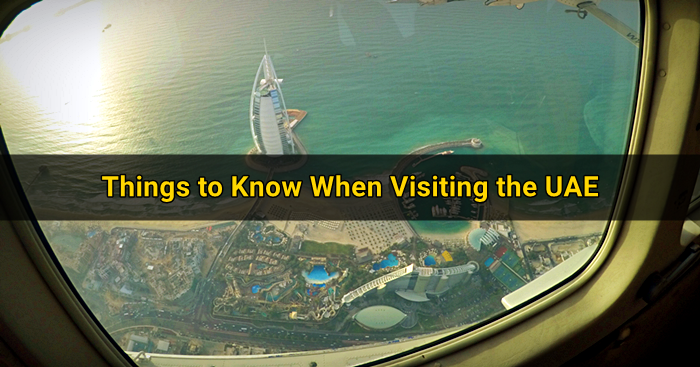 Things to Know about the UAE especially for those Visiting for the First Time
Share this guide to your friends who are planning to visit UAE for the first time. This is for their knowledge so they won't get shocked by the culture and practices. Remember that some offenses may be punishable and it's also wise to learn how to behave when you visit this Arab country.
1. The UAE is composed of seven (7) emirates. Most people are already familiar with Abu Dhabi and Dubai, but there are five other emirates that are also worth seeing in the UAE: Ajman, Fujairah, Ras al-Khaimah, Sharjah, and Umm al-Quwain.
2. Majority of the population are expatriates. About 85 to 90 percent of the UAE population are expatriates. Here, you will find people from Afghanistan, Australia, China, Europe, India, Iran, Korea, Philippines, South America, Thailand, and more.
3. There are only a few "Emiratis." In contrast, the Emiratis make up only 10 to 15 percent of the population. If you are a foreigner and your baby is born in the UAE, he or she will not be considered as an Emirati. Only children born to Emirati parents are considered as Emirati citizens.
4. Emirati citizens receive plenty of government benefits. The UAE government provides Emiratis with a lot of benefits, such as free health care and education. They can study up to PhD level for free! Also, when an Emirati couple gets married, the government gives them a free house and discounts on utility services.
5. There are no taxes on your salary. While the UAE has implemented a 5% VAT Tax once goods/services/merchandise, there is still no tax deduction on your income. So you will get your salary in full.
6. Tipping is customary. It is customary to give tips for excellent service in the UAE. When you dine in a restaurant, don't forget to give a 10 percent tip to the waiter or waitress.
7. Friday is a day of prayer. Like other Muslim countries, the UAE marks Friday as "prayer day." Most businesses are closed for the whole day, although there are a few that open in the late afternoon. Be advised also of Ramadan, a whole month of fasting during summer season (around June).
8. "Weekend" means Friday and Saturday. While workers in most countries look forward to "Friday night" happenings, people in the UAE go out on Thursday night instead. This is because Friday and Saturday are considered as the weekend, while Sunday is actually a regular working day.
9. It can get extremely hot in the summer. Summertime in the UAE means the temperature can reach up to 51 degrees Celsius (123.8 degrees Fahrenheit)! Coastal areas become even hotter due to the humidity. So make sure you bring light clothes if you are visiting in the summer.
10. Malls are cool and air-conditioned. To escape the heat, many people head to the air-conditioned malls. In fact, you will find more people hanging out in malls than in parks, especially during the summer.
11. Shopping is expensive not unless its SALE season. As mentioned previously, a lot of people go to the mall to hang out, but not to shop. Clothes, shoes, bags, and other items in malls are expensive. If you have bargain shopping and product discounts in mind, do not expect to find many of them here. However, it's good to wait until SALE season as you will see plenty of items really dropping. Check out the Dubai Summer Surprises, Dubai Shopping Festival and Gitex Festival for these occasional sale events!
12. There is no strict dress code. Unlike other Muslim countries, the UAE is not that strict when it comes to dress code. You can wear jeans, shirts, dresses, or whatever you want. However, a touch of modesty is still expected, especially when you are out in public. When you visit a mosque, make sure that you are wearing pants or jeans (for males) and a head scarf (for females).
13. You need a license to buy alcohol. According to a recent update, UAE revised family laws and announced that there will be no more alcohol license required when purchasing/consuming alcohol in licensed places (hotels/private homes). The UAE is still a Muslim country, so you need to make sure you are aware of the liquor rules first.
14. You need a license to sell alcohol. Just as you need a license to buy alcohol, you also need a license to sell them. Hence, most restaurants do not include alcohol in menus. There are several hotels that are licensed to serve alcoholic drinks in their restaurants, though.
15. Pork is available only in selected shops and hotels. Pork is 'haram' (forbidden by Islamic law) but you can buy pork in some shops and eat pork in some hotels in the UAE (except in Sharjah).
16. You cannot drink and drive. Like most other countries, drinking on the road is strictly prohibited in the UAE. If the police catch you drinking while driving, you will go to jail. So don't even think about it!
17. Getting drunk in public is illegal. In case you haven't already noticed, the UAE is really strict when it comes to alcohol consumption. So getting drunk in public would not be the wisest thing to do.
18. Prostitution and sex outside of marriage are illegal. In the UAE, prostitution is against the law. Moreover, outside of marriage is considered as adultery and is therefore illegal. These laws apply not only to Emiratis, but to expatriates and tourists as well.
19. You will not find any casinos. Some people seem to think that the UAE has a lot of casinos, particularly in Dubai. This is actually not true. You will not find any casinos in the UAE.
20. Certain websites are censored. Websites that contain pornographic content are blocked in the UAE as these go against Islamic values. The same goes for gambling sites and other pages that may be considered as "offensive" to local culture and values.
21. There are plenty of food choices. The UAE has some of the most delicious food you can find. Middle Eastern cuisine includes tantalizing dishes that originate from India, Iran, Pakistan, and Lebanon. There are also numerous restaurants featuring cuisines from all over the world like Mexican, Italian, French, Mediterranean, African, Filipino, etc.
Now that you have some idea about the United Arab Emirates and its culture, you can make the most out of your visit. Despite strict laws on gambling, alcohol, and other things, the country is an amazing place to be – with its great food, wonderful people, and many exciting sights.
We hope you find these tips helpful especially if this is your first time to visit. Or even when sharing this article to your friends who are planning to come to Dubai or the rest of the emirates. This is a helpful travel guide for them to learn more about life as an expat here.