Ten weeks of sale. This is what's in store this summer as it signals one of the major shopping events in Dubai… the Dubai Summer Surprises (DSS)! This is a season that a lot of residents anticipate due to the price of items in retail outlets and shops dropping. It's a huge shopping spree and everybody in Dubai participates!
Even residents from neighboring emirates and other countries in the Middle East and North Africa (MENA) region come to the UAE to celebrate this festival.
Other Major Shopping Events in Dubai
So when does DSS start? What's the schedule? It is from 29 June to 3 September 2023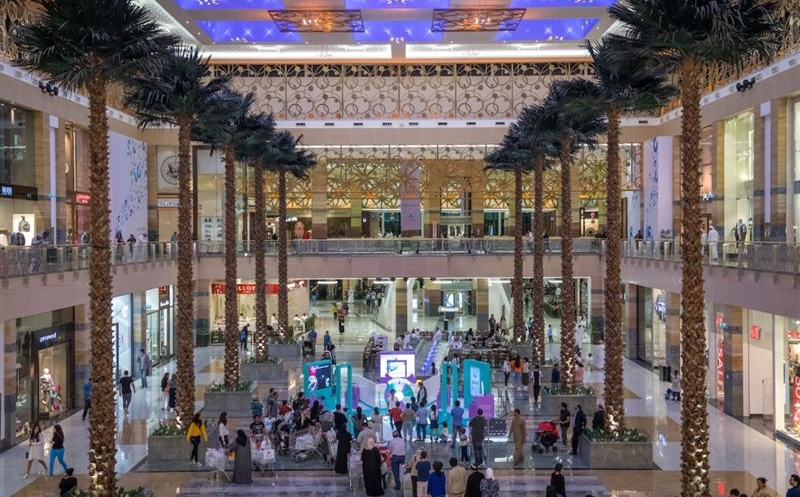 Overview
Dubai Summer Surprises (DSS) is an annual shopping extravaganza that takes place in the bustling city of Dubai. This eagerly anticipated event offers residents and tourists an opportunity to enjoy massive discounts, exclusive product launches, family-friendly activities, and exciting entertainment throughout the city's shopping malls and retail outlets.
History of DSS
Since its inception in 1998, the Dubai Summer Surprises has grown to become one of the most popular shopping seasons in the Middle East. The event was initially launched to boost retail sales during the slower summer months and has since evolved into a significant attraction for both local and international shoppers.
During the DSS, visitors can expect a wide range of exciting offers and activities. Here's what you can look forward to:
Discounts and Promotions
Retailers offer discounts of up to 90% on a variety of products, including clothing, electronics, home appliances, and more.
Exclusive promotions are available at select stores, such as buy-one-get-one-free deals and bundle offers.
Many hotels also offer attractive packages and reduced rates during the event.
Exclusive Product Launches
Brands often choose the DSS as the perfect time to launch their latest products, giving shoppers the chance to be among the first to own these new items.
From limited-edition fashion collections to cutting-edge gadgets, there's always something new to discover.
Family-friendly Activities
Malls and shopping centers host various family-friendly events, such as workshops, games, and interactive shows.
Children can enjoy dedicated play areas, face painting, and meet-and-greets with popular cartoon characters.
Entertainment
Live performances, concerts, and cultural shows take place throughout the DSS, providing shoppers with a well-rounded experience.
International artists and local talents often headline these events, offering visitors a taste of Dubai's vibrant arts scene.
Schedule: Summer Surprises Sale in Dubai
The schedule of this year's Dubai Summer Surprises is from 29 June to 3 September 2023. It's a 2-month celebration of great buys and discounted items! So you have plenty of time to shop and prepare.
Shoes, clothes, bags, gadgets, appliances and other merchandise are up for grabs and each store has a specialized offer to join in the fun that is Summer in Dubai!!!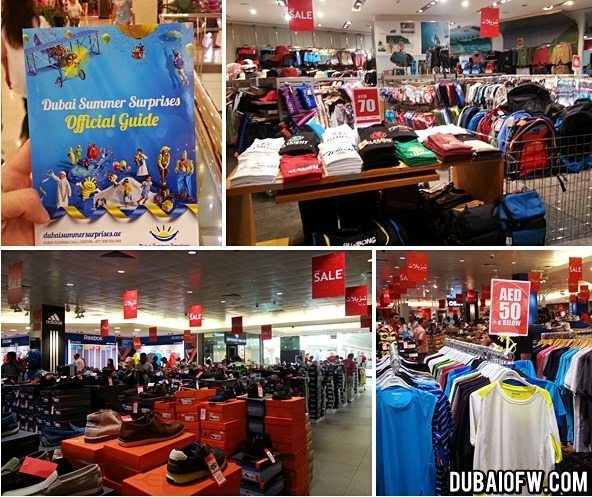 different merchandise at good discounts
Best Places to Shop During DSS
Dubai is home to numerous shopping destinations, but these five malls are the top picks for experiencing the DSS:
City Centre Deira
A one-stop shop for everything from fashion and electronics to home decor.
The mall has over 500 stores, including top international brands like H&M, Zara, and Sephora.
City Centre Mirdif
This mall is home to over 430 stores, including food outlets and entertainment venues.
Shoppers can enjoy multiple DSS sales and promotions across different categories.
BurJuman Centre
High-end shopping mall with over 400 stores, including luxury brands like Louis Vuitton and Gucci.
Shopaholics can find exclusive deals at BurJuman during DSS.
The Dubai Mall
The world's largest shopping mall, featuring over 1,200 retail stores, including high-end brands and popular high-street labels.
Attractions include the Dubai Aquarium, KidZania, and an Olympic-sized ice rink.
Enjoy exclusive promotions and discounts across various stores during DSS.
Mall of the Emirates
A multi-level shopping center with over 630 retail outlets, including international brands and department stores.
Home to Ski Dubai, an indoor ski resort, and the Magic Planet, a family entertainment center.
Take advantage of DSS deals and offers throughout the mall.
City Walk
An outdoor shopping destination that blends urban living with retail therapy.
Features over 300 stores, including designer boutiques and unique concept stores.
Visit during DSS for special promotions and events.
Ibn Battuta Mall
Inspired by the famous explorer Ibn Battuta, this mall offers a unique shopping experience with themed sections representing different regions of the world.
Boasts over 270 stores, including fashion, electronics, and home furnishings.
Don't miss out on the DSS deals and discounts available at various retailers.
Mercato Shopping Mall
Designed to resemble a Mediterranean village, Mercato offers a charming atmosphere with a mix of international and local brands.
More than 140 stores, including fashion, accessories, and homeware.
Check out the DSS promotions and activities during your visit.
Set up for the unique first week of Dubai Summer Surprises! Surprises and events spread throughout Dubai. From T&J Cheese Town at Ibn Battuta Mall🐱🐭to amazing deals at Jumeirah Resorts and the grand opening ceremony of DSS at Burj Khalifa🎆 No time to blink this week😍 pic.twitter.com/QTn60xnAic

— Celebrate Dubai (@CelebrateDubai) June 28, 2021
Also Read: 12-Hour DSS Flash Sale on 29th June 2023 with Up to 90% OFF!
Modhesh Mascot for Summer is Dubai
The mascot is Modhesh, which is a yellowish worm and is always present when DSS happens. Love him or hate him, but Modhesh will be here to bring fun and joy during this event!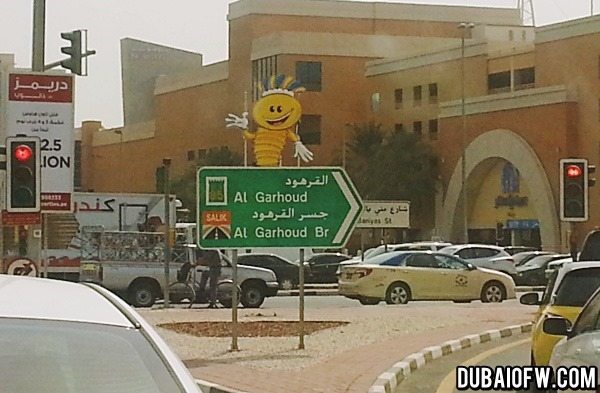 Modhesh on the road
10 Things to Do During Dubai Summer Surprises 2023
This year's event is bound to biggest yet, with plenty of shopping, dining, leisure, and entertainment options to choose from! Wondering where to start? Here's a list of 10 things that you and your friends can do this summer:
#1 – Grab amazing shopping discounts.
With over 300 brands participating in more than 3,500 outlets across Dubai, get ready to enjoy 10 full weeks of shopping, including 25 to 75 percent discounts on various items!
#2 – Take advantage of exclusive offers.
Every day throughout DSS, there's going to be a "Deal of the Day," an exclusive offer on specific products at select locations. Details about each offer shall be revealed only 24 hours beforehand, so stay tuned for the summer's biggest bargains!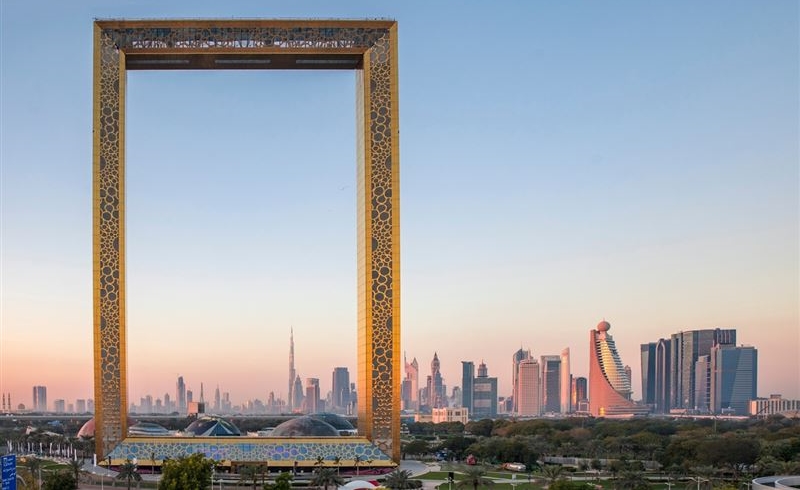 #3 – Immerse in Dubai's culture and history.
If you're a culture and history buff, simply head to Dubai's cultural attractions, such as Al Marmoom Heritage Village, Al Shindagha Museum, Dubai Museum, Etihad Museum, and the Sheikh Mohammed Centre for Cultural Understanding for a summer of learning!
#4 – Be inspired by local and international art.
Bring out the art lover in you by visiting art galleries like the Green Art Gallery, which features local and international masterpieces, and the Curado Art Gallery, which offers exhibits as well as educational programmes.
#5 – Gaze down at the city from the top of the Dubai Frame.
It goes without saying that Dubai is filled with some of the world's most spectacular landmarks. Among these is the award-winning Dubai Frame, wherein visitors can take an elevator to the top and enjoy sky-high views of the city.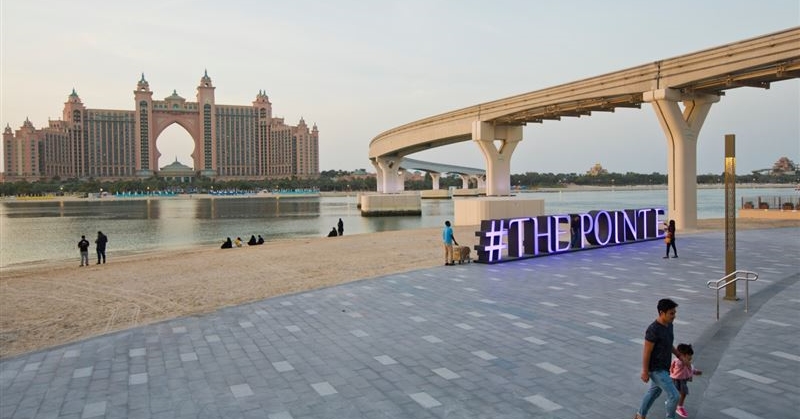 #6 – Head to The Pointe at Palm Jumeirah.
If you haven't been there yet, don't miss going to The Pointe. Situated in the iconic Palm Jumeirah, this destination offers plenty of shopping and dining for everyone!
#7 – Make a splash in a waterpark.
When it comes to waterparks, you'll never run out of options in Dubai, as there's Aquaventure Waterpark, Laguna Waterpark at La Mer, and Wild Wadi Waterpark. They're the perfect destinations for the young and young-at-heart!
#8 – Explore indoor theme parks.
If you'd rather stay in to keep cool, don't worry because Dubai has indoor parks, too! Just take a trip to Hub Zero or Green Planet at City Walk to get up close to beautiful birds and fauna. Of course, don't forget to check out Modhesh World at the Dubai World Trade Centre (DWTC) as well.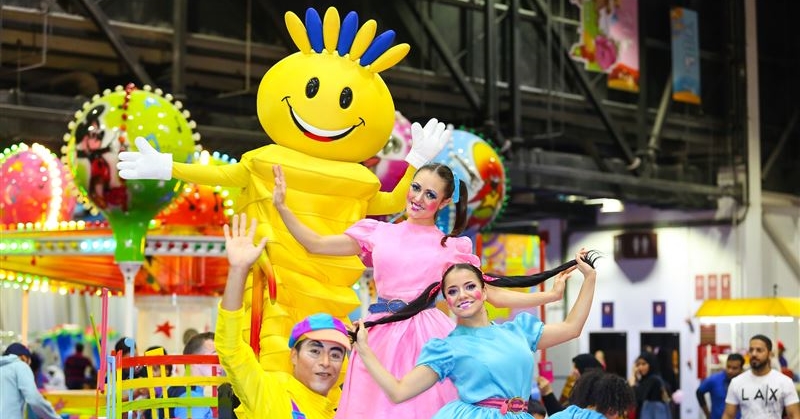 #9 – Indulge in gastronomic delights.
There's no doubt that Dubai's multicultural society enables us to enjoy food from around the world. Local favourites, Asian dishes, and almost every kind of cuisine you can think of… it's here! Just choose from the many restaurants, cafes, and street food outlets in the city.
#10 – Relax in a public park.
Amid all the shopping, dining, and entertainment, sometimes you just want to relax and take things slow. Fortunately, you can do this in public parks scattered across Dubai… not just during the summer but throughout most of the year, really!
These are just some of the many things you can do during Dubai Summer Surprises! Check out various shops in malls and outlets in Dubai to see what available promotions and offers are being sold by different companies. For sure you will get a good find as you take your time to explore and see what every store has to offer.
Happy summer everyone! Enjoy the season!
Tips for Shopping During DSS
To make the most of your DSS experience, follow these helpful tips:
Make a Shopping List
Before you hit the malls, create a list of items you want to buy and prioritize them.
This will help you stay focused and avoid impulse purchases.
Set a Budget
Determine how much you're willing to spend during DSS and stick to it.
Keep track of your expenses to ensure you don't overspend.
Plan Your Visit in Advance
Research the malls and stores offering the best deals on the products you're interested in.
Create a shopping itinerary to maximize your time and cover as many stores as possible.
Arrive Early
Beat the crowds by arriving at the malls early in the day.
This will give you ample time to browse and make informed decisions before the rush begins.
Stay Hydrated
Dubai's summer heat can be exhausting, so remember to drink plenty of water while shopping.
Take breaks and rest when needed to recharge and continue your shopping spree.
Frequently Asked Questions
1. When is the Dubai Summer Surprises Shopping Season?
The DSS typically takes place between June and August. The exact dates vary each year, so be sure to check the official website for the latest information.
2. How long does the DSS last?
The Dubai Summer Surprises event usually lasts for six to ten weeks depending on the season, giving you plenty of time to shop and enjoy the festivities. This 2023, it is for a full 10 weeks.
3. Can I shop online during the DSS?
Yes, many retailers offer online shopping with exclusive DSS deals and promotions. Check out your favorite brands' websites for more information.
Conclusion
Dubai Summer Surprises is an annual event that offers incredible discounts, exclusive product launches, family-friendly activities, and entertaining performances. With numerous shopping destinations to choose from, there's something for everyone during this exciting season.
DSS is the perfect opportunity to shop 'til you drop and enjoy a memorable experience in the vibrant city of Dubai. Whether you're a local or a tourist, the Dubai Summer Surprises shopping season is an event you shouldn't miss!