Wild Wadi Waterpark is one of the more established tourist theme parks in Dubai. The waterslide resort has been in the business for many years so you can expect a solid recreational facility full of activities for the whole family.
That's why if you want to hang out in the water and unwind from the busy Dubai city, head over to Wild Wadi Resort to get your fix of extremely fun slides and water!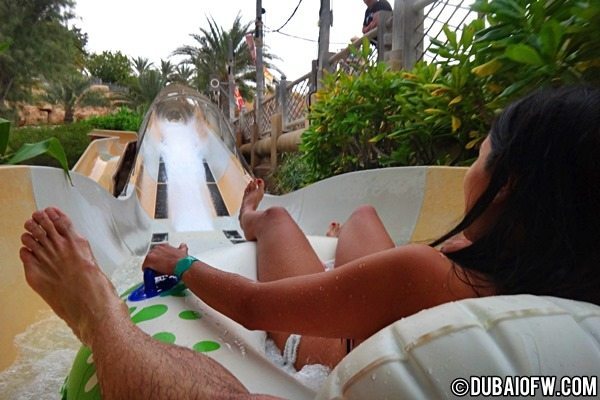 getting ready
We went there around 1:30pm and paid the fees. We had an Entertainer coupon so we were able to get a Buy One Take One offer which saved us 235 Dirhams in the process.
We had to deposit our food and drinks as they don't allow bringing your own beverages and snacks in the resort. We also paid for locker rooms to secure our valuable belongings.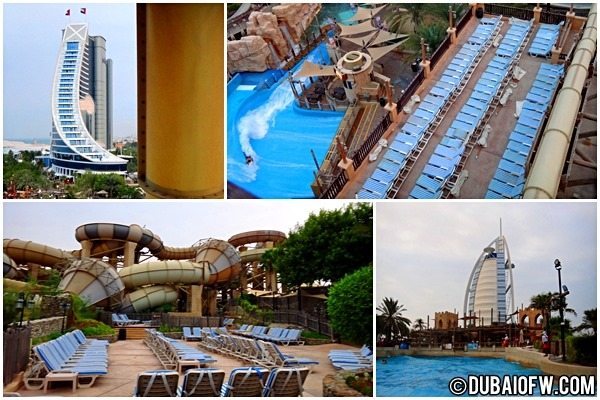 Dubai tourist attraction: great for Pinoys and other tourists
Favorite Wild Wadi Slides & Attractions
Tantrum Alley Slide
This is one scary slide in the Dubai Wild Wadi resort. At one point, I thought that we were going to fall over the slide due to the sudden drop. Wonder how it feels like to be inside a washing machine? Try this crazy Tantrum Alley waterslide! I can'tg recall how many times we shouted because of this scary slide.
I Survived Jumeirah Sceirah Slide
You will be placed inside a tube and will be instantly dropped from a height of 33 meters. There are now two water tube slides in the Jumeirah Sceirah and you can race which one slides the farthest. If it's your first time to ride the slide, you will be given a bracelet saying "I SURVIVED" to show to your friends and family.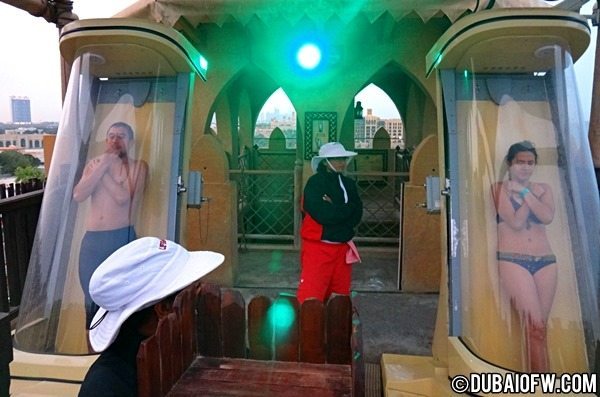 preparing for the great drop
Riding the Waves
What sets Wild Wadi resort from Atlantis, The Palm is that they have an area dedicated for those who are looking for surfing waves. Those who want to ride waves with a board can practice their surfing skills. They have a beginner's area and another for those who want a more advanced challenge.
View of Burj Al Arab and Jumeirah Beach Hotel
What's great about this waterpark resort is that you have a great view of the Burj Al Arab (the only 7-star hotel in the world) and the Jumeirah Beach Hotel. While you ride the tubes and travel to different areas of the water-theme resort, you can see these Dubai structures in view. You can even have photos with them as your backdrop. If I might say so myself, you won't have a hard time looking for a perfect angle of these buildings.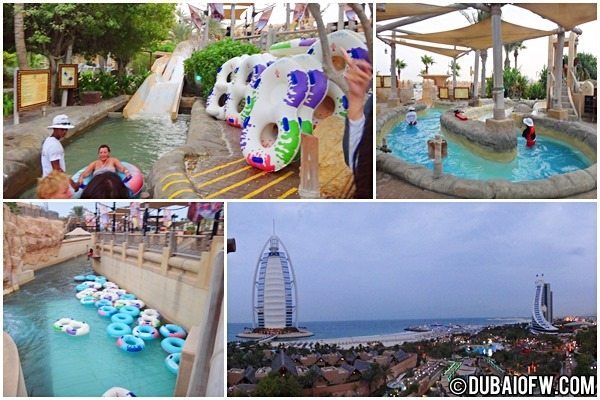 inside the resort
Wild Wadi Guide

Excitement at Wild Wadi means one adrenaline rush after another! Hurtle down the 33 meter Jumeirah Sceirah, try the 1.5 meter high waves at Breakers bay. Those who prefer to relax will find it a great place to unwind. Life jackerts are available free of charge.

Ride the Rush at Wild Wadi Dubai

Splash into the breathtaking Tanrum Alley, Burj Surj and Flowriders.
Scream your lungs out at Falcon Fury and Tunnel of Doom.
Enjoy the thrills of the Master Blasters and Ring Rides.
Experience a magical journey through water at Juha's Journey and Juha's Dhow and Lagoon.

practice riding the artificial waves

Have your fill of fun…

Aside from the water and the slides, you can try dining at any of these restaurants and snack bars:

Leila's Oasis – Healthy fruit juices, smoothies and freshly cut fruits.
Sinbad's Galley – Wild Wadi's pasta eatery, toasted gourme sandwiches, burgers and salads.
Ali's BBQ – Mouth-watering grill and premium ice cream.
Leila's Stand – Pizza place that will surely paint you a happy face.
Julshan's Kitchen – Juicy grilled burgers, sensational salads and sandwiches.
Shahbandar's Cafe – Tasty snacks, exotic nachoes, delicious ice cream and irresistible milkshakes.

slides for children

List of Wadi Rides and Attractions

White Water Wadi (Master Blaster) – connects to 11 slides
Flood River Flyers (Master Blaster) – connects to 6 slides
Jumeirah Sceirah (Speed Slides)
Tantrum Alley and Burj Surj
Wipeout Flowrider
Riptide Flowrider
Flood River – great for children under 1.1m
Juha's Journey (Lazy River) – great for children under 1.1m
Breaker's Bay (Wave Pool) – great for children under 1.1m
Juha's Dhow & Lagoon  (Family Play Area) – great for children under 1.1m
Fossil Rock and Wadi Wash

water tubing inside Wild Wadi

Wild Wadi Safety Awareness

Appropriate swimwear is required.
Follow our lifeguard instructions at all times.
Running and diving is NOT permitted.
Certain attractions have a 1.1. meter height restriction.
hold on to the tube handles at all times.
Keep hydrated, drink lots of fluids.
Use no less than a factor 30 sunscreen.
Don't drink the pool water.
Babies and toddlers must wear special swim diapers.

— from Wild Wadi brochure page.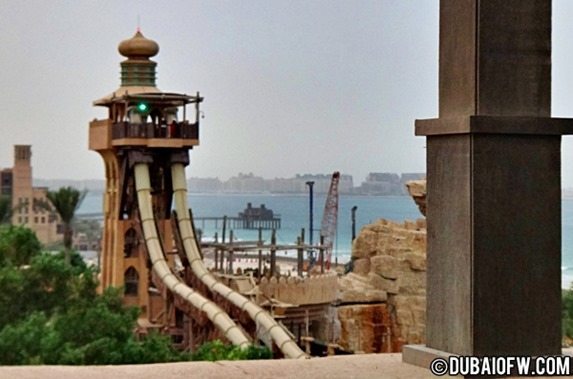 The Jumeirah Sceirah Dubai
How To Get There:
Dubai Wild Wadi Waterpark Resort
Location: Jumeirah Beach Road between Burj Al Arab and Jumeirah Beach Hotel
Nearest Metro station: Mall of the Emirates station, Red Line
Then take a taxi to Wild Wadi
Contact Details:
Telephone Number: +971 4 348 4444
Website: www.wildwadi.com
Wild Wadi Hours of Operation
Regular Opening Hours
November to February: 10am to 6pm
March to May: 10am to 7pm
June to August: 10am to 8pm
September and October: 10am to 7pm
Note: Timings are subject to change and it's always better to contact the waterpark to confirm.